The type of fins to use for swim workouts completely depends on your goals and current abilities. You may think all fins are the same, but there are many options in the swim and diving communities, including easy slip-on fins, split fins and stiff, "military-style" Rocket or Jet Fins.
Here is a good question from an active-duty naval officer seeking to train for Navy dive school in the future.
Stew, what fins do you recommend for swimming and dive school training? I am curious which ones you like better, the slip-on Sporti type fins or the Jet Fins that require booties? Thanks, Gus
Gus, the only thing these two types of fins have in common is that you use them in water. Swimming in a pool and swimming and diving in open water are two different animals and require different types of fins.
However, you could use these two fin types together as a logical progression. I have both and even a pair that's between the two different fins. I use the Sporti fins for swimming in the pool for post-leg day workouts, using a variety of strokes like freestyle, side stroke and underwater dolphin kicks. These are ideal for taking the monotony away from swimming workouts. However, they are also perfect for people who have never swum with fins during phase one of their preparation.
I also have a pair of Cressi Frog Fins that I would classify as a medium-level stiffness and require swim booties or dive socks to use. You cannot use this level of fin as a slip-on and get the same level of power needed for low currents.
The Jet Fins are also preferred over the typical military-issue dive fins, as they tend to be more pliable and are easier on the ankles than the other types listed below.
Here are the many distinctions between the two you asked about:
Swimming Slip-on "Snorkeling" Fins
These fins are light, comfortable and will make swimming easier and faster than would be without fins. I use the Sporti slip-on fins in the pool to change my swim workouts a bit.
You will find that ankle mobility is key to your swimming with fin performance. If you are lacking in this area and have a difficult time fully extending your foot (think: ballerina point), these fins are ideal for slowly and progressively preparing your ankles for the type of strain required when wearing the bigger scuba fins.
The Three Types of Fins You Will See in Military Training Programs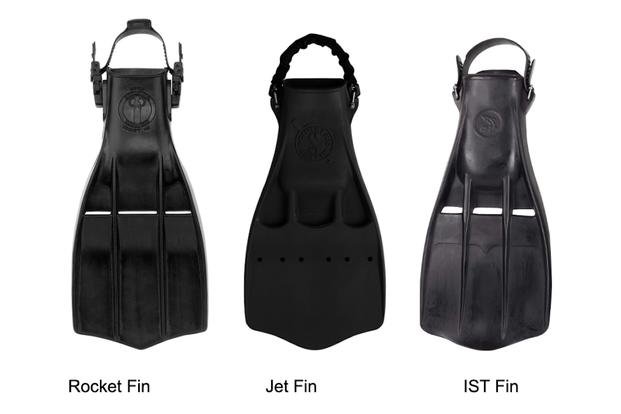 Rocket Fins, Jet Fins or IST Fins: There are two main types of scuba fins used by military diving and rescue swimming schools: SCUBAPRO Jet Fins and Aqua Lung Rocket Fins. You may also come across the IST Fin made by U.S. Divers.
All three of these fins are used in various military training programs and by candidates preparing for these programs. They are all built for the power needed to get through open water, either on the surface or underwater during scuba operations or training.
You will need strong legs and flexible ankles to handle the torque placed on your leg joints when swimming or diving with these fins, but they are needed for pushing through currents and tides. The unique feature with these types of fins is the large boot well that allows you to use combat boots or large scuba booties with soles with these fins. The ability to take off your fins quickly and transition to footwear that allows for movement over the beach or on land makes these ideal for military special operations programs.
My recommendation is to start out the first month of fin training with an easy slip-on pair, then advance into scuba fins that require booties for protection from the torque created by each kick. You may have to start out swimming only 5-10 minutes at a time with the bigger fins. Take them off and continue the swim workout, then put them back on for another five- to 10-minute set until your ankles and legs get used to the increased mobility demands the bigger fins place on your joints.
Do not swim with fins every day, but use finning workouts to top off your leg day activities. You will also have to tread water with and without these types of fins, so make sure that treading is part of your regular swimming workouts as well.
If you find the prices for these fins to be above your budget, consider looking on eBay or other community sales pages, as the scuba section has plenty of options for you, often with giveaway prices if you are on a tight budget.
-- Stew Smith is a former Navy SEAL and fitness author certified as a Strength and Conditioning Specialist (CSCS) with the National Strength and Conditioning Association. Visit his Fitness eBook store if you're looking to start a workout program to create a healthy lifestyle. Send your fitness questions to stew@stewsmith.com.
Want to Learn More About Military Life?
Whether you're thinking of joining the military, looking for fitness and basic training tips, or keeping up with military life and benefits, Military.com has you covered. Subscribe to Military.com to have military news, updates and resources delivered directly to your inbox.