We're two episodes into season 6 of "SEAL Team," now streaming exclusively on Paramount+, and things are looking very dodgy for Bravo Team. Team leader Jason Hayes is a mess, and the Pentagon is looking to scale back special operations as it reassesses military priorities after the end of the Afghanistan War.
The good news is that Clay Spenser survived his injuries from the ambush in Mali that ended season 5 and dominated the first act of episode one of the current season. The bad news is that his right leg was amputated below the knee, and he's facing a long and difficult rehab as he tries to adjust to a new prosthetic limb.
Related: 'SEAL Team' Is Back for Season 6 to Face the Consequences of That Ambush in Mali
The entire arc of episode one pointed to Clay's death as he struggled to overcome the infected wounds in his shredded leg. Since almost all viewers knew that actor Max Thieriot is playing the lead role in the new CBS series "Fire Country," this seemed like an appropriate moment for his character to die and exit the series. The final scene was a shock, as it showed Clay in recovery after the amputation.
Episode two picks up several months later as Clay is back home in Virginia and working hard at his rehabilitation. His fractured friendship with Sonny (AJ Buckley) is back on track and Clay's wife Stella (Alona Tal) seems prepared to support him as she raises their infant son Brian.
Anyone who's ever watched television knows that Clay's recovery will not continue to go smoothly over the course of the season. Clay will have setbacks, get frustrated and have communication issues with Stella. We'll all just have to watch to find out how things get resolved.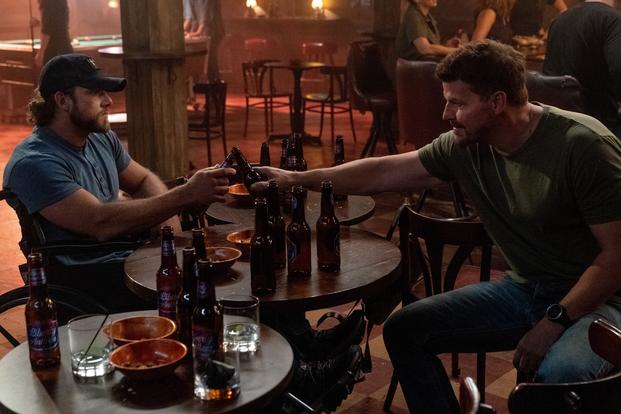 More troubling is the health of team leader Jason Hayes (series star and producer David Boreanaz). After he was diagnosed with a traumatic brain injury in season five, he didn't tell his commanding officers about his condition and has been looking for treatments outside the Navy's medical support staff.
Jason claims that an experimental stem cell treatment is helping a lot, and he's paying $2,000 cash for each treatment so there's no record of what's going on. He's rekindled a romance with Mandy Ellis (Jessica Paré), so her character is back on the show, at least temporarily.
This TBI stem cell therapy is an actual thing in the real world, and while it's shown promising results for some people, it's a long way from being an accepted treatment. Jason's condition, combined with the fact that he's lying to the Navy, seems to be a bomb set to go off at some point this season.
On top of all this, Lisa Davis (Toni Trucks) is now serving on a committee that's analyzing current military readiness and making recommendations for the future. There's a strong sense in the room that the USA has been relying too much on tip-of-the-spear operations at the expense of general military readiness. Lisa has the sense that one or more SEAL teams will be spun down at the end of this process, and the aging Bravo Team seems like a prime candidate for a shutdown.
Related: How to Watch 'SEAL Team' Season 6
Is that enough drama for you? Will Clay get his head together and adapt to life with a prosthetic leg? Will Jason recover from his TBI or suffer the consequences of hiding his condition from the Navy? Will Bravo Team survive?
New episodes stream each Sunday on Paramount+, and we've got eight episodes left in this 10-episode season.
The answers depend on whether the "SEAL Team" crew is looking to wrap up the story this year or continue for several years to come. No one connected to the show is dropping any hints, so we'll stand by for news over the next couple of months as season six continues.
Keep Up With the Best in Military Entertainment
Whether you're looking for news and entertainment, thinking of joining the military or keeping up with military life and benefits, Military.com has you covered. Subscribe to the Military.com newsletter to have military news, updates and resources delivered straight to your inbox.