"Lou," the new action thriller now streaming on Netflix, is a movie about an aging operator with a twist. Lou, the cranky retired operator living in a remote location, is played by Allison Janney, the actor best known for playing C.J. Cregg on "The West Wing," for playing ice skater Tonya Harding's terrifying mom in "I, Tonya," and playing Bonnie for eight seasons on the CBS comedy "Mom."
"Lou" definitely shares some action picture DNA with "Nobody," the surprisingly solid thriller starring Bob Odenkirk from "Better Call Saul," and with Liam Neeson's "Taken" movies. Janney's "Lou" most definitely has a particular set of skills that she keeps hidden until circumstances force her to dredge up her operator skills.
"Lou" is absolutely a military spec ops thriller, but explaining why and how it fits the bill would spoil the plot and all its twists. If you watch it, prepare to be surprised as to exactly what everyone's military connections are.
Lou rents a trailer on her property to Hannah (Jurnee Smollett) and her daughter Vee (Ridley Asha Bateman). Hannah has been hiding from a bad relationship with her husband Philip (Logan Marshall-Green), but things seem to have calmed down now that she's gotten word that Philip has been killed. Except Philip isn't actually dead, and he shows up to take his daughter.
Smollett has some experience with action. She starred on the HBO series "Lovecraft Country" and played Black Canary in the DC Harley Quinn movie "Birds of Prey." Marshall-Green starred as a Vietnam vet-turned-hitman in the great 2016 Cinemax series "Quarry" and the fantastic 2018 sci-fi thriller "Upgrade."
There's plenty of action and some great hand-to-hand combat between Janney and Daniel Bernhardt, the great stuntman and actor who fought Odenkirk on the bus in "Nobody" and played Kirill in "John Wick." You've seen Bernhardt kick ass in dozens of other movies. He's one of the best.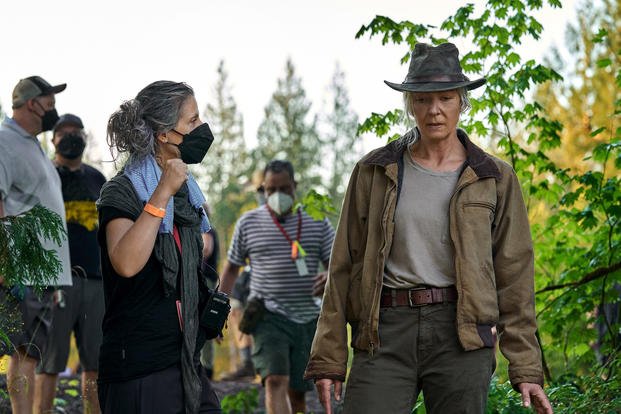 "Lou" is set in the '80s, and many of its secrets are tied to the Cold War and the foreign policy of that era. That's about all we can say without hinting at some big surprises about how everyone is connected in this movie.
Janney and Smollett talked with Military.com about the movie, how hard it was to avoid spoilers, the relationship between their characters and how much fun it is to film fight scenes.
If you weren't around during the Cold War, you might have to do some internet searches after watching to untangle the details of what you just watched, but anyone with memories of the era should be entertained by what's a very clever script.
Keep Up With the Best in Military Entertainment
Whether you're looking for news and entertainment, thinking of joining the military or keeping up with military life and benefits, Military.com has you covered. Subscribe to the Military.com newsletter to have military news, updates and abresources delivered straight to your inbox.