>

Careers for Veterans
USAA Veteran Employer Profile
Military Skills Translator
>
>
Pursue a Career Where You Can Do What Matters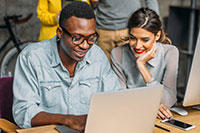 USAA is unlike any other financial services organization. When you join us, you'll become part of a thriving community committed to going above for those who have gone beyond: the men and women of the U.S. military, their associates and their families.
>
We're Committed to Hiring our Heroes
As an organization created by the military for the military, hiring veterans and military spouses has been a long-standing commitment for USAA. We take a holistic approach to help bring veterans on board and also transition to the private sector with programs focused not only on recruiting, but on transition assistance, skills development and retention as well.
USAA created VETNet, an employee resource group designed to help veterans and military spouses in their transition to USAA and help civilian employees understand what it means to serve.
USAA facilitates skills development for veterans through programs like TEAMFIT and Combat-to-Claims. These programs are intended to train veterans in a skill-set, like Java programming or claims adjusting, to help create life-long, meaningful civilian careers. USAA's Veteran Transition Leadership Development program (VetsLeaD) aligns recently separated, newly hired veterans to cross-functional leadership and business acumen learning opportunities supported by executive mentorship.
At USAA, we promote retention through sponsorship from other veterans and military spouses, with the aim to ensure an understanding of USAA's culture and provide accurate and realistic expectations and awareness of helpful resources.
USAA's veteran and military spouse employees are critical to keeping our organization grounded in our mission and sustaining our culture and values. Learn more.
>
Military and Spouses
As more and more veterans transition from military service to civilian careers, they bring tremendous value and a unique skillset that can positively impact our bottom line. Military spouses also internalize many of the same values and acquire unique skills that would greatly benefit our company.
We recognize veterans bring incredible technical ability, learning agility, problem solving skills, work ethic, leadership and loyalty to the workforce, which translate to valuable benefits for USAA. We also know military spouses bring a unique understanding of military family needs and concerns, and an ability to quickly adapt to new environments and learn new skills. Read more about our commitment to the military community.
>