Everyone who served likely knows what FUBAR means. After all, we veterans created this term. "FUBAR" might be the name of Arnold Schwarzenegger's new Netflix spy series, but the show is not beyond recognition: We've seen something like this before. There's a reason everyone is comparing it to his 1994 movie "True Lies."
In "FUBAR," we meet Schwarzenegger's Luke Brunner, who has been lying to his family about being a mild-mannered everyman for decades, while he secretly is off saving the world in international espionage action, just like his character Harry Tasker in the "True Lies" movie.
But what if one of the other family members were also a trained intelligence operative and they happen to meet one another in the field? That's what happens when Luke's daughter Emma (Monica Barbaro, "Top Gun: Maverick") turns out to be an operative just like her dad.
When she needs to be bailed out of a mission before her cover is blown, the agency sends the elder Brunner in to do it.
Luke Brunner is trying to retire while Emma Brunner's career is just getting started, but there is, of course, a special mission that requires the two Brunners to work together as a team. Luke is forced to watch his daughter come of age all at once, since the daughter he knew before lived as much a lie as he has.
Meanwhile, Emma resents the father she always thought was a little shady, and yet is more like him than she realizes. The agency requires that the two sit in therapy sessions throughout the mission, which also feels familiar in a "Mr. and Mrs. Smith" kind of way, which is the best part of the show.
What we get is a workplace family comedy with a bit of actual family tension and body-dropping action sprinkled in. Where "True Lies" was a buddy cop espionage action movie with a bit of romantic family comedy thrown in, the espionage action sometimes feels like an afterthought in "FUBAR."
Listen: Nothing is ever going to be "True Lies." Even the recently canceled "True Lies" reboot television show couldn't live up to its name. I don't know if anyone else has the guts to say it, so I'm going to say it: Both of these shows need more Tom Arnold in them.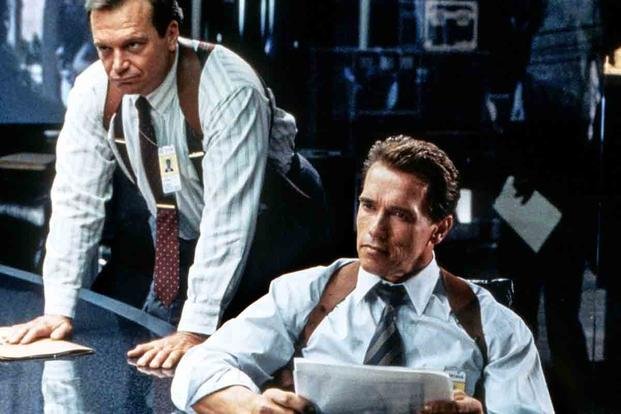 Anyone expecting more than a tip of the hat to Schwarzenegger's action movies of days gone by might be disappointed in "FUBAR," but a lot of it will feel familiar to fans of his previous work. Just don't expect too much from the actor's first foray on the small screen.
The first season of "FUBAR" is now streaming on Netflix.
-- Blake Stilwell can be reached at blake.stilwell@military.com. He can also be found on Twitter @blakestilwell or on LinkedIn.
Keep Up With the Best in Military Entertainment
Whether you're looking for news and entertainment, thinking of joining the military or keeping up with military life and benefits, Military.com has you covered. Subscribe to the Military.com newsletter to have military news, updates and resources delivered straight to your inbox.