More than a few popular television characters have been deeply affected by their military service. And, yes, these are imaginary characters who have imaginary military service, but sometimes they're played by actors who actually served in real life.
There are probably hundreds of characters with military backgrounds from the past seven decades, but here are 10 of television's most iconic military veterans.
1. Sheriff Andy Taylor - "The Andy Griffith Show" (1960-1968)
Viewers may not realize that America's favorite small-town sheriff was a World War II Army veteran. In "A Feud is a Feud" (season 1, episode 9), Andy Taylor talks about serving in France during World War II.
That wartime service may have come up just that once on the show, but it's not hard to see how his combat experiences could have taught him the patience and wisdom that he uses to keep the wayward citizens of Mayberry on the straight and narrow.
Of course, there are fans of "The Andy Griffith Show" who point to other episodes that suggest that Andy Taylor graduated from Mayberry High School in 1945, a circumstance that would have made it impossible for a young Sgt. Taylor to have served during the war in Europe. Let's just call that a continuity error and stick with Andy's own words.
"The Andy Griffith Show" is no longer available on any streaming services, but you can watch episodes daily on TV Land or the Sundance Channel.
2. Jack Reacher - "Reacher" (2022-)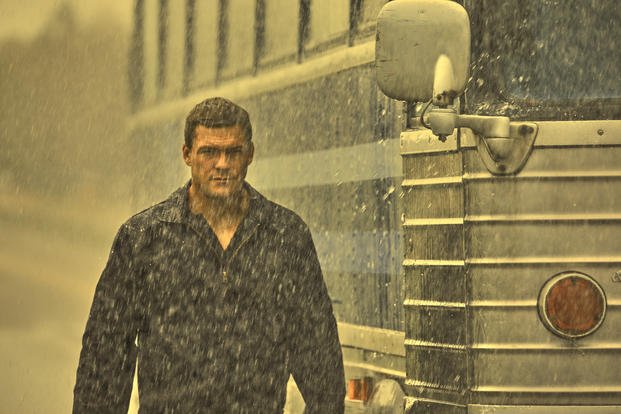 The Jack Reacher from Lee Child's book series is a Vietnam War veteran roaming the country, getting caught up in other people's business and giving a beatdown to those who do bad things to the innocent. The Jack Reacher from a pair of movies starring Tom Cruise is far too short, but the first one, 2012's "Jack Reacher," is a very good action picture about a hero who's sort of like Reacher.
Hollywood finally got it right with Alan Ritchson starring in the series "Reacher," which became a massive streaming hit in early 2022. Ritchson is tall enough so that he can be filmed to look like he's absolutely a mountain of a man, and he's got a way with the zinger dialogue that defines the character.
Our TV Reacher was born in the 1980s into a military family, grew up on bases around the world, attended West Point and served as a military policeman. A second season of the show, based on Child's novel "Bad Luck and Trouble," has been ordered and will begin production in September.
Related: The New 'Reacher' Star Loves the Badass Veteran Character as Much as You Do
The first season of "Reacher" is streaming on Prime Video.
3. Steve McGarrett - "Hawaii Five-O" (1968-1980)
In the original series of "Hawaii Five-O," Jack Lord (Felix Leiter in the first James Bond movie, "Dr. No") starred as the head of a special Hawaii state police task force, designed to keep the worst criminal elements out of the islands and preserve the tourist trade.
Lord's Steve McGarrett is a Navy veteran and former JAG who served during the Korean War and, notably, sent a Navy CPO to prison for murder. That CPO tracks down McGarrett 15 years later and almost kills him with a gunshot in the first-season episode, "Yesterday Died and Tomorrow Won't Be Born."
McGarrett returned in a CBS remake called "Hawaii Five-0" (note the zero in the new title instead of the final letter "O") starring Alex O'Loughlin. The new Steve McGarrett is named after his grandfather, who died on the USS Arizona during the Japanese attack on Pearl Harbor on December 7, 1941.
The modern McGarrett graduated from Annapolis and served with the SEALs and was deployed on secret missions around the world in countries that include Iraq, Afghanistan and North Korea. He retires from the Navy and joins the state police after his father is killed and the governor recruits McGarrett to lead a task force to solve the crime.
All 12 seasons of the original series are streaming on Paramount+ and five are available to stream for free via Pluto TV. All 10 seasons of the remake are streaming on Paramount+.
4. Jack Ryan - "Tom Clancy's Jack Ryan" (2018-)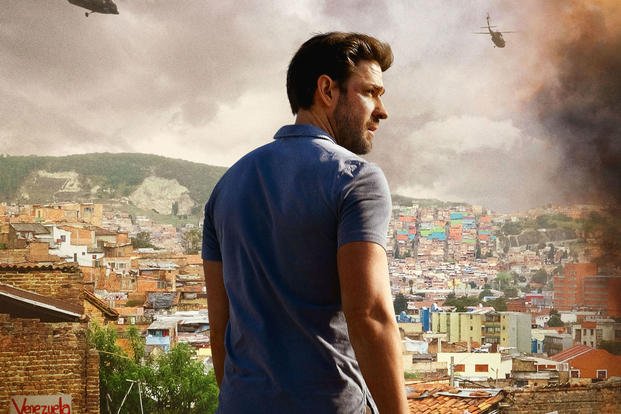 John Krasinski ("13 Hours," "The Office") plays the CIA's most lethal analyst in a series that's not based on the plots of any of Tom Clancy's novels but may be the Jack Ryan property that's closest in spirit to the original character.
Jack Ryan, Ph.D., is a Marine Corps veteran who joins the CIA and works for the Terror Finance and Arms Division (T-FAD) under the Counterterrorism Center (CTC). He's a wizard with the spreadsheets and constantly pushes his supervisors to act on the intel he generates.
Ryan's military career ended in Afghanistan when the infantry officer allowed a local orphan onto an evacuation helicopter. The boy brought along a grenade and killed almost everyone on board. Ryan survives the crash, but his extensive injuries end his military career.
When the CIA pushes Ryan out into the field, his Marine Corps training kicks in and his operator skills are immediately apparent and put to use by the government. Season one aired in 2018, followed by season 2 in 2019. There's word that season 3 has completed filming, and that Krasinski will star in a fourth and final season as Ryan, with production dates to be announced.
Related: 'Tom Clancy's Jack Ryan' Cannot Be Stopped
All three seasons of "Tom Clancy's Jack Ryan" are streaming on Prime Video.
5. Joe Mannix - "Mannix" (1967-1975)
During World War II, actor Mike Connors enlisted in the Army Air Forces, went to UCLA on the GI Bill, played basketball for Coach John Wooden and later studied for a law degree before finding his true calling as a tough-guy actor.
Private detective Joe Mannix would prove to be his signature role. Lt. Joe Mannix served in the U.S. Army during the Korean War and was declared MIA at one point before it was discovered that he was a prisoner in a POW camp.
Mannix engineered his own escape from captivity, and it's that kind of drive and fearlessness that drives his actions as a detective. Old war buddies show up on the show from time to time, and more than a couple of them seem to have a beef with Mannix, dating back to their service days.
"Mannix" is not streaming but airs once daily at 2am on MeTV stations and you can buy the complete series on DVD.
6. Barry Berkman - "Barry" (2018-)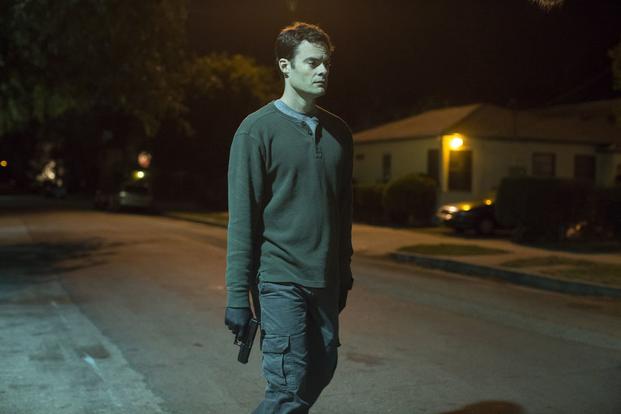 Saturday Night Live alumnus Bill Hader's HBO's series "Barry" started out as a comedy about a hitman who decides to take acting classes and switch careers. Over the course of three seasons, it's become an impossible-to-define show that's as dramatic as it is funny.
Barry Berkman (stage name: Barry Block) is a Marine Corp veteran who served in Afghanistan and falls into a career as a low-level hitman once he's completed his service. Henry Winkler stars as Gene Cousineau, a legendary acting coach whose methods convince Barry that he can and should change his life.
For a while, all of this seems like a setup for a charming fish-out-of-water comedy with a bit more background violence than usual. Unfortunately, Barry's past won't go away, and there's plenty of drama generated by people from his military past who return to settle old scores.
By the middle of season three, "Barry" is as much a drama about PTSD as it is a comedy about Hollywood. If that description doesn't turn you off and you decide to watch, you'll encounter a show that gets at the weirdness of modern life (and military service) in a surprisingly effective way.
All three seasons of "Barry" are streaming on HBO Max.
7. Thomas Magnum - "Magnum, P.I." (1980-1988)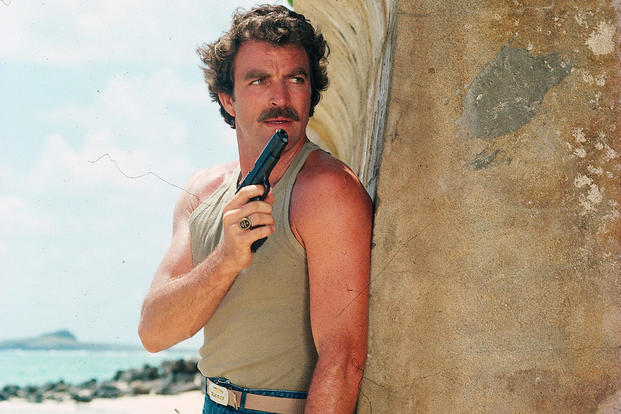 Private investigator Thomas Magnum surely has some dark moments from his career as a SEAL and naval intelligence officer during the Vietnam War, but actor and California National Guard veteran Tom Selleck worked with the creators of "Magnum P.I." to deliver a lighthearted Hawaiian crime series that features Magnum's witty banter with his friends, Marine veterans T.C. (Roger Mosley) and Rick (Larry Manetti).
"Magnum P.I." returned in a remake series in 2018 and ran for four seasons before it was canceled by CBS this spring. There's good news for fans, though, because NBC stepped in and picked up the show for a two-season, 20-episode renewal. Jay Hernandez starred as a new version of the character, who's also a Navy SEAL veteran and now the inspiration for his landlord's series of novels about his military service. The new series exists in the same fictional universe as the modern reboot of "Hawaii Five-0," with both series mentioning characters from the other on a semi-regular basis.
Two seasons of the original series are streaming on Amazon Freevee. Season 4 of the remake is streaming on Paramount+.
8. Harry Bosch - "Bosch" (2014-2021) and "Bosch: Legacy" (2022-)
In Michael Connelly's original novels, LAPD detective Harry Bosch is a Vietnam veteran who served as a "tunnel rat," performing dangerous underground search-and-destroy missions against the enemy. That Harry Bosch has gotten to be incredibly old, and Connelly must have contemplated how he's going to end a series of novels that have continued for more than three decades.
The Harry Bosch played by actor Titus Welliver is a Special Forces veteran of the first Gulf War who reenlisted after 9/11 and did a tour in Afghanistan. He joined the military after being raised in foster care. Bosch's mother was murdered when he was a boy, and it's her murder that drives his sense of mission as a detective.
The character left the LAPD at the end of the final season of "Bosch" and returned as a private detective this year in "Bosch: Legacy," a show that's already been renewed for a second season. The show has never spent much time emphasizing Bosch's military service, but there's an important plot moment in the first season of "Legacy" that flashes back to Afghanistan.
Related: A Gulf War Veteran Stands Up to the LAPD Brass in 'Bosch' Season 7
All seasons of "Bosch" are streaming on Prime Video. Season one of "Bosch: Legacy" is streaming on Amazon Freevee.
9. Elliot Stabler and Fin Tutuola - "Law & Order: Special Victims Unit" (1999-)
Detective Elliot Stabler was a cornerstone of the spinoff series "Law & Order: Special Victims Unit" for its first 12 seasons before actor Christopher Meloni left the show when the producers didn't give him the raise he was looking for.
Stabler always had a short fuse, and maybe some of that can be traced back to his combat experience during Operation Desert Storm, where he served as a Marine hand-to-hand combat specialist. Stable has the Marine Corps emblem tattooed on his forearm.
Meloni was lured back to the "Law & Order" universe in 2020 when Stabler was made the lead character on the new series "Law & Order: Organized Crime." While the new show has a look and feel that's different from other shows in the franchise, it's been a success, and Stabler will be back for at least one more season.
Det. Fin Tutuola has appeared on 456 episodes of "SVU" after actor Ice-T joined the cast in the second season. That's one of the longest runs by any character in prime-time television history, and we'd surely hear a lot more about that number if he wasn't on the same show with Capt. Olivia Benson (Mariska Hargitay), a character who's appeared in 516 episodes of "SVU" and 535 when you add in Benson's crossover appearances on other "Law & Order" shows.
Tutuola served two tours as an Army Ranger but has kept most of the details of his military career to himself. We do know that he participated in Operation Gothic Serpent in Somalia in 1993. Ice-T, once notorious for his rap music career, served in the U.S. Army for four years in the 25th Infantry Division under his birth name, Tracy Marrow.
Related: Angriest Marine Vet 'Elliot Stabler' Set to Return in 'Law & Order: Organized Crime'
Related: Famous Veteran: Ice-T
"Law & Order: SVU" and "Law & Order: Organized Crime" are streaming on Hulu and Peacock.
10. Kayce Dutton - "Yellowstone" (2018-)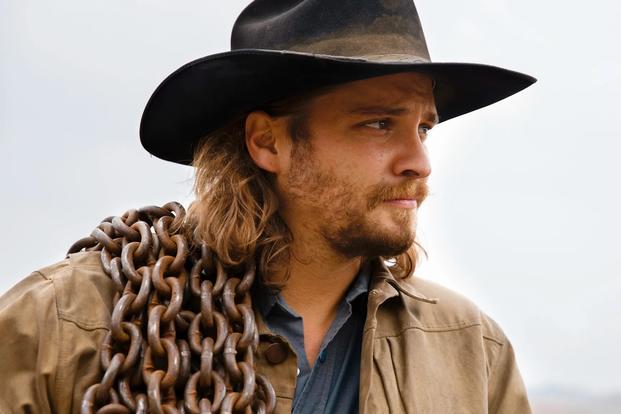 "Yellowstone," the family drama set in Montana, has become the biggest show on basic cable since "The Walking Dead." Kevin Costner stars as John Dutton, the patriarch of a ranching family that's facing threats from outside business interests and conflict between Dutton's offspring as to who will lead the family in the next generation.
Former Navy SEAL Kayce Dutton (played by Luke Grimes) is one of those kids. He's haunted by a mission in Pakistan, where he was forced to shoot the family of a high-value target who was using his loved ones as a human shield.
Back home, he wanted to stay out of the family drama and break horses and raise a family with his Native American wife, Monica. His dad pressures him, and Kayce eventually rejoins the family business.
"Yellowstone" is streaming on Peacock.
Keep Up With the Best in Military Entertainment
Whether you're looking for news and entertainment, thinking of joining the military or keeping up with military life and benefits, Military.com has you covered. Subscribe to the Military.com newsletter to have military news, updates and resources delivered straight to your inbox.