In the waning days of World War II, the Japanese devised balloon bombs that could travel more than 5,000 miles via the jet stream to explode on North American soil. One of these bombs killed six Americans in rural Oregon in 1945.
The documentary "Great Balloon Bomb Invasion" aims to explore the science and history behind these Fu-Go bombs and sets out to locate one of what could be hundreds of unexploded bombs scattered in remote corners of the country.
The program is hosted by Martin K.A. Morgan, an historian who will be familiar to regular viewers of documentaries on Discovery, History, the National Geographic Channel and the Smithsonian Channel. Morgan declares a lifelong fascination with Fu-Go and sets out to tell the story.
Morgan recruits Navy veteran and EOD expert Ed Fritz and drone expert Renaldo Evans to explain how the bombs worked and help devise a strategy to potentially locate a crashed and unexploded Fu-Go.
On May 5, 1945, Elsie Mitchell and five children were killed when they discovered a large balloon on the ground near Bly, Oregon. When the kids approached the balloon, the bomb exploded and they were killed instantly. Mitchell was the wife of pastor Archie Mitchell, who was parking the car when the bomb exploded.
The Mitchells were taking local children on a fishing trip. Bomb experts later suggested that one of the kids had likely kicked the bomb and set off the explosion. Elsie was pregnant when she was killed.
Why did this story get lost in the flood of history? You'd think that Americans killed by the Japanese on U.S. soil would be a major story from WWII history, but the incident happened just as news of Adolf Hitler's suicide was breaking in the United States. That was the headline all over the world, and news of the Japanese bombs just couldn't match the news from Germany.
The other part of this story is that the Fu-Go bombs utterly failed to strike terror into the hearts of American citizens, because it was unclear what they were and where they were coming from. Japanese scientists used bleeding-edge research into the jet stream to formulate the bombs, and without an understanding of that science, it was impossible to guess that the balloons had been launched from Japan.
It took American geologists analyzing the balloon's sandbags to determine that the sand had come from the Japanese coastline, and that therefore the balloons had definitely been launched from Japan. No one completely understood what was going on until after it was apparent that Japan would lose the war.
Once American intelligence got an idea of where these balloons came from, they tried to suppress reports of unexploded bombs to deny Japan knowledge of their success in getting their bombs to U.S. soil and avoid causing a panic in civilians about potential danger.
Because Japanese men had already been overwhelmingly pressed into military service as their country struggled to slow Allied advances, the military was forced to recruit schoolchildren to build the balloon bombs. Many students had no real idea what they were building, and questions were strongly discouraged.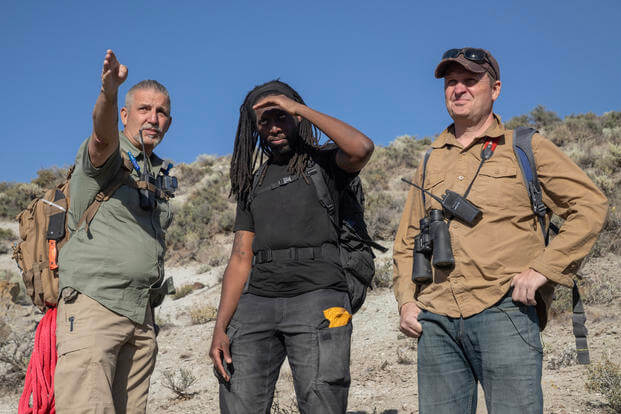 Morgan's team establishes that 9,000 bombs were launched from Japan, and that 10% of those were likely to have made it to North America. Only 300 bombs have ever been located. That potentially leaves hundreds of unexploded bombs in the American and Canadian wilderness.
If you live in Oregon, you may know this story. That's where a large percentage of the identified FuGo bombs landed, and there was an exhibit at the Klamath County Museum in 2018. Otherwise, few people outside of the most devoted World War II buffs have even heard about these Japanese attacks.
There's plenty of drama in "Great Balloon Bomb Invasion," since all the serious history is there to support a story about the quest to find an unexploded FuGo bomb. Does Morgan succeed in his mission? You'll have to watch to find out, but it truly doesn't really matter. The story of the Japanese attacks is compelling enough on its own to make this one worth your time.
Keep Up With the Best in Military Entertainment
Whether you're looking for news and entertainment, thinking of joining the military or keeping up with military life and benefits, Military.com has you covered. Subscribe to the Military.com newsletter to have military news, updates and resources delivered straight to your inbox.