Hollywood doesn't have the best track record for recognizing the talents of people of color, and it lags far behind the progress that the U.S. military has made since President Harry Truman signed Executive Order 9981, which created the President's Committee on Equality of Treatment and Opportunity in the Armed Services and integrated the services in 1948.
These Black actors all followed their military service with careers that have broken down barriers in Hollywood and created opportunities for the men and women who followed them into the arts.
Sidney Poitier (Army)
Poitier was born in Miami but spent his early years in the Bahamas. He returned to the United States at age 15, settling in New York. After struggling to find work, the future actor lied about his age to join the Army at age 16.
Assigned to a hospital for "shell-shocked" veterans on Long Island, Poitier was assigned to "tend wards [and] administer cold packs, shock treatments and other supposedly rehabilitative therapies....We would in time become no more than jailers. The army was not heavily into the mental health business," he wrote in his memoir.
After just 10 months in the service, Poitier convinced the Army that he was mentally unfit and later used those acting skills to build one of the most celebrated careers in Hollywood history.
Poitier first gained notice as a delinquent high school student in "Blackboard Jungle" in 1955, and became a big movie star when he played opposite Tony Curtis in "The Defiant Ones" in 1958. The two actors played escaped inmates shackled together, and both Poitier and Curtis were nominated for Best Actor Oscars, and "The Defiant Ones" was nominated for Best Picture.
Poitier won a Best Actor Oscar for the 1963 movie "Lilies of the Field" and became the first Black actor to win an Oscar for a leading role. He went on to be one of the biggest box-office stars of the '60s in films like "Guess Who's Coming to Dinner," Best Picture Oscar winner "In the Heat of the Night," and "To Sir, with Love." Sidney Poitier died in January 2022 at age 94.
Related: Sidney Poitier, Oscar Winner Who Lied About His Age to Join the Army, Dies at 94
Morgan Freeman (Air Force)
Morgan Freeman joined the Air Force after he finished high school in 1955. During his service, Freeman was an automatic tracking radar repairman. After his discharge in 1959, the future movie star moved to Los Angeles and started taking acting classes.
Gen X knows Freeman from his breakthrough role on the '70s PBS children's show, "The Electric Company." He made a living as a stage actor for the next 20 years, but moviegoers may remember his small role in the Robert Redford movie "Brubaker" in 1980.
Freeman's Hollywood star rose in 1989 with four breakthrough roles. The actor was nominated for a Best Actor Oscar for playing driver Hoke Colburn in the Best Picture-winning "Driving Miss Daisy." He also played Sgt. Maj. John Rawlins in the Civil War drama "Glory," starred as hero high school principal Joe Louis Clark in the drama "Lean on Me" and Lt. A.Z. Drones in the Walter Hill crime drama "Johnny Handsome."
Freeman was unforgettable as Ned Logan in Army veteran Clint Eastwood's Best Picture Oscar-winning western "Unforgiven" in 1992 before playing his most memorable role, as Red in the prison drama "The Shawshank Redemption." Freeman earned a second Best Actor nomination for his performance, and the movie was nominated for Best Picture.
Freeman won a Best Supporting Actor Oscar for his role in Eastwood's second Best Picture-winning movie "Million Dollar Baby." He also played DCI William Cabot in the Tom Clancy movie "The Sum of All Fears," Lucius Fox in the Christopher Nolan "Batman" movies and Allan Trumbull in Gerard Butler's "Has Fallen" series.
Richard Pryor (Army)
Richard Pryor grew up in a brothel run by his grandmother in Peoria, Illinois. Like a lot of kids with troubled childhoods, he joined the military to get away from home and served in the U.S. Army from 1959 to 1960, Unfortunately, military discipline didn't agree with Pryor, and he spent most of his service time in the brig.
After the Army sent Pryor on his way, he drifted for a while and made his way to New York City, where he found success as a standup comic. He played Stanley X in the 1968 cult movie "Wild in the Streets," released a series of best-selling comedy albums and co-wrote the movie "Blazing Saddles," a movie that featured a host of veterans, including director and World War II Army vet Mel Brooks, Army vet Gene Wilder, Army Air Forces WWII veteran Slim Pickens, Air Force veterans John Hillerman and David Huddleston, and Coast Guard veteran Burton Gilliam.
Pryor became a huge movie star in the '70s with hits like "The Mack," "Uptown Saturday Night," "The Bingo Long Traveling All-Stars & Motor Kings," "Car Wash," "Blue Collar" and "Superman III." He achieved his biggest success co-starring with Wilder in "Silver Streak," "Stir Crazy" and "See No Evil, Hear No Evil."
Pryor died of a heart attack in Los Angeles in 2005 at age 65.
Melvin Van Peebles (Air Force)
Melvin Peebles enlisted in the Air Force after he graduated from Ohio Wesleyan University in 1953. Peebles spent three years as a navigator and bombardier in the U.S. Air Force Strategic Air Command. After he left the Air Force, Peebles added the "van" to his name while living in the Netherlands. The newly dubbed Van Peebles went on to become one of the most controversial figures in Hollywood history.
Van Peebles wrote and recorded his own music while living in Europe, wrote a novel, taught himself filmmaking and got the cinema community's attention with "The Story of a Three Day Pass." That movie earned him a job with Columbia Pictures as the director of the comedy "Watermelon Man." That film made money, and the studio offered Van Peebles a three-picture contract.
The renegade actor/director decided he didn't like working for a corporation, so he raised his own money to make the Black gangster movie "Sweet Sweetback's Baadasssss Song." The movie's mainstream success made Van Peebles a wealthy man and kicked off the '70s trend of "Blaxploitation" movies that included "Shaft" and "Superfly."
Van Peebles made more movies, did some acting, recorded a few albums with his band, and became a painter and sculptor before his death at age 89 in September 2021. Melvin Van Peebles may have never again reached the commercial heights of "Sweet Sweetback's Baadasssss Song," but he totally changed the motion picture industry with that one huge success.
Related: How Air Force Vet Melvin Van Peebles Changed Hollywood Forever
Ice-T (Army)
Tracy Marrow was born in New Jersey. After his parents died, he moved in with an aunt in Los Angeles. He was a fan of the novelist Iceberg Slim, and his penchant for quoting the books led to his nickname "Ice-T."
Marrow enlisted in the Army in 1977 at age 19 and served in Hawaii before getting an early discharge in 1979 because he was a single father. He embarked on a hip-hop career in the '80s and discovered that fans wanted him to rap about the gangster life in Los Angeles. While Ice-T had some gang affiliations, he was never actually a member himself.
Ice-T was one of the biggest solo acts in hip-hop by the end of the decade and got a break in the movies with a role in the 1991 movie "New Jack City," directed by Mario Van Peebles (son of Melvin). Over the decade, he had high-profile roles in "Ricochet," "Trespass," "Surviving the Game," "Johnny Mnemonic" and "Tank Girl."
A recurring role in the Dick Wolf-produced TV series "New York Undercover" led to his casting as Det. Odafin "Fin" Tutuola in the second season of "Law & Order: SVU" in 2000. More than two decades later, he's still playing the part and is the actor with the second-highest number of episodes playing one character ever, just behind castmate Mariska Hargitay, the only actor who's appeared in every episode of TV's longest-running drama.
Ice-T is a popular figure on social media, dispensing advice and tough-love motivation to his fans on Twitter.
Related: Famous Veteran: Ice-T
James Earl Jones (Army)
James Earl Jones pursued military service while participating in ROTC during his undergraduate studies at the University of Michigan. Jones was a member of the Pershing Rifles Drill Team and the National Society of Scabbard and Blade.
After graduating from Michigan, Jones served with the 38th Regimental Combat Team, where his duties included setting up a cold-weather training command at Camp Hale, Colorado. After completing his service, Jones studied acting at the American Theatre Wing using his GI Bill benefits.
Jones found great success in the live theater, but he achieved legendary status as the voice of Darth Vader in the "Star Wars" movies. Even though it's not Jones himself underneath the helmet, his imposing voice is the feature that most identifies one of the greatest villains in movie history.
He's also played James Greer in a trio of Jack Ryan movies, "The Hunt for Red October," "Patriot Games" and "Clear and Present Danger." Jones was King Jaffe Joffer in "Coming to America" and its sequel, voiced Mufasa in "The Lion King," Terence Mann in "Field of Dreams" and earned a Best Actor Oscar nomination for the 1970 boxing drama "The Great White Hope."
Related: The Voice of Darth Vader Was an Army Officer Who Almost Became a Doctor
Mr. T (Army)
Born Laurence Tureaud in Chicago, the future actor legally changed his last name to T. at age 18 in 1970. Mr. T enlisted in the Army in 1975 and served in the military police until his discharge.
Mr. T developed his signature mohawk and gold chains look while working as a bouncer back home in Chicago. He parlayed that experience into work as a celebrity bodyguard, and his clients included such big names as Marine veteran Steve McQueen, Diana Ross, Michael Jackson and Muhammad Ali.
Sylvester Stallone saw Mr. T when he was competing in the "America's Toughest Bouncer" segment on the NBC series "Games People Play." That led to Mr. T's iconic role as Clubber Lang in "Rocky III," the place where he first uttered his signature phrase, "I Pity the Fool."
Mr. T parlayed that movie role into his part as Sgt. Bosco "B.A." Baracus on the long-running NBC series "The A-Team." In the years since the show ended, Mr. T has made dozens of guest appearances on television series and seemingly even more commercials. He still has his signature haircut.
Related: Famous Veterans: Mr. T
Sherman Hemsley (Air Force)
After dropping out of high school in Philadelphia, Sherman Hemsley joined the Air Force. After he completed his service, he worked for the U.S. Postal Service while studying acting. During the 1960s, he earned a reputation as a stage actor and appeared on Broadway and touring productions.
His career took off when he was cast as Archie Bunker's neighbor, George Jefferson, on "All in the Family," the popular TV comedy created by WWII Army Air Forces veteran Norman Lear. The character proved so popular that Lear created "The Jeffersons" in 1975, and Hemsley starred in the show for 11 seasons.
Hemsley later starred in the series "Amen," which ran for five seasons on ABC in the late '80s and early '90s. The actor had a reputation as one of the biggest music fans in Hollywood, with a fervent passion for progressive rock bands like Yes, Gentle Giant and Gong.
Sherman Hemsley died in El Paso, Texas, in 2012 from complications of lung cancer.
Remi Adeleke (Navy)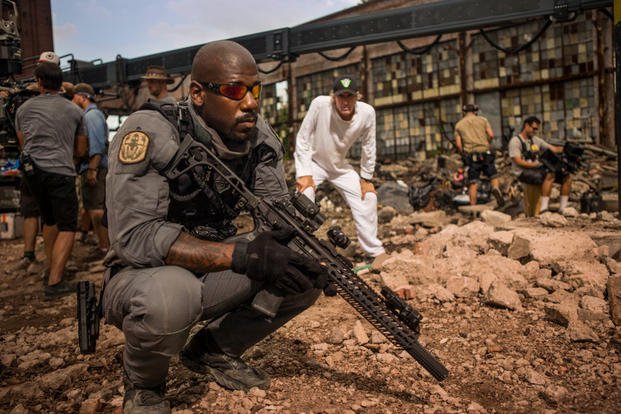 Remi Adeleke is the son of Nigerian royalty. His family lost everything in his home country when his father died and he immigrated to New York City with his mother. Young Adeleke had a troubled childhood that veered toward the criminal, but he credits the Navy with putting him on the right path.
Adeleke became a Navy SEAL and had served 14 years when he left the service in 2016. Since then, he's published a well-received memoir, "Transformed: A Navy SEAL's Unlikely Journey from the Throne of Africa, to the Streets of the Bronx, to Defying All Odds" and embarked on a career in Hollywood.
After some early appearances in Michael Bay movies like "Transformers: The Last Knight," "6 Underground" and "Ambulance," he's started to get high-profile roles in the television series "The Terminal List" (based on the novel by fellow SEAL veteran Jack Carr) and in the 2023 Gerard Butler action picture "Plane."
Related: Former SEAL Remi Adeleke Wants the Military to Take More Chances on Inner City Kids
Keep Up With the Best in Military Entertainment
Whether you're looking for news and entertainment, thinking of joining the military or keeping up with military life and benefits, Military.com has you covered. Subscribe to the Military.com newsletter to have military news, updates and resources delivered straight to your inbox.