"Causeway," streaming on Apple TV+, stars Jennifer Lawrence as Lynsey, a veteran of the Army Corps of Engineers who suffers a traumatic brain injury in Afghanistan and returns home to New Orleans to begin her recovery.
Back in her hometown, she meets James Aucoin, an auto mechanic who's recovering from his own injuries from a tragic car accident. Brian Tyree Henry, best known for the FX series "Atlanta" and hilarious in the recent Brad Pitt action picture "Bullet Train," gives a memorable performance as a man who's paying the price both physically and emotionally for his bad decisions.
The most notable thing about "Causeway" is how director Lila Neugebauer focuses on the mechanics of Lynsey's physical therapy. When we see PT in a movie, we usually get an image of an actor grimacing while struggling to walk while holding parallel bars. Instead, this time we get to see the discrete steps in Lynsey's initial recovery and the maintenance work she has to do once she returns to New Orleans.
We learn that Lynsey was helping to build dams in Afghanistan and that she was injured when an IED blew up her vehicle on the way to a work site. What's never nailed down is whether she's a civilian or an active-duty member of the Corps of Engineers. That distinction doesn't seem important in the context of this particular story. Lynsey was serving in a combat zone and came home with a brain injury.
Lynsey spends the movie trying to convince her neurologist that she's recovered enough to warrant him writing her a waiver letter so she can redeploy and return to her mission in Afghanistan. No one in her life thinks this is a good idea, but she's hyper focused on getting that letter so she can complete her mission.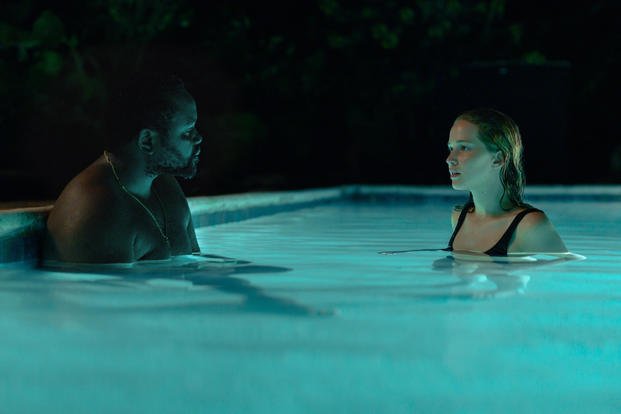 Lawrence and Henry become friends, but it's never a romantic relationship. A big chunk of the movie is conversations between Lynsey and James, where they share their experiences, but both obscure as much as they reveal over the course of the movie.
"Causeway" is about recovery and relationships. There's no big dramatic twist, no crime story, no hurricane or fight to save a business or neighborhood from destruction and failure. We spend time with two people who are learning to live with the aftermath of a tragic event. It's the portrayal of how they manage their personal issues and how they learn to live with them that makes "Causeway" so special.
Nothing about "Causeway" is flashy. Lawrence and Henry give understated performances that suggest how these characters will live over the course of decades rather than creating one big obstacle for them to overcome so the audience can cheer at the end of the movie. Embrace that approach, and you'll appreciate how many details that "Causeway" gets right.
Keep Up With the Best in Military Entertainment
Whether you're looking for news and entertainment, thinking of joining the military or keeping up with military life and benefits, Military.com has you covered. Subscribe to the Military.com newsletter to have military news, updates and resources delivered straight to your inbox.