"The Tomorrow War" puts Chris Pratt at the center of a sprawling military sci-fi tale as a Special Forces veteran called back into service when terrifying aliens attack the planet. The twist is that the attack happens 30 years in the future, and millions of contemporary humans are drafted to time-travel and fight the outer-space enemies.
The movie now is streaming via Amazon Prime. Originally slated for a Christmas 2020 theatrical release, "The Tomorrow War" is one of the biggest movies sidetracked by the COVID-19 pandemic. Fortunately, the flick now has a chance to find a huge streaming audience over the July 4 weekend.
The monsters are first-rate, and the digital effects are excellent. Director Chris McKay got his start in animation and previously made the excellent "Lego Batman Movie," and he uses those skills as he adds flesh-and-blood humans to the mix.
Running parallel to the monster story is another one about families and how fathers relate to their children. Pratt's Dan Forester has a terrible relationship with his Vietnam-vet father (J.K. Simmons, great as always) and a fantastic one with his daughter Muri (Ryan Kiera Armstrong) and his wife Emmy (Betty Gilpin).
Still, Dan is disappointed in how his life's going as a high school science teacher, and he's looking for something more when he's drafted into the war. He meets up with Dorian (Edwin Hodge), a hard-bitten warrior returning for his third tour even though no survivors are asked to do more than one. There's also Charlie (Sam Richardson), a fellow scientist who's terrified of what they'll find in the future.
By the time we meet these folks, most of the world's trained soldiers have been killed so the battles are being fought by civilians who are given cursory instructions and sent to face a terrifyingly smart and brutal enemy.
In 2051, Dan meets Romeo Command (Yvonne Strahovski), the leader of the remaining future force and eventually helps her execute a long-shot plan to win the war. Romeo's got a huge secret, and Dan will be shocked to learn the truth.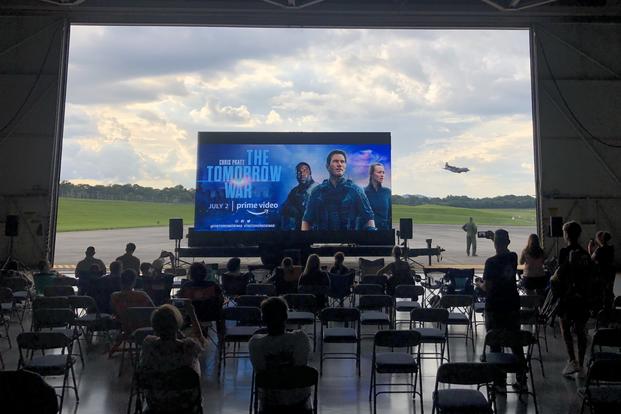 A good chunk of the movie was shot at Dobbins Air Reserve Base outside Atlanta, and Amazon held a screening for the base community a few days before its streaming release. It's amazing to see a movie full of scares and emotional moments with a big audience. Especially one that cheers every scene shot on the base where you're watching it.
Several of the actors participated in remote video interviews for the movie, and we had a chance to ask a few questions.
Edwin Hodge and Chris Pratt
Hodge had a great role on the Navy SEAL series "SIX," and Pratt is set to debut next year as former SEAL James Reece in an Amazon series based on Jack Carr's novel "The Terminal List." Both actors know their guns and have studied their tactical moves. They shared some thoughts.
Related: Former SEAL and 'Terminal List' Author Jack Carr Gives Us the Lowdown on 'The Devil's Hand'
Yvonne Strahovski
The Australian actress has enjoyed quite a run on the Hulu series "The Handmaid's Tale," but "The Tomorrow War" marks her highest-profile movie role to date. She spoke with us about how her character, a research scientist, came to lead the military fight against alien invaders.
Sam Richardson
Richardson has given hilarious performances on "Veep," "Detroiters" and "The Office," but "The Tomorrow War" allows him to mix comic relief with one of the most badass monster kills you'll ever see in a movie.
Jasmine Mathews and Keith Powers
Mathews ("Heathers" television series) and Powers ("Famous in Love" television series) are young performers participating in their first big movie junket. They play soldiers from the future sent back to train earlier generations for combat. They handled a curveball question about weapons training with grace.
Keep Up With the Best in Military Entertainment
Whether you're looking for news and entertainment, thinking of joining the military or keeping up with military life and benefits, Military.com has you covered. Subscribe to the Military.com newsletter to have military news, updates and resources delivered straight to your inbox.