John Wayne became a symbol of American manhood and patriotism over his five-decade career in Hollywood. Always most famous for his westerns, Wayne also made a dozen World War II movies in the two decades after the United States entered the conflict in late 1941.
The Duke obviously made other war movies, most notably "The Green Berets," his 1968 takedown of anti-Vietnam War sentiment in the United States. He played Davy Crockett in "The Alamo," (1960); a post-Civil War Gen. William Tecumseh Sherman in "How the West Was Won" (1962); and a general who eventually supports Kirk Douglas' determination to help Israel form an army in the nation's early years in "Cast a Giant Shadow" (1966).
And that's not counting the Civil War veterans and off-duty soldiers he played along the way in dozens of films.
Related: Why John Wayne Was Labeled a 'Draft Dodger' During World War II
Today, we're looking at World War II films because these movies are a big part of why movie audiences have embraced Wayne as a patriot. Unlike dozens of other prominent Hollywood figures, Wayne didn't actually serve. Troops even booed him as a draft dodger when he visited troops in the Pacific on USO tours during 1942 and 1943.
Wayne's performances in some of the best World War II movies ever made changed that reputation. These movies may not be on the same level as Wayne's finest films like "The Man Who Shot Liberty Valance" (1962), "The Searchers" (1956) or "Rio Bravo" (1959), but they're all worth a look.
A new John Wayne Essential 14 Movie Collection is available on DVD and it features Wayne's best World War II movie, "In Harm's Way." You also get his Oscar-winning performance in "True Grit" (1969), "The Man Who Shot Liberty Valance" (1962) and his last movie "The Shootist" (1976).
The rest of the set features some of the best of his post-1950 films, including "Hondo" (1953), "Island in the Sky" (1953), "The High and the Mighty" (1954), "Hatari!" (1962), "Donovan's Reef" (1963), "McLintock!" (1963), "The Sons of Katie Elder" (1965), "El Dorado" (1966), "Rio Lobo" (1970) and "Big Jake" (1971). It's a fine selection, even if it's a more about the westerns than the war movies. 
1. In Harm's Way (1965)
You might think Wayne was getting too old to play the lead role as Capt. Rock Torrey, a Navy officer whose career went off track after he disobeyed orders to chase a Japanese submarine after Pearl Harbor and got his boat torpedoed. Yet, Wayne is younger in this movie than Tom Cruise is now as he brings back Capt. Pete Mitchell for "Top Gun: Maverick." Think about that one.
Otto Preminger's movie is a giant soap opera tale of Navy politics. Rock Torrey was married to the Navy, so he divorced his wife and abandoned his son, Jeremiah (Brandon de Wilde). The kid is now stationed nearby. Torrey's got a romance with divorced Navy nurse Lt. Maggie Haynes (Patricia Neal). Kirk Douglas co-stars as Rock's buddy, Paul Eddington, a Navy officer of alarming volatility. Eddington commits a shocking act of violence and betrayal, but the movie redeems him in an act of combat heroism.
It's all a bit overheated, but that's why it's great. Wayne gets to dig a bit deeper as an actor than he's usually asked to, have the most convincing romantic encounter he ever played in a movie and Douglas gives one of his most intense performances in a career full of teeth-clenchingly great roles.
2. Sands of Iwo Jima (1949)
This is the movie that helped cement the Marine Corps legend of Iwo Jima and did the most to repair Wayne's flagging reputation. Wayne earned a Best Actor Oscar nomination for playing Marine Sgt. John Stryker, a tough leader disliked by his men who earns their respect as his unit charges up Mount Suribachi.
The average age of the Marines who actually fought on Iwo made most young enough to be Wayne's children, but the actor brought an undeniable gravity to a difficult role.
3. They Were Expendable (1945)
Who was expendable? Those daring young sailors who sailed in PT boat units that many Navy brass thought were a waste of time.
Wayne and Robert Montgomery embody the brave sailors who risked their lives and proved that the boats and the new tactics they employed had an important role to play in the Pacific theater of war.
Of course, the movie also romanticized the PT boat commander for American audiences, and stories of Navy veteran John F. Kennedy's PT boat heroism played a big part in getting him to the White House in 1960.
4. The Fighting Seabees (1944)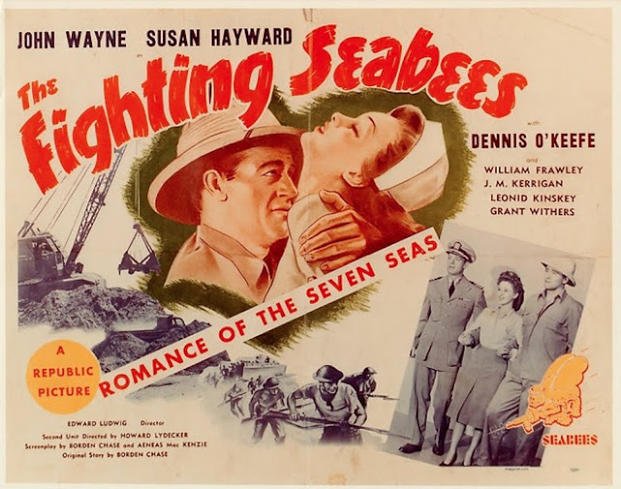 Wayne also helped build up the reputation of the Navy's engineers in this heavily fictionalized tale of the service's Seabees units, who build airstrips and bases all across the Pacific.
Wayne is Lt. Cmdr. Wedge Donovan, who's pissed that his men put themselves in danger during construction projects but aren't allowed to arm themselves against enemy attack. Wayne's men fight back under an enemy attack and many die, but the incident forces the Navy to realize that these crews need actual military training.
Wayne helps to set up training for the new Construction Battalions, aka CB's, aka Seabees. His men are prepared for the next Japanese attack, and Donovan offers his life in service to his country.
5. Back to Bataan (1945)
What better way to take the sting off an early defeat than to send men back into battle to undo the damage? The movie opens with the brutal battle against the Japanese on the Bataan peninsula in the Philippines in early 1942. More than 50,000 American and Filipino troops were captured and sent to brutal POW camps.
Wayne and his men engage in guerrilla warfare against the Japanese after the defeat, but they go back to Bataan in late 1944 and join other units in liberating the prisoners. The movie ends on a heavy note as newsreel footage of the actual rescued prisoners closes out the story.
6. The Longest Day (1962)
Could this epic telling of the D-Day invasion be ranked higher? Sure, if this was a list of World War II movies and not John Wayne movies. Producer Darryl F. Zanuck wanted to tell the entire story of the operation and recruited dozens of major stars, most of whom were only in the movie for a few minutes.
Wayne is barely in the movie, and he's great. "The Longest Day" is an essential war movie, but it's not exactly the Duke's picture.
7. Flying Leathernecks (1951)
Finally, World War II in Technicolor! This time, Wayne and Robert Ryan celebrate Marine Corps aviators during the Guadalcanal campaign.
Wayne plays Maj. Dan Kirby, a commander who understands modern war tactics better than the brass who resist his brash, yet effective, insistence on giving ground cover to Marines on the ground before they're actually in direct danger.
The Duke has to make some difficult command decisions and forces Ryan to learn how to place command objectives above the individual lives of his pilots during the Battle of Okinawa.
8. Flying Tigers (1942)
How can you support the war effort before the United States enters the war? You make "Flying Tigers," a movie about volunteer pilots who fight the Japanese in China before Pearl Harbor.
Wayne is Capt. Jim Gordon, a responsible commander who can't seem to get through to hotshot aviator Woody Jason (John Carroll), who's fighting more for the thrills than any sense of righteous duty.
There's conflict and redemption, but this one is notable for the quality of its air combat scenes. It's not exactly "Dunkirk" or "Top Gun," but it delivered thrills at a time when Americans were amped up and ready to go to war.
9. Reunion in France (1942)
In yet another movie conceived before the United States formally entered the war, Wayne plays an American pilot who volunteered to fly for the British RAF over France. Wayne gets shot down and falls for an French woman who's just broken up with her boyfriend after she's discovered that her man is cooperating with the German invaders.
Joan Crawford plays the French woman, and Wayne enjoys a few of his always-awkward love scenes with her as they plot a way to smuggle him out of France. Crawford later discovers that her old boyfriend had a change of heart, so she can forget about lumpy old Duke and go back to her slick European, sophisticated lifestyle. But she's now a better person for kissing on a patriot like John Wayne.
10. The Sea Chase (1955)
John plays against type as a German steam freighter captain who lost his Navy commission after refusing to support the Nazi regime. He's tasked with transporting a German spy (Lana Turner) from Australia back to Germany and spends the entire movie being chased by the British officer she seduced.
The ship travels through the Pacific to Chile and eventually to Norway, where there's a final showdown in icy waters. The Nazi girl realizes the error of her ways, falls for Wayne and the two face the sinking of his freighter with courage.
The movie was based loosely on a novel that was even more loosely based on a 1939 wartime incident. In the end, Wayne's still an anti-Nazi and still the guy who doesn't quite know how to talk to a woman.
11. Operation Pacific (1951)
Wayne is the XO on the submarine USS Thunderfish under the command of Ward Bond. His name is actually Duke this time, and he's falling back in love with his ex-wife, played by Patricia Neal. She may have been the only actress who understood how to play a love scene with Wayne.
There's some drama about the ex-wife now dating the younger brother of the commanding officer even though she's still in love with Duke. Duke gets promoted when the commander is killed in combat, and there's some bad feelings with the brother, but the real issue is some torpedoes that don't explode as planned.
"Operation Pacific" is really kind of the second-rate warmup for "In Harm's Way," a much better movie that's even more melodramatic than this one. They'd make a good double feature, but don't watch this one first.
12. The Wings of Eagles (1957)
This barely counts as a war movie, and it's probably the worst of the movies that Wayne made with director John Ford. Wayne plays real-life Naval aviator Spig Wead, who serves in World War I and tries to convince his superior officers that air combat is the real future of warfare.
After he's promoted to squadron commander, Wead falls down a flight of stairs, breaks his neck and wakes up paralyzed. He works his way back to health, becomes a successful Hollywood screenwriter and rejoins the Navy for World War II and comes up with the idea of "jeep carriers," smaller craft that follow bigger ships into combat.
Ford was friends with the real-life Wead, and this movie was a tribute. It's sentimental and by the numbers. If you haven't heard of it before, there's a reason.
Keep Up With the Best in Military Entertainment
Whether you're looking for news and entertainment, thinking of joining the military or keeping up with military life and benefits, Military.com has you covered. Subscribe to the Military.com newsletter to have military news, updates and resources delivered straight to your inbox.