"Top Gun Day" is a patriotic holiday invented by fans of the finest movie about U.S. naval aviators. For mysterious reasons, it takes place each year on May 13 even though the actual theatrical release date for "Top Gun" was May 16, 1986.
For the 35th anniversary, Paramount is re-releasing "Top Gun" in theaters for one week only starting May 13. The movie is showing in 150 AMC Dolby Cinema locations in the United States. Check this link to find a theater near you.
Dolby Cinema combines Dolby Vision HDR imaging technology with Dolby Atmos surround sound. You can get the gear to enjoy a version of this experience at home if you've got big bucks for a home theater setup, but even the best home theaters don't compare to the experience in a specially equipped cinema. "Top Gun" didn't look this good in 1986, and it probably won't play this way again anytime soon.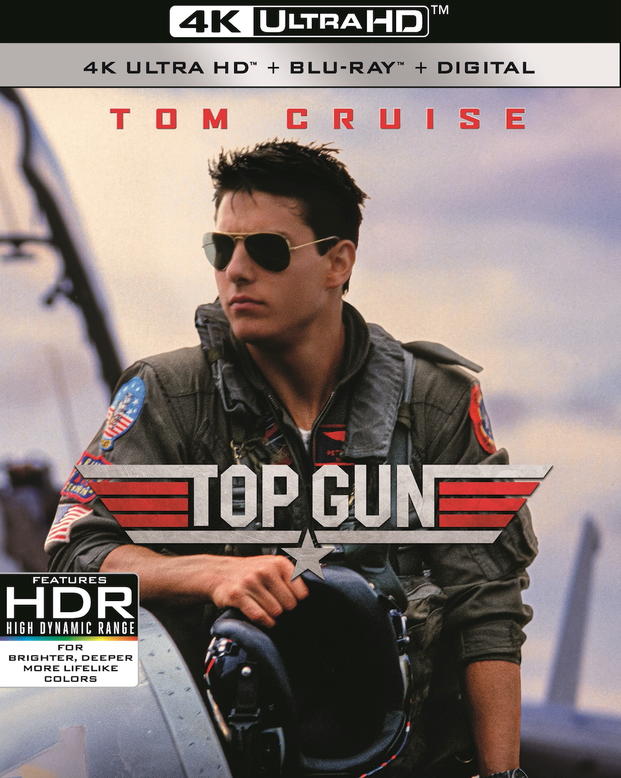 If you do have a good home theater setup, "Top Gun" is available in a 4K UHD/Blu-ray/Digital combo pack and available to rent or buy in 4K Digital. The Digital versions are missing the fantastic "Danger Zone: The Making of Top Gun" six-part documentary, so consider a 4K or Blu-ray if you've never seen that bonus material.
"Top Gun: Maverick" will open in theaters on Nov. 19, 2021. Tom Cruise and Val Kilmer return from the first movie, and they'll be joined by Ed Harris, Jennifer Connelly, Jon Hamm and a new generation of aviators played by Miles Teller, Glen Powell, Monica Barbaro, Lewis Pullman, Jay Ellis and Danny Ramirez.
Related: Meet Your New 'Top Gun' Crew
Producer Jerry Bruckheimer loves Top Gun Day and thinks this new release is a big deal, so much so that he talked to us about the screenings and shared some intel about the original movie and the upcoming November release of the long-awaited sequel. Bruckheimer made "Top Gun" with his late partner, Don Simpson, and he worked closely with star Tom Cruise to finally make the second film.
Bruckheimer shared some stories about the making of "Top Gun" and Top Gun: Maverick" with Military.com.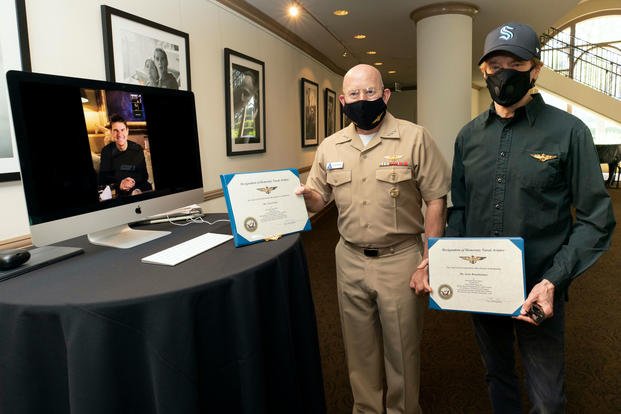 Military.com: How did you convince the Navy to let you make "Top Gun" back in the '80s?
Jerry Bruckheimer: "The first time we sent in the script, we got a definite no. The second time we sent him the script, the admiral at Miramar didn't want to have anything to do with Hollywood. If there was an accident, it's a blemish on his career, so nothing good could come of this. So Tom and I, and I think Don, flew to Washington, and met with Secretary of the Navy John Lehman. John understood the power of Hollywood and said to Tom and myself, 'Look, if anybody gives you trouble, here's my home number. You just have them call me or call me yourself, and we'll get this right.'
"Fortunately, the Navy got behind us, and we never had to use that phone number. But once we cleared out some of the negative aspects on that first base in Miramar, California, it was pretty smooth sailing. You always have problems when you're putting cameras on these very expensive planes in the cockpit and can't have anything loose. So the lawyers were always negotiating with lawyers, but we finally got it done. We got the cameras in the plane, not as many as we did in 'Top Gun: Maverick,' but it was a start, and we could show the excitement of what a naval aviator goes through in flight.
"'Top Gun' is a classic film of my career. That's why we're having a 'Top Gun' day. The movie will be back in 150 theaters with Dolby sound and VistaVision. It's beautiful. It really is something that you want to take your son or your daughter to see just the way your dad or your mom took you to see the original 'Top Gun.'"
Military.com: A lot of our readers may be too young to remember, but the military hadn't been working closely with movie makers in the years before you made "Top Gun." How did the folks you encountered react to your crew?
Bruckheimer: "The men and women from the Navy were so professional, so terrific and very smart. They couldn't be a better example for our country and the world in the way they conduct themselves, how they care about what they do, and how they are so proud of what they do.
"I'm a big proponent of the armed forces, and I've had a great relationship with the Navy over these years. They were so helpful in making 'Maverick.' 'Top Gun' would've never been a success without their aviators and the people behind the scenes who made it all happen. Some of the men and women who worked on the carrier are actually in the movie. I couldn't be prouder of our armed forces, especially the Navy."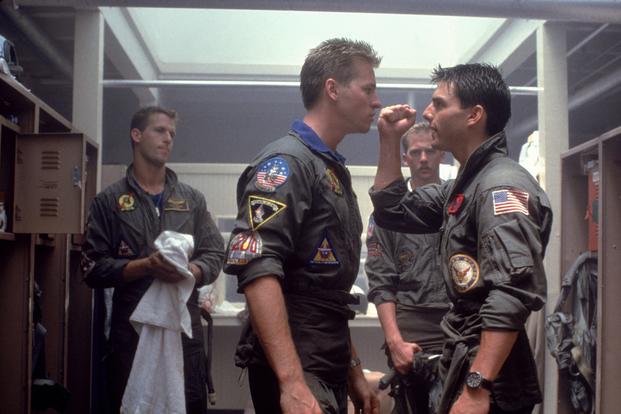 Military.com: The making-of documentaries go into a lot of detail about just how much director Tony Scott wanted to technically push the envelope when making "Top Gun." It seems like a lot of techniques were invented on the fly. That seems like a lot of pressure on you and Don Simpson.
Bruckheimer: "Well, you know, Tony figured it out. He was such a great filmmaker. Tony was young at the time and had only made one film, but he had an enormous amount of experience in commercials. He knew how to tell a story in a very short period of time and was also an artist who could shoot the movie himself. Tony did some of the 'Top Gun' cinematography himself.
"So it was all invented between Tony; Jeff Kimball, who was our cinematographer; and the Navy engineers who helped work out where we could put the cameras. We had a great experience on the first one, and the second one took it to a higher level, because we've learned so many lessons.The cameras are one third or a quarter the size now, so we could put more cameras in the cockpit.
"We knew exactly what to do to train the actors. Tom created an aviation school for them that took three months. They first went up in a prop plane, then they went up in an aerobatic prop for a while, and finally they went onto a jet so they can feel more g-forces.
"Finally, they were ready to get an F-18, which is a big jump, and they had a number of hours in the F-18 so they could learn to handle those g-forces. When you see 'Top Gun: Maverick,' they're right there in the cockpit. They're taking the g's. They're taking the turns. It's very, very authentic."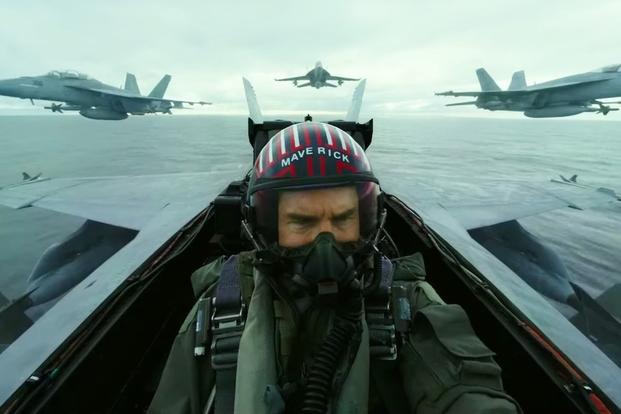 Military.com: Were there lessons learned from "Top Gun" that made it easier for you on the new movie?
Bruckheimer: "Our 'Top Gun: Maverick' director, Joe Kosinski, was able to see what we did on the first movie and how we did it. Because Joe's a technical guy, he understands the camera and understands how to get things done. Sony made a special camera for us. That was so we could get a number of cameras in the cockpit that were remote. We had to train the actors on how to work the camera and when to cut. Besides learning how to fly, they had to act, then they had to be their own cameraman."
Military.com: At what point did you realize that "Top Gun" was going to be a different kind of movie, something that was really going to resonate with audiences?
Bruckheimer: Every time you make a movie, you don't know. You put an enormous amount of energy and time into everything that you do with the films that we make. Sometimes they become 'Top Gun.' And sometimes they don't work; you just never know. We care about every one of them. An audience will decide and say, 'Hey, this is really a cool movie. You've got to see it over and over again.' And that's what happened with 'Top Gun.'"
Keep Up With the Best in Military Entertainment
Whether you're looking for news and entertainment, thinking of joining the military or keeping up with military life and benefits, Military.com has you covered. Subscribe to the Military.com newsletter to have military news, updates and resources delivered straight to your inbox.