One of our favorite Super Bowl rituals is the announcement of the NFL's Salute to Service Award presented by USAA. The honor recognizes a member of the league community who's made exceptional efforts to honor and support the military community.
Steve Cannon, an Army veteran who's president of the Atlanta Falcons' parent company, is the recipient of the award for the 2020 season.
Even though each one of the 32 NFL teams submits a nominee at the beginning of the season, the Falcons organization seems to have a lock on the award. Cannon marks the fourth Falcon player or employee to receive it in the last five years, following former coach Dan Quinn (2016), wide receiver Andre Roberts (2017) and center and Air Force Academy grad Ben Garland (2018).
Cannon's official title is CEO of AMB Sports and Entertainment. In that capacity, he works with owner Arthur Blank to oversee the NFL's Atlanta Falcons, Major League Soccer's Atlanta United soccer team, Atlanta's Mercedes Benz stadium and the PGA Tour Superstores.
He's a 1986 graduate of West Point, was Ranger-qualified and served as a 1st lieutenant in West Germany during the fall of the Iron Curtain. Cannon also served five years as an artillery officer, a situation that led to a few jokes about his name from his fellow troops.
Steve got the Salute to Service news from NFL Commissioner Roger Goodell on a conference call earlier this week.
Why are the Falcons such a force in the NFL's commitment to honor the military?
"It's not an accident. It's a commitment." says Cannon. "I remember a meeting that I had almost five years ago in Arthur's office where I said, 'We're in the state of Georgia. We've got Fort Benning, we've got Fort Stewart, we've got Fort Gordon. We've probably got a higher concentration of military members and their families than almost any other state in the country. So if there's a team that needs to get Salute to Service right, it needs to be the Falcons.'
"So it's a fundamental part of our franchise," he continues. "Salute to Service for us is not just the one week a year that the NFL designates. We salute service 52 weeks a year. You will see a Salute to Service element at every single one of our home games for the Falcons and for Atlanta United with members and their families as part of our games. It's that deep commitment that I think probably differentiates us from other organizations."
Cannon's military career was inspired by his brother, Mark.
"My younger brother Mark was my superior officer at West Point, because I went to college first. When I saw the amazing experiences that my younger brother was having at West Point, I said, 'I've got to do that.' So I ended up essentially starting over, and my younger brother was a year ahead of me at West Point. That was the best three years that we spent together as brothers. We were each other's mutual support system. We were on the wrestling team together; we were in the same company together. I'm grateful that I got that time with my brother."
Mark Cannon, who spent his post-Army career working in Germany, died in 2014.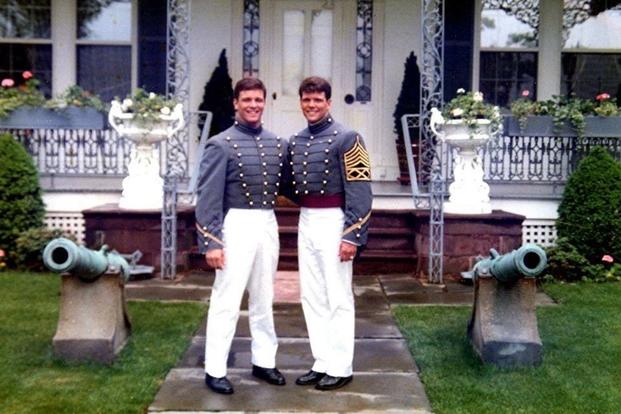 "After Ranger School at Fort Benning, I was stationed in a Border Patrol unit in Germany at the end of the Cold War, 1987 to 1990," Cannon remembers. "I was at the Czechoslovakian border when the wall started coming down. When I got stationed over there in 1987, we wouldn't have imagined in the world that the Cold War would end in just a couple of years. It happened so suddenly. To have been in a front seat position for a moment as significant as the end of the Cold War was pretty cool."
Cannon was a witness to the euphoria that marked the end of the Cold War in Europe.
"As the wall came down, more and more Eastern Germans came across and got experience of life in the West for the very first time," he says. "The West German government gave each of them 100 German marks. They called it "welcome money" as a sign of good faith and solidarity to their citizens. Those East German two-stroke vehicles called Trabants were parked everywhere in our town. For a period of two weeks, you couldn't find an orange, a banana or a chocolate bar, all the things that folks from the East had not been able to enjoy on a regular basis. It was a very euphoric, almost triumphant moment where East and West came together. Families that have been separated for more than a generation were reunited. It was really neat."
After Cannon left the Army, he worked for Mercedes Benz in Germany and moved back to the States to help the company establish its giant manufacturing plant outside Birmingham, Alabama. He was working as president of Mercedes Benz USA when he decided to join the Falcons organization.
He sees a lot in common between a job leading a manufacturing company and overseeing what's essentially a live entertainment experience.
"While I was at Mercedes Benz, it was always about creating an amazing customer experience. Yes, we made great cars, but we needed to supplement that with a phenomenal customer and ownership experience," Cannon notes. "I essentially traded customer experience for fan experience. We treat it with a level of passion and commitment. In live sports, our competition is the sofa and and the 80-inch flat screen that sits inside of almost every household in America. Our job is to create an experience that is so phenomenal that it lures fans away from home and their 80-inch flatscreen to drive downtown to pay for parking and come to our environment. I found more in common between the jobs than differences. And it's been a wonderful transition."
Cannon will be recognized during the two-hour NFL Honors broadcast, airing Saturday night, Feb. 6, at 8 p.m. ET/PT on CBS. Somehow, the NFL has managed to pull off a complete season with no games canceled; it will culminate this Sunday with Super Bowl LV in Tampa, Florida, between the Tampa Bay Buccaneers and defending champion Kansas City Chiefs.
Keep Up With the Best in Military Entertainment
Whether you're looking for news and entertainment, thinking of joining the military or keeping up with military life and benefits, Military.com has you covered. Subscribe to the Military.com newsletter to have military news, updates and resources delivered straight to your inbox.