Tight End Gary Steele became the first Black player for the United State Military Academy's Black Knights football team in 1966 and went on to a 23-year Army career after graduation.
His daughter Sage Steele has become a successful sportscaster at ESPN and currently anchors the 6 p.m. ET edition of the network's flagship show "SportsCenter."
Sage is working with USAA for the Army-Navy House sweepstakes to let fans of each team celebrate their fandom since they can't attend this year's game in person.
Visit www.ArmyNavyHouse.com and upload a photo that shows off your fandom. You'll be entered into a sweepstakes for a chance to win a fully paid trip to the 2021 Army-Navy Game in New York City with airfare, hotels and game tickets included. There's one winner from the Army side and one from the Navy fan base. There will also be 2,000 souvenir commemorative tickets awarded to entrants.
Gary Steele's first season in an Army football uniform in 1966 was also President Donald Trump's first year as a student at the Wharton School of Business and President-elect Joe Biden's second year of law school at Syracuse.
Navy's first Black football player was Calvin Huey, who suited up two years earlier in 1964. It's sometimes easy to forget how much America has changed over the past few decades and how our leaders were adults at a time of so much resistance and turmoil.
Huey and Steele's playing careers coincided with the most turbulent years of the civil rights movement and the mere fact of their presence on the field was a force for change in a divided country.
Steele recognized the impact when she saw pictures of her father's playing career. "When you look at that black and white team photo from 1966 and it's pretty easy to spot my dad, right in the middle of this sea of his white teammates, and it's just crazy. That's just not what football teams at any level look like anymore."
Sage says her dad always downplayed the importance of his role."My dad didn't ever really talk about it. Because to him, it didn't matter. And his answer always was, 'Well, somebody has to be first. It just turned out that it was me.' All he ever wanted to do was play football and specifically play at the United States Military Academy. He was heavily recruited by Joe Paterno at Penn State, which was obviously an incredible program at the time. He chose to go to the right program for him and represent the Steele family and represent West Point and then represent his country."
Gary Steele graduated from West Point in 1970, married in 1971 and Sage was born at Ft. Leavenworth, Kansas in 1972. Steele retired a full colonel in 1993 but, before then, the family lived the peripatetic military life. By the time she was 11, Sage had lived in four different countries and spoke several languages.
She loved that military childhood. "It was the best possible upbringing," she remembers. "The most difficult part came after I moved out of that protected world. I call the military the most diverse, yet sheltered, upbringing possible.vIt doesn't matter what you look like. My parents are in an interracial marriage. My dad's black, my mom's Irish and Italian and nobody cared."
"The military was diverse, but everybody accepted and took care of each other. When I got out in the civilian world, I learned about a lot of issues because I was biracial, or not being black enough or white enough for some people. So it was kind of scary to go out where people aren't as accepting and tolerant as they are in the United States military."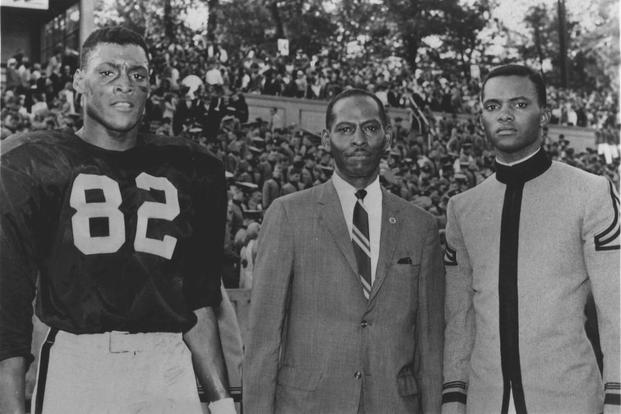 Steele thinks part of the reason that her dad underplays his pioneering role was that he also grew up as an Army brat. "My dad's father was a Buffalo Soldier. He knew about the race issues in the '30s and '40s and during World War Two," she said.
"Dad thought that others had already been through so much more than him. As he's gotten older, he has so many people reaching out to him to say thank you for being that brave face of change. But he raised us in the spirit of the West Point cadet prayer: 'Help me to choose the harder right, instead of the easier wrong, and to never tell a half truth when the whole can be won.'"
We're lucky that Gary Steele is still with us and that he has a daughter who's so determined to champion the values that made him. Here's hoping we're all back to normal next year and that the Army-Navy game will be played before a packed house in New York City.
If you see Steele at the game, make sure to thank him for his service in the U.S. Army and his contribution to all the progress we've made over the last 50 years.
Keep Up With the Best in Military Entertainment
Whether you're looking for news and entertainment, thinking of joining the military or keeping up with military life and benefits, Military.com has you covered. Subscribe to the Military.com newsletter to have military news, updates and resources delivered straight to your inbox.