The NFL's "Salute to Service" program has been a real boon to military charities, raising over $44 million since it began in 2011. The Bob Woodruff Foundation, Pat Tillman Foundation, Tragedy Assistance Program for Survivors (TAPS), United Service Organizations (USO) and Wounded Warrior Project have all received donations from the project.
The COVID-19 pandemic has made the services those organizations provide more critical than ever and the league has just announced its "Salute to Service" plans for 2020.
If you watched the games this past weekend, you saw some of the on-field promotion: logos stenciled on the field, camo game balls, helmet decals and Salute-themed hats and other gear worn by coaches and staff.
There are spots running during the games that feature Philadelphia Eagles quarterback Carson Wentz, future Hall-of-Famer and insurance pitchman Peyton Manning and Dallas Cowboys legend Emmitt Smith.
USAA is sponsoring a Salute to Service Sweepstakes that gives active duty and veterans a chance to win one of five Ultimate Fan Cave prizes at SaluteToService.com. You'll need to log in with ID.me to enter and get a change to win a TV, sound system, gaming system and Microsoft Surface Pro 7 laptop. The winners also get a virtual interaction with an NFL player (video chat, online Xbox gaming), autographed NFL memorabilia and an NFL Shop gift card and a food delivery gift card.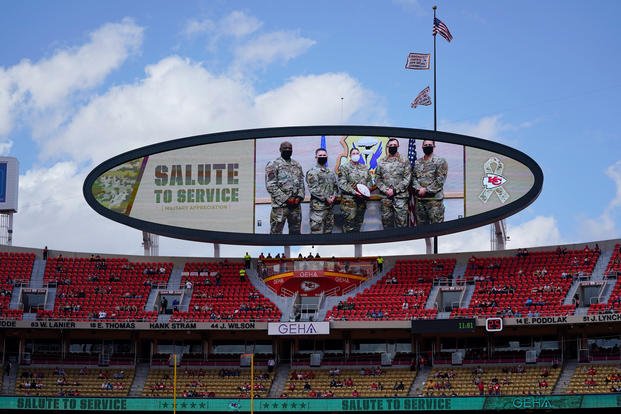 USAA will also present its annual Salute to Service award to an NFL player or coach who devotes time and effort to military causes. They're working on adapting the popular Salute to Service Lounge to a virtual format due to current pandemic conditions and will hold one at next February's Super Bowl LV in Tampa.
Lowe's and the NFL will work with Rebuilding Together on November 18 to refurbish and update the home of an Air Force veteran in Kansas City. Rebuilding Together is a non-profit focused on transforming the homes and lives of low-income families, seniors, people living with disabilities and veterans.
Rocket Mortgage will donate $1,000 toward the fight to end veteran homelessness for every touchdown scored during the month of November. There have been 161 NFL touchdowns scored so far this month, so the tally currently stands at $161,000.
The NFL gets some flak for its military flyovers and national anthem controversies, but the "Salute to Service" campaign is something it's doing right and the league deserves credit for finding ways to support the active duty and veteran communities.
"Our nation's heroes are not immune to the significant perils brought on by the pandemic." said NFL Commissioner Roger Goodell. "Many service members and their families are physically divided, either in response to COVID-19 or as part of their role in the military. This Veterans Day -- and throughout Salute to Service -- we express our gratitude to veterans and active service members for helping to preserve our health and safety, and for protecting and defending our freedoms domestically and abroad. The NFL and its 32 clubs humbly salute and thank you for your service to our country."
Enjoy the football and don't forget you can pick up custom "Salute to Service" merch at NFLShop.com.
Keep Up With the Best in Military Entertainment
Whether you're looking for news and entertainment, thinking of joining the military or keeping up with military life and benefits, Military.com has you covered. Subscribe to the Military.com newsletter to have military news, updates and resources delivered straight to your inbox.