There are many, many ways to celebrate Veterans Day. There are parades, free food from America's numerous fine (and not-so-fine) dining establishments and, of course, spending time with family, friends and other veterans.
When all that is over, you'll likely still have plenty of time to pop a top with those friends and fellow veterans. Some might require one or two libations (in moderation) to make it through spending time with family. If this sounds like something you might enjoy, why not make it a part of the celebration by making one of these beverages concocted by troops of the past?
1. Stone Fence
A pint of hard cider mixed with a shot of rum might sound like an easy drink, but that's the problem. It goes down very smooth, and it's called a "stone fence" because after one too many (which comes much faster than you'd expect), it feels like you ran down a hill into one.
This was the beverage Ethan Allen and the Green Mountain Boys were drinking at Remington's Tavern in Castleton, Vermont, the night before they captured Fort Ticonderoga from the British. They then moved the fort's cannons about 225 miles to Boston so they could shell the British with their own gun, beating any hangover PT story you've ever heard.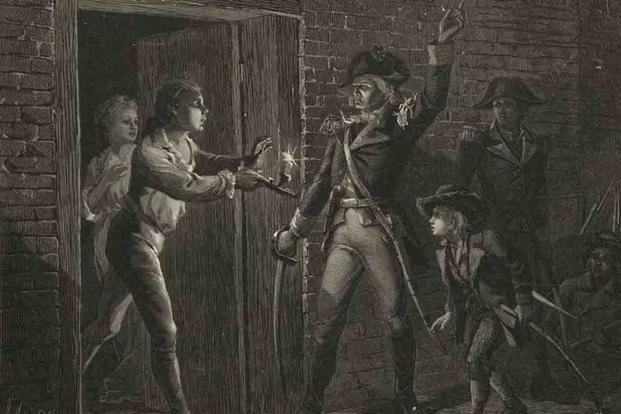 2. Fish House Punch
If the idea of a punchbowl at your Veterans Day party makes you think the other veterans might make fun of you, think again. Storied Marine Gen. Victor "Brute" Krulak ordered that this drink be served at every one of his birthday parties after 1940.
Originally created in a Philadelphia club when Pennsylvania was still a British colony, Fish House Punch was also a favorite of George Washington. The recipe, which was famously kept a secret for more than 200 years, is usually made in a nine-gallon punchbowl. The folks at Epicurious provide a more manageable recipe:
1 cup sugar
3½ cups water
1½ cups fresh lemon juice (6-8 lemons), strained
1 (750-ml) bottle Jamaican amber rum
12 oz. Cognac
2 oz. peach brandy
1 ice block
Stir together sugar and 3½ cups water in a large bowl or pot until sugar is dissolved. Add lemon juice, rum, Cognac and brandy, then chill, covered, at least three hours. Pour mixture into punch bowl over the ice block.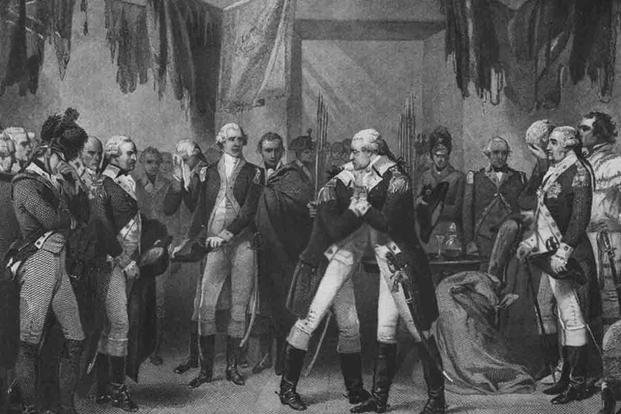 3. Daiquiri
No one loved a good daiquiri more than World War I veteran and World War II correspondent Ernest Hemingway, and it came from the same place where Papa Hemingway's favorite bartender made them just the way he liked them: Cuba. After the Spanish-American War, American engineer Jennings Stockton Cox was working near the town of Daiquiri in Cuba.
He discovered the locals drank a delicious mixture of rum, sugar and lime juice that he named after the town when he introduced it to U.S. Navy Adm. Lucius W. Johnson. Johnson took the recipe to the Army and Navy Club in Washington, where it caught on and spread throughout the Navy -- which pretty much meant the entire world, even back then.
2 parts light rum
1 part fresh-squeezed lime juice
1/2 part simple syrup
4. Sidecar
The origins of this classic cocktail aren't exactly clear, but one prevailing legend is that it was created at the behest of a U.S. Army captain toward the end of World War I. While away from the front, the captain was in Paris when he caught a head cold. He rode up to Paris' famed Harry's Bar in a motorcycle sidecar, looking for a cure.
The bartender made him what would become known as the Sidecar:
2 oz. Cognac
1/2 oz. lemon juice
1/4 oz. Cointreau
Shake with ice. Strain into a cocktail glass.
5. French 75
Before the United States entered World War I, American aviators were still itching to fight. Fighter pilot Raoul Lufbery was one of those Americans. He joined the Lafayette Escadrille, an all-American squadron that was fighting under the French flag. He shot down 17 enemy planes during the war and, like many pilots, wanted a drink after. Legend has it, that's how the French 75 cocktail came to be.
The Frenchmen flying with the Lafayette Escadrille celebrated their missions with Champagne after hours. This might be all well and good for the French, but Americans before Prohibition drank a lot and they wanted those drinks made strong. Lufbery spiked his champagne with gin. Over the years, it evolved to include cocktail favorites lemon juice and simple syrup or sugar. These days, it's served in large Champagne flutes that resemble the big French guns of the Great War.
1½ oz. gin
3/4 oz. lemon juice
1/2 oz. simple syrup
2 oz. Champagne
Combine gin, lemon juice, ice and simple syrup in a cocktail shaker. Shake and strain into a chilled Champagne flute and top with sparkling wine.
6. Suffering Bastard
This tiki bar favorite was actually created by British troops fighting Nazis in Egypt, and the original Suffering Bastard is far less fun than its rum-and-pineapple ancestor. British troops, especially commandos, liked to imbibe and looked for a hangover cure at the famous Long Bar in Cairo.
Tending that bar was chemist-turned-barman Joe Scialom, who, in the face of dwindling supplies and low-quality liquor, gave the British the boost they needed. Dubbed the Suffering Bastard, it worked so well, he received a telegram asking for eight gallons of it to be sent to the Second Battle of El Alamein, which kicked the Nazis out of Egypt.
Equal parts bourbon, gin and lime juice
Dash of Angostura bitters
Top off with ginger beer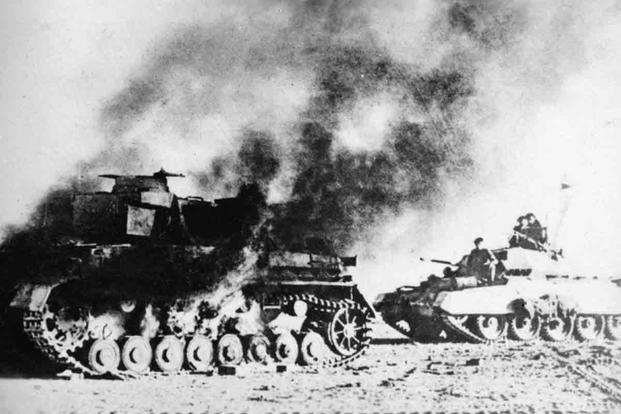 7. Guadalcanal
The Guadalcanal is one drink you should start with the day before Veterans Day: the Marine Corps birthday. It dates back to the 1942 victory of U.S. Marines over the Japanese defenders of that island. It marked the point in World War II where the U.S. finally stopped playing defense and went on the offensive.
When the Marines landed there, the Navy graciously provided them with some cases of Old Crow Bourbon. Like good Marines, they were disciplined in their intake of the bourbon, rationing it carefully. They soon took it a step further and began mixing it with their other supply: unsweetened grapefruit juice.
While many Marines had to imbibe their drinks warm, many Japanese positions were outfitted with iceboxes. Once captured, the iceboxes allowed the Marines to cool their beverages -- now that's motivation.
One part Old Crow Bourbon
One part unsweetened grapefruit juice
Serve over ice if you're a POG
-- Blake Stilwell can be reached at blake.stilwell@military.com. He can also be found on Twitter @blakestilwell or on Facebook.
Want to Learn More About Military Life?
Whether you're thinking of joining the military, looking for post-military careers or keeping up with military life and benefits, Military.com has you covered. Subscribe to Military.com to have military news, updates and resources delivered directly to your inbox.