Buying headphones used to be simple. You picked out a pair, made sure the cable matched the jack on your music source and plugged it in. Over the past decade, wireless headphones have gone from being a substandard novelty to the most dominant technology in the market. How do you choose?
I've been thinking about this question a lot as I've been using the Focal Bathys over-ear headphones, the first wireless model from one of the world's most revered manufacturers of audiophile quality headphones. The Bathys are actually three headphones in one, because they feature a Bluetooth wireless connection, a USB cable that works with the headphone's internal DAC (digital-to-analog converter) and a traditional 3.5mm cable.
We'll decode what all of that means here so you can decide what works best for you.
Focal Bathys Headphones
These Focal wireless headphones ($799) are at the top of the market for Bluetooth headphones, and they're truly worth the expense if you can afford them. They're incredibly well-made, beautifully designed and comfortable to wear for extended listening sessions.
Focal has managed to find a sweet spot that delivers the audio quality that its audiophile customers demand with all of the portability and flexibility that travelers or anyone with no fixed address might prefer. There are dedicated headphones for gamers, but the Bathys are worth the extra investment if you care as much about music as you do Call of Duty.
Bluetooth
Bluetooth is the connection standard that all wireless headphones and earbuds use. If you use Apple devices like iPhone or iPad, you want to make sure that your headphones support the AAC codec. Android users should look for the aptX adaptive codec, which is a low-latency standard that makes for a great gaming experience. There's another Sony-sponsored high resolution codec called LDAC, and the most premium Android devices support aptX and LDAC.
The Focal Bathys support the basic SBC standard (think YouTube and Spotify), AAC, aptX and aptX adaptive. They don't support the higher-resolution aptX HD and LDAC wireless standards, but there are plenty of cheap earbuds and headphones that tout their compatibility and don't sound nearly as good as these headphones.
Active Noise Cancellation
The killer feature for wireless headphones has been active noise cancellation. Since Bose first pioneered great-sounding headphones that filtered out background noise in 2000, the idea that headphones should reduce airplane, traffic or other background noise has become a standard in the portable audio market.
Unfortunately, the stronger the ANC, the more alteration there is to the sound of the music you're playing. You can't filter out frequencies from your environment without also having an effect on the frequencies present in the music.
The Focal Bathys have a relaxed noise cancellation tuning that filters out background noise without altering the sound of the music. It's not the most pronounced ANC available on the market, but Focal's engineers have found a way to balance noise reduction with audio quality for listeners who want to maximize their music experience.
DACs
While aptX HD and LDAC are the best possible wireless streaming codecs, they still can't quite match the experience you'll have with a wired headphone connection. There's just too much data for the wireless standards to process. That's likely to change in the next decade, but the best-quality listening experience still requires wires and a DAC.
DAC stands for digital-to-audio conversion, and it's handled by a chip that does exactly what the name implies by converting the digital signal on the phone to the analog audio your ears can hear.
Phone and tablet manufacturers spend money on high-resolution screens, speedy processors and advanced camera systems, but they don't make the same investment in DAC chips. That's why you'll need an external DAC and wired headphones to truly take advantage of tracks labeled "Hi-Res Lossless" on Apple Music or "Master" if you're subscribed to Tidal's high-resolution MQA tier.
A unique feature of the Focal Bathys is the built-in DAC. A listener can use the included USB-C cable to plug into an audio source and get high-resolution audio played back at full quality. Apple device users will need a USB-C to Lightning Audio adapter. Focal, which is a division of the same company that owns the Naim Audio brand, has built a DAC that is capable of reproducing audio up to a 24-bit/192 kHz resolution. Unless you're determined to explore the ultra-expensive audiophile zone, that's a high enough rate for most of our ears.
Wired Headphones
The other widespread option is a wired headphone with a standard 3.5mm cable. That's the size that our phones used before manufacturers dropped the headphone jack. Most wireless headphones have that wired cable so users can either use the cable, because it improves the sound quality or as a backup in case the battery dies.
That 3.5mm cable comes in handy when you're on an airplane and want to use the in-flight entertainment system. Plug into your headphones, crank up the ANC and have a much better experience than you would with the earbuds the airline wants to sell.
The other advantage is that you can use the cable with an external DAC. Since the Focal Bathys headphones will not work if there's no battery charge, I've primarily used the 3.5mm cable to compare the quality of the headphone's built-in DAC to external DACs I own.
Alternatives
Granted, the Focal Bathys headphones are a true luxury purchase. The Sony WH-1000XM5 ($399) and the Bose Noise Canceling Headphones 700 ($369) are the most popular premium wireless ANC headphones, and they cost half of what you'll likely pay for the Focals.
Both have a very strong noise-cancellation effect, a feature that has made them an incredibly popular choice. If you're on an airplane, the Sony and Bose headphones will cut out more noise than the Focals. However, that intense ANC also introduces some distortion of the sound, and some people (me included) find the noise-canceling effect to be a bit disorienting. The Focal Bathys may not eliminate the same amount of noise on an airplane, but the ANC doesn't interfere with the listening experience, either.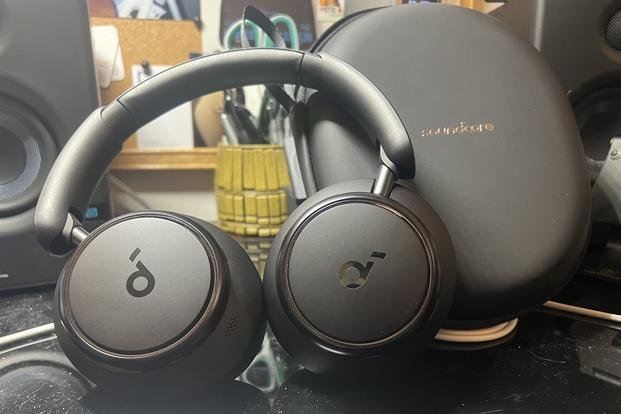 If your budget doesn't allow for that kind of investment, the Soundcore Q45 wireless ANC headphones ($149.99) are a spectacular value. Their noise cancellation is almost as good as what you'd get from the Sony or Bose headphones, and I think they sound better than either of those with the ANC turned off. These headphones offer more than 50 hours of battery life with the ANC turned on (and a lot more if it's turned off), plus they come with a hard-sided case. While they support the AAC codec for iPhones, they support LDAC for Android but not aptX.
Those interested in exploring the hi-res audio options from Apple Music or Tidal on a limited budget should check out the legendary Sony MDR-7506 wired headphones ($99) and pair them with iFi Go Link DAC ($59). The Sony headphones have been a standard in recording studios for more than a quarter century and may be the best value in the audio market. The new iFi Go Link comes with adapters for both USB-C and Lightning jacks, and it's almost as good as portable DACs that cost $250 or more.
A Note About Spotify
Spotify is the most popular music streaming service, and its music recommendation algorithm is hands-down the best way to learn about new songs and artists. Unfortunately, it still streams at less than CD quality. Spotify promised a high-resolution option two years ago, but haven't launched it and still lag behind the other major streaming services. All of the gear described above will make Spotify sound better, but you might not be as impressed with these headphones as you would be if you were using a different service.
Keep Up With the Best in Military Entertainment
Whether you're looking for news and entertainment, thinking of joining the military or keeping up with military life and benefits, Military.com has you covered. Subscribe to the Military.com newsletter to have military news, updates and resources delivered straight to your inbox.