Phil Bucklew played football long before there was a Super Bowl. He played for teams that no longer exist, teams that have since moved multiple times and for leagues that are no longer in operation. Though Bucklew isn't remembered for leading his Columbus Bullies to two consecutive American Football League championships, he is remembered -- as the "Father of Naval Special Warfare."
Bucklew's football career began in high school, playing the sport for Columbus, Ohio's North High. He caught the attention of professional football with his stellar performances as a player for Xavier University. He first went to play for the Cleveland Rams (now in Los Angeles), and the AFL's Columbus Bullies. He was on the field, coaching a Bullies game in December 1941 when he learned the Japanese Navy attacked Pearl Harbor.
The attack was announced to a stadium of 17,000 viewers. The team went back to the locker room, cleaned up and then headed for a bar. That's where someone said they should all join the service. Bucklew wanted to join the Navy. He wired a recruiter in Los Angeles, telling them he and his professional athletes were ready to sign up. The Navy was ready to take them.
Whatever Navy career Bucklew thought he might get as a sailor was not to be. After basic training, the Navy kept him as an instructor and then asked him to volunteer for a new profession: amphibious commandos.
In 1942, Bucklew and nine other naval warfare pioneers trained to perform amphibious assaults at a time before the U.S. had any kind of amphibious assault doctrine.
"The whole program was 'go out and do it,'" Bucklew once said. "They gave us a boat to go out and try anything you wanted."
Those 10 men became the Scouts and Raiders, a recon unit made to land on beaches, placing commando units where they needed to be, guided only by sketches, silhouettes and maps of their landing area. They departed aboard the USS Leedstown for North Africa, but immediately came under attack by Nazi aircraft and submarines.
Their amphibious training came in handy, having to survive aboard a raft until they could be picked up by Allied ships. They made it to Casablanca, in Allied-occupied Morocco, before being sent back to the U.S. for more training. This time, they were learning weapons, tactics and underwater demolition. The first time they put their skills to the test was in advance of the Allied invasion of Sicily.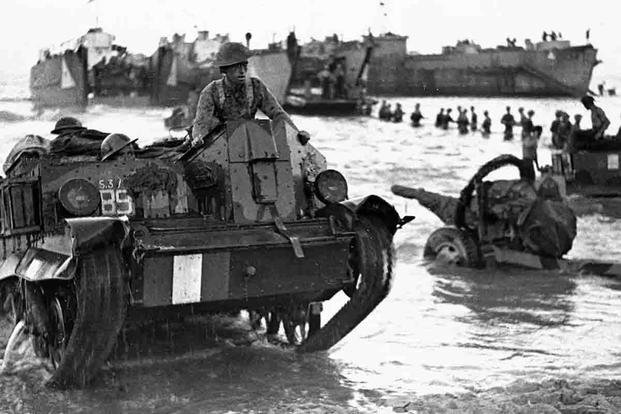 They identified where to land the troops, signaling flanking positions back to the awaiting boats. The Germans discovered the young frogmen and started shooting, but Bucklew simply continued with the invasion. They did the same thing in Salerno for the invasion of Italy, where the landing was harder, but still successful.
In 1944, Bucklew and his scouts were sent to the beaches of Normandy to get samples of the sands where British tanks would be landing and to measure the depths of the waters in advance of Operation Overlord. On D-Day, June 6, 1944, it was Bucklew and his men that signaled the location of Omaha Red Beach, then blew gaps in the beach defenses. He scouted inland for the Allied advance before being sent off to China for the coming invasion of Japan -- but that never happened.
It wasn't long after World War II ended that Bucklew was called up again, this time to train and command a unit of Beach Jumpers for the Korean War. He later worked with the CIA to command World War II-era, patrol-torpedo boats for intelligence use against North Korea.
He continued training more and more men in the strategies, tactics and weapons involved in amphibious warfare until 1962, when President John F. Kennedy authorized the creation of the Navy SEALs. Bucklew was put in command of SEAL Team One, which consisted of SEALs, Underwater Demolition Teams and boat support units. Then, he got orders to Vietnam. His orders were less than simple:
"I don't know exactly what I want you to do. I want you to tell me from what you see after covering this area, what you recommend, what the problems are, and what should be done. I want to know why all I get from Vietnam are glowing reports of our accomplishments and meanwhile, we are getting the hell kicked out of us. That's your job."
Read: 'The Father of Naval Special Warfare' Almost Changed the History of the Vietnam War
Bucklew streamlined the communication and authorization processes between units in the field, Saigon and Washington. He voiced the need to clarify American goals in the country. He also wrote a report advocating for the Navy to take control of Vietnam's rivers before the Viet Cong did. All the while, he was using SEAL teams to train South Vietnamese regulars.
His report on Vietnam's rivers was disregarded by the Navy until the North Vietnamese used his exact prediction to launch the 1968 Tet Offensive, but by then, Bucklew was working at the Pentagon, laying out the career progression for special operations personnel.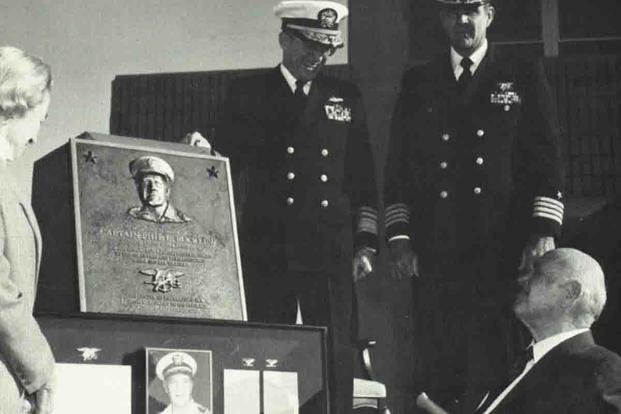 He retired in 1969. He spent the rest of his working life as a representative for a Louisiana-based boat company. He suffered from a stroke in 1987, which confined him to a wheelchair before passing away at age 78 in 1992.
-- Blake Stilwell can be reached at blake.stilwell@military.com. He can also be found on Twitter @blakestilwell or on Facebook.
Want to Learn More About Military Life?
Whether you're thinking of joining the military, looking for post-military careers or keeping up with military life and benefits, Military.com has you covered. Subscribe to Military.com to have military news, updates and resources delivered directly to your inbox.