This week, the Coast Guard announced registration for its now annual March marathon -- the service's second ever in-person race -- marking the military's continued return to post-COVID normalcy.
Registration for the event, which also has a virtual option, opens Thursday, Aug. 4, also known as Coast Guard Day, the anniversary of the service's establishment in 1790. Racers will be able to participate in events ranging from a 5k to a full 26.2-mile marathon at Base Elizabeth City, a Coast Guard post nestled into the coast of North Carolina along the Pasquotank River.
"Elizabeth City is proud to be the home of the Coast Guard Marathon, and we look forward to welcoming participants from around the United States and beyond to take part in the second annual in-person race, which honors and celebrates the Coastie spirit," Coast Guard Marathon Director Corrina Ruffieux said in a press release.
Read Next: After 3 Tries, Veterans Toxic Exposure Bill -- the PACT Act -- Finally Passes US Senate
The full marathon costs $102; the half marathon, $91; and the 5k, just over $43. These registration costs include a sign-up fee and will increase after Aug. 7.
Get a code for 10% off the price of registration here.
A pre-race expo will be held March 2 and 3. The 5k is the first event, starting late afternoon on March 3. The half and full marathons will be held the next day, both starting at 7:30 a.m.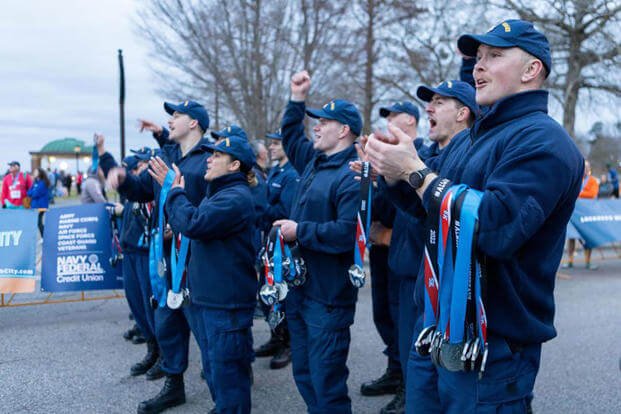 The Coast Guard race is a relatively new event in comparison to distance races hosted by the other services. The Marine Corps Marathon, arguably the military's premier race and among the country's most popular road races, will hold its 47th event this October after COVID cancellations for in-person racing in 2020 and 2021. The Army's 10-miler race has been around since 1985.
The Coast Guard event will include a pre-race C-130J Hercules flyover. Participants -- who can be military or civilian -- will race around parts of the city and even along the post's airstrip. The race also includes accommodations for athletes with disabilities should they need them, with a requirement to notify the race director at least 30 days before the March 2023 event.
Last year's inaugural event saw almost 1,500 runners from 45 states and three U.S. territories show up, according to a Coast Guard press release, and organizers expect that number to increase this upcoming year. In comparison, there are about 20,000 participants registered for the Marine Corps Marathon in late October.
"This year's marathon event will feature an improved course that will showcase even more local landmarks, while still offering the unique opportunity to run on Base Elizabeth City," Ruffieux said.
-- Drew F. Lawrence can be reached at drew.lawrence@military.com. Follow him on Twitter @df_lawrence.
Related: Written in Blood: The Catastrophic Shipwreck that Prompted the Coast Guard's Rescue Swimmer Program