Europe's largest outdoor fitness franchise finally has reached the United States. Be Military Fit is a veteran-owned and veteran-run business that offers military-inspired workouts and encourages a "train anywhere" mindset -- and now it's looking to U.S. military veterans to open more franchises across the country.
For almost 20 years, the company was known as "British Military Fitness." In 2018, Chris St. George, a UK Army veteran of the Coldstream Guards, took over the business. Working with adventurer and Special Air Service veteran Bear Grylls, the company rebranded itself and transformed its workouts.
The result was a dedicated base of fans and members that only grew, even during restrictions put in place by the global COVID-19 pandemic.
"Bear and I had a long connection with BMF," St. George, the company's chairman, told Military.com. "I learned a great deal from a short spell early in my career working as a BMF fitness instructor. The sense of community and rewards in seeing people of all ages achieve their health and fitness goals has stayed with me throughout my career."
"I remember being especially inspired by the instructors, as well as being pushed by my fellow members in ways that just does not happen through training in isolation or in a gym environment," said Grylls, who trained for his Special Air Service selection at a BMF gym.
When the opportunity to become co-owners arose, the two, along with St. George's brother, David, jumped at the chance. They wanted to preserve the legacy of the storied gym franchise but realized it needed modernization. The new ownership developed a system that not only spoke to the needs of young professionals, but the new model also would answer the needs of an unforeseen hurdle: COVID-19 restrictions.
BMF was already the largest outdoor fitness franchise by number of locations and reach in Europe, but the two veterans expanded on that success with its "#TrainAnywhere" concept. They began offering new ways of working out to those who wanted to stay in fighting shape, adding online workouts, urban training and even delivering the gym to its customers -- using a mobile system that offers any workout available at its locations.
Whether customers are looking for strength training, high-intensity interval training, the company's signature military fitness regimen or any of its other offerings, St. George says the BMF mobile system can deliver. For veterans, there's an added bonus: a connection to military culture.
"Veterans find the connection to their military culture, values and practice in the BMF approach to business and fitness programming," St. George said. "In choosing the BMF brand over other franchise offerings, veterans know that the BMF values of respect, knowledge, culture, pride and humor align with the values that veterans have embraced throughout their military career. They can be confident that their military experience will be a key strength in building a commercial fitness business in ways that other franchises do not embrace."
That's all well and good for veterans looking to join a gym. To start one requires a little more time, effort and -- above all -- capital. The general consensus among small business coaches is that the cost of opening a new gym, including equipment and other costs, starts at $50,000 in the United States -- and that's just to get started.
Read: What Does the Small Business Administration Do for Veterans Who Want to Start a Business?
Adding on the cost of franchise fees also starts at $50,000, depending on which franchise the new entrepreneur wants to open. Gold's Gym, for example can cost as much as $2.2 million to open. While $50,000 still seems like an insurmountable number in comparison, St. George knows it. But he says he's made it possible to become a BMF owner for much less than other gyms. In fact, he says BMF has a lower barrier to entry than any other fitness franchise in the U.S. or UK.
"We offer unquestionably good value," he says. "The BMF franchise fee is $30,000 and the cost of getting into business, in an outdoor venue with limited overheads, is very significantly lower than with any traditional gym operation. … A veteran franchisee could set up a BMF outdoor franchise, including their initial franchise fee, for as little as $70,000."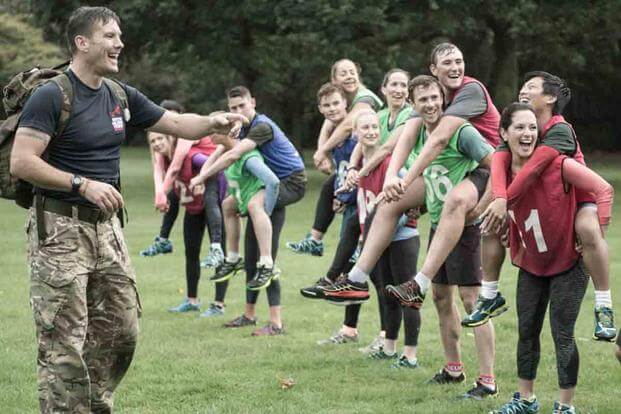 Any veteran looking to start a new gym might want to take a first look at BMF. It already has franchises in California and Michigan, and is always looking for more. Since BMF is a vet-oriented company, it offers free training for veterans and maximum support when it's up and running.
St. George says if opening a BMF franchise is an affordable business venture for veterans, all they have to do is call and attend a scheduled "Discovery Day." To learn more about BMF, its culture or to learn how to get started opening one, visit the BMF franchisee website.
-- Blake Stilwell can be reached at blake.stilwell@military.com. He can also be found on Twitter @blakestilwell or on Facebook.
Want to Know More About Veteran Jobs?
Be sure to get the latest news about post-military careers as well as critical info about veteran jobs and all the benefits of service. Subscribe to Military.com and receive customized updates delivered straight to your inbox.