We can all agree that certain things that go down in Las Vegas should probably follow us to the grave. That said, we rounded up some great activities and military discounts that are worthy of bragging rights and are sure to garner 100s of Facebook likes.
Sky Combat Ace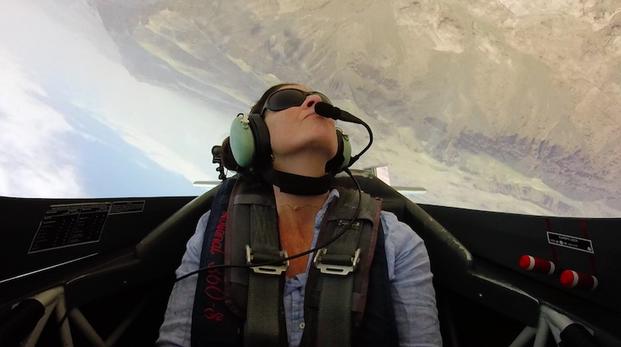 For a high-flying thrills at 10,000 feet, head out to Sky Combat Ace for the experience of a lifetime. After a quick safety video in Ace's plush air-conditioned lounge you'll embark on your very own "fighter" mission high above the Nevada desert's McCullough Range. There are several flights to choose from, including 2-3 day classes for seasoned pilots who want to learn to navigate a new aircraft. Sprogs, fairies and just about anyone with a need for speed can create an unforgettable memory. Even spectators will have a great time. And there are several mounted cameras on the aircraft documenting your every reaction and social media bragging is encouraged. Our insider tip: plan your SCA adventure prior to a night of drinking. Hangovers and high G turns don't mix well. Should you book your flight in summer months, a change of clothing is advisable. Active duty military gets a 10% discount.
Machine Guns Vegas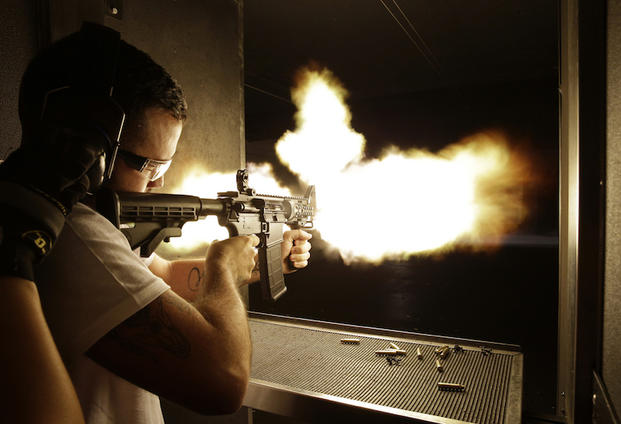 MGV is more than your standard shooting range. The 10,000-square-foot indoor compound boasts 10 lanes; a VIP gun lounge with two private firing lanes, private entrance and complimentary refreshments; their very own Las Vegas Gun Girls (hot chicks who know their artillery); lastly, free transportation to and from your hotel. You'll get to fire the same weapons used by elite SEAL and Delta Force teams as well as historical handguns. Our insider tip: MGV wants you to have fun but be aware that they have a zero tolerance alcohol policy. Active duty military gets a 10% discount here as well.
LOVE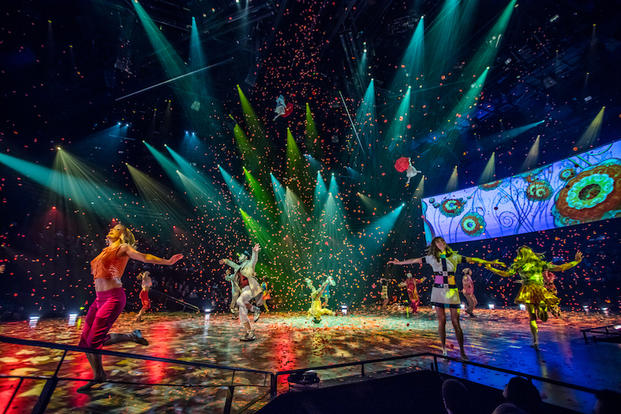 When it comes to permanent Las Vegas shows, Cirque du Soleil's LOVE at the Mirage is still the hottest ticket in town. The spectacular debuted a decade ago and has since added new music, improved technology and even different dance moves. LOVE began when George Harrison and his friend, Cirque founder Guy Laliberté, began talking about doing a show together. Keeping it the family, the show's music director is Giles Martin, son of Beatles producer George Martin. Martin completely remixed the LOVE soundtrack and said that LOVE "is the closest anyone can get to being in the studio with the band." In a show of appreciation, active duty military will receive 35% off Cirque tickets.
https://www.cirquedusoleil.com/beatles-love
Drybar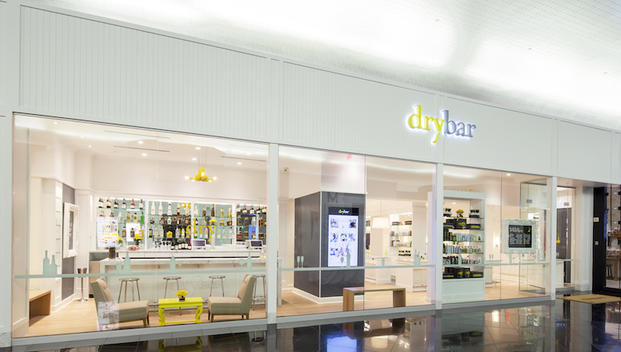 Is it a bar or a beauty salon? Since we're in Vegas, naturally it's both! Located at the Miracle Mile strip shops at Planet Hollywood (http://www.miraclemileshopslv.com/), Drybar offers the ultimate in pampering with luxurious blowouts and fancy up-doos. Throw in martinis, Manhattans, fine wines and a rocking DJ and you've got yourself a party. Styles include the Southern Comfort (think big hair) to the Mai Tai (beachy, easy-breezy); there's even a Shirley Temple hairstyle and beverage should you have the little one in tow. Guys can cozy up to the bar or wander over to the adjacent casino. Overall, it's a win/win.
https://www.thedrybar.com/las-vegas
Harvest in the Bellagio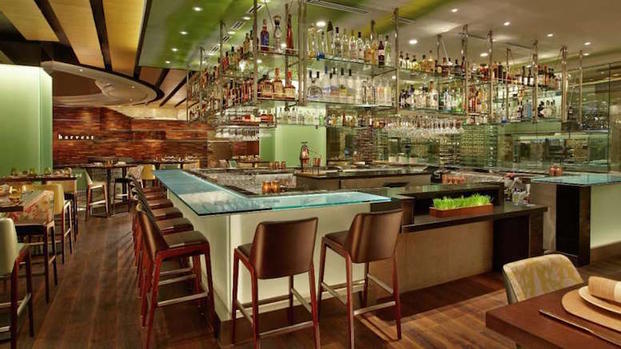 Located in an obscure little corner of the Bellagio hotel, Harvest may be one of the city's best-kept culinary secrets. Though Harvest touts itself as sustainable and health-conscious, this ain't no hippie joint. Chef Roy Ellamar achieves flavors out of local seasonable vegetables that we didn't know existed. We were equally impressed with the unique cocktails made with fresh ginger, cucumbers, mint and juicy pomegranates. Our favorite part of the meal is the "snack wagon," literally a cart full of daily-prepared noshes that change with Chef's whims and/or unique farmers market finds. Of course there are many carnivore-friendly options available such as oysters on the half shell, fine cuts of beef and delectable shrimp tempura; all we are saying is give the peas a chance.
https://www.bellagio.com/en/restaurants/harvest.html
Sushi Roku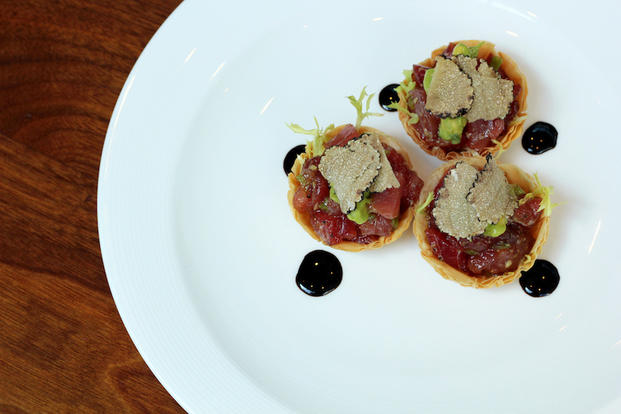 Got a hankering for some Hamachi? While Vegas certainly has no shortage of great sushi restaurants, in terms of consistency, creativity and convenience we like Sushi Roku in the Forum Shops at Caesar's Palace. Chef Haru and his team are always cooking up new dishes such as the seared salmon togarashi and blue fin tuna with wasabi relish, yuzu ponzu. If the sea bass sliders aren't on the menu, ask for a special order and they'll be sure to oblige. From the service to the sashimi, your evening will be timed with the precision of a Tchaikovsky movement yet the atmosphere is decidedly rock and roll fun.
http://www.innovativedining.com/restaurants/sushiroku
Beerhaus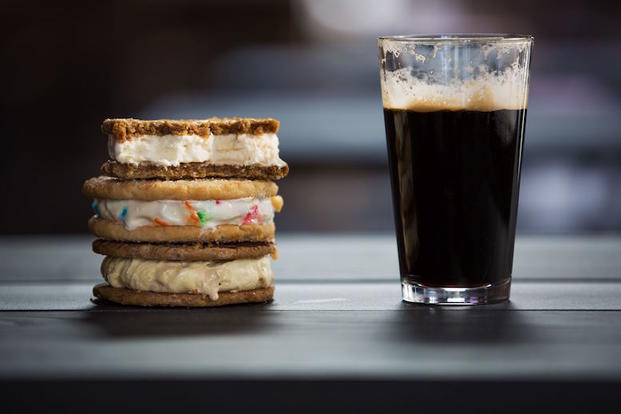 In a city where the booze flows 24 hours a day, it's hard to believe that Beerhaus is the first beer garden on the modern strip. Located in the Park near the Monte Carlo and T-Mobile Arena, the cavernous spot boasts a dizzyingly large selection of IPAs, lagers, ales and porters on draft. When it comes to food, this is not your typical bar menu. While it has your standard fried items to soak up the sauce, you'll want to try one of the hearty sandwiches or the brats or both. Leave room for dessert; the Bye, Felicia vanilla ice cream sandwich will haunt your dreams. You can also enjoy live music and Wednesday trivia nights. As far as Vegas joints go, if you have to bring the kids, you'll find plenty of Old School distractions such as board games and ping pong.
https://www.theparkvegas.com/en/restaurants/beerhaus.html
Aria Hotel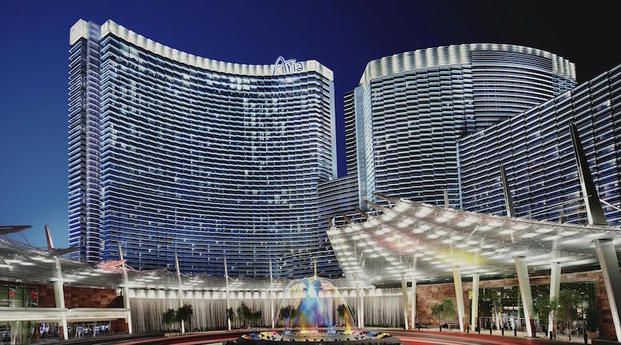 Some folks are admittedly hotel snobs, requiring high thread counts and room service while others are content with four walls, a hot shower and an ice machine. Given the fact that Las Vegas has roughly 125,000 hotel rooms, we're sure that you can find accommodations to suit your needs and budget. We're especially fond of MGM's Aria. Located on the strip, the Aria is one the newer kids on the block and boasts large comfy rooms, more than decent rates and one the best and largest spas west of the Mississippi. The massive state-of-the-art gym is one of the nicest we've seen should you need to sweat out the previous night's hooch. Ask for the active duty discount when booking and tell them Holly from Military.com sent ya!