Adaptive Tactical LLC of Idaho has released a new gun-mounted shell carrier for both Remington and Mossberg pump action shotguns.
The company said the Receiver Mounted Shell Carrier represents the first in a series of products it will be releasing focused on shot shell storage. The carrier, which holds up to six 12-guage shells, mounts right by the receiver for faster reloads and a reduced risk of snags, according to the announcement.
Adaptive Tactical, which makes firearm stocks and accessories, already markets a 10-round rotary magazine for 12-gauge shells, and 5- and 10-round box magazines.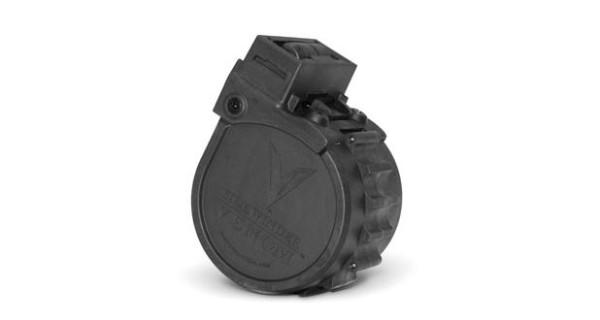 Adaptive Tactical also markets 5- and 10-round box magazines for shotguns, as well as a 10-round rotary magazine shown here.
The new mounted shell carrier is made from durable, flexible non-glare chemical and weather resistant synthetic rubber. It's flexible so that it will securely hold shells without losing its shape over time, the company says.
The carrier, which features a mounting plate that fits to the receiver's contours, weighs 5.3 ounces and is 6-¾ inches long.
The company says it is compatible with the Remington 870, 1100, and 11-87 shotguns, and with the Mossberg 500, 88 and 590.