The sixth and newest military service branch, the United States Space Force (USSF) was created in 2019 under the Department of the Air Force. It consists of about 4,200 enlisted service members and about 4,300 officers, all known as Guardians.
The Space Force is tasked with protecting U.S. and allied interests in space, most notably to protect and defend the massive U.S. satellite fleet. Its domains include the Global Positioning System (GPS), cyber operations, improving defense technology and more.
The Space Force evolved from the Air Force Space Command, which was activated in 1982. All airmen who were previously assigned to Air Force Space Command were assigned to USSF from the inception of the new branch.
Like NASA, the Space Force works to improve U.S. capabilities in space. However, the main difference between the organizations is that the new military service focuses on defending the nation's interests and freedom to operate in space; while NASA focuses on education, exploration, innovation and research in this realm.
Requirements to Join the Space Force
Enlisted Guardian Requirements
Enlisted Guardians, who participate in and support operations, make up about half of the military service. Each member has his or her own specialized training and fills a specific job role.
Space Force requirements to join as an enlisted Guardian are as follows. You must:
Be at least 17 years of age. The Space Force age limit is 42.
Hold U.S. citizenship
Have a high school diploma or GED equivalent
Meet the moral and physical standards of the Space Force
Earn a minimum score on the Armed Services Vocational Aptitude Battery (ASVAB) test
The Space Force consists only of full-time enlisted, officer and civilian personnel, and does not have a National Guard or reserve component. The service employs about 8,000 civilians, making a total force of around 16,000.
Read More: Space Force Enlisted Ranks
Space Force Officer Requirements
Space Force officers, who plan and manage personnel, make up about half the service due to the fact that at its formation, the Space Force was primarily staffed with officers.
To join the Space Force as an officer, you must:
Hold U.S. citizenship
Pass the Air Force Officer Qualifying Test (AFOQT)
Have a clean background investigation
Pass medical examinations
There are several routes to becoming an officer, including the U.S. Air Force Academy, the Reserve Officers' Training Course (ROTC) and Officer Training School (OTS).
The Air Force Academy offers free tuition in exchange for Space Force service.
ROTC: Those interested in this route to becoming a Space Force officer enroll in an Air Force ROTC scholarship program available at nearly 1,000 colleges and universities across the country.
The Air Force Technical Degree Sponsorship Program (TDSP), available to upperclassman college students enrolled in engineering or meteorological programs, helps cover educational costs. Successful candidates receive active-duty E-3 (Specialist 3) enlisted pay while attending school full time, plus receive housing and food allowances and medical and dental benefits.
Read More: Space Force Officer Ranks
How to Join the Space Force
Contact a Recruiter
The Space Force recruitment process begins with working with an Air Force recruiter. Recruiters know the ins and outs of the service and can help you navigate the process and make important decisions along the way.
The Space Force recruiting process comes with no strings attached. There is no obligation when working with a recruiter. They will help you decide whether the Space Force is right for you, and will help shed light on which job opportunities within the service might be of interest if you sign up.
Related: Contact a Recruiter
Take the ASVAB
Space Force enlistment requires taking the Armed Services Vocational Aptitude Battery (ASVAB), an aptitude test that helps Guardians narrow down which field of work is best suited for them. It is designed to evaluate skills in several areas. In addition to your overall qualifying score, you will be scored in four ASVAB categories: mechanical, administrative, general and electronics.
Qualifying for the jobs in the Space Force requires a significantly higher ASVAB score. Many enlisted airman careers are available with a minimum score around 31, but it will take a score in the 60s to qualify for many of the jobs in the Space Force.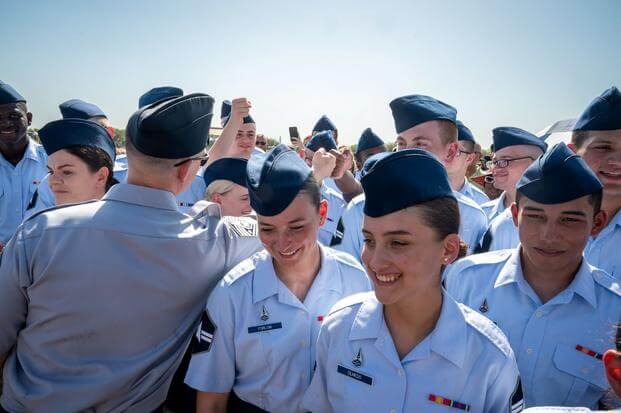 Pass Your Physical Exam
Once an applicant has taken the ASVAB and passed with a qualifying score, the recruiting process moves on to a medical exam at the Military Entrance Processing Station (MEPS).
The basic physical examination includes alcohol and drug testing; a urine check for indicators of glucose, protein, pregnancy and other health indicators; an HIV test; a vision test, including color perception; an ear exam and hearing test; blood pressure and pulse rate; an orthopedic and neurological demonstration and exam; plus an overall exam of the main body systems and organs.
Space Force Basic Training (BMT)
Space Force basic training, formally known as Basic Military Training (BMT), lasts 7.5 weeks and takes place at Joint Base San Antonio, the same location as the Air Force.
Guardians attend a Basic Military Training that heavily mirrors the framework of Air Force boot camp, where recruits engage in challenging physical training, march in formation, clean and assemble M4 carbine rifles, and commit the culture and customs of the new service to memory.
"Now, eight dedicated Space Force drill instructors graduate around 500 Guardians each year, with a service-specific curriculum ranging from the subtleties of emotional intelligence to the intricacies of space warfare," Military.com's Thomas Novelly reported in summer 2023.
BMT lays the groundwork for enlisted Guardians before they move on to technical training. Space Force Guardians go through an additional 35 more hours of classroom instruction, compared to airmen. They learn about the origins of the newest military service branch, the global threats in space and the various satellites under the branch's control.
Officers begin by attending the 9.5-week Officer Training School (OTS).
Read More: Inside Recruits' Journey to Space Force's First Boot Camp
Choose Your Space Force Job
Active duty is similar to working at a full-time civilian job. Space Force career options vary based on your skills and interests. You will have your own specialty, and you will fill a specific role within your unit.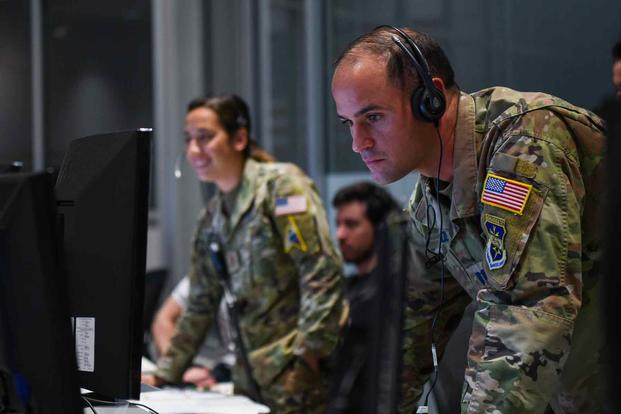 Broadly speaking, Guardians work to improve how the U.S. military fights and communicates. Within this objective, individual job roles within the Space Force include "developing and defending communication satellites, engineering global cybersecurity networks, supporting rocket launches, tracking space debris and coordinating battlefield operations across all war-fighting domains," according to the service.
Space Force job roles include logistics, technology, leadership, engineering and intelligence.
Take the Oath of Enlistment
To be sworn into the Space Force, you will take the Oath of Enlistment, which is a pledge to defend the Constitution throughout your military career. If you are entering as an officer, you'll instead take the officer's oath.
Taking the Physical Fitness Test (PFT)
The Space Force started off by relying on the long-standing Air Force Physical Fitness Test, which until recently included the standard military routine of classic push-ups, sit-ups/crunches and a 1.5-mile run. (That PFT changed in 2022 to include new options: hand-release push-ups in place of regular push-ups, plank pose or cross-legged reverse crunches instead of regular crunches, and a 20-meter beep test/shuttle run as a substitute for the 1.5-mile run.)
However, in May 2023, the Space Force announced a two-year testing period on wearable fitness trackers as part of its new fitness policy. In August 2023, Garmin said more than 6,000 of its smartwatches will be distributed to Guardians for the service's Holistic Health Approach program, which is designed to monitor service member's fitness and wellness regularly. Involvement in the program is voluntary.
Those who opt in will not be required to take the old fitness assessment based on Air Force standards.
Read More: Space Force Rolls Out Fitness Trackers to Guardians in Lieu of Traditional Testing
Space Force Fitness Standards
Space Force officials have said this new service wants to approach traditional physical fitness and health in a different way, since the branch's mission is different from that of Marines, sailors, soldiers and airmen.
Air Force Col. Jeffery Pixley, commander of the 737th Training Group, told Military.com in an interview that there is more leniency for the Space Force because of its size, and that with guidance from drill instructors and other leadership, more waivers are possible.
Benefits of Joining the Space Force
Joining the Space Force comes with a variety of benefits.
Money and Pay
When you join the Space Force, your paycheck grows as you gain more experience and rise up the ranks.
In addition to your salary, as a Guardian, you will also receive low-cost insurance, retirement benefits and allowances to help offset the cost of uniforms, food, housing and more.
Bonuses
The Space Force wants to grow the number of Guardians in service by nearly 10% and hopes to offer almost $5 million in new bonuses to recruit and keep them in the ranks under its 2024 budget request.
Education
Guardians have access to a range of educational programs that are either free or can come with financial assistance. Many programs help Guardians continue working toward a college degree and beyond.
Those who join as an officer have access to a variety of graduate-level educational opportunities that are STEM-focused and involve space-related research.
In 2022, USSF announced its first graduate school program, a partnership with the Johns Hopkins University School of Advanced International Studies (SAIS) for officer Intermediate Level Education (ILE) and Senior Level Education (SLE) programs.
Guardians can also take advantage of the Military Tuition Assistance (MilTA) program: up to $4,500 per fiscal year for voluntary, off-duty educational opportunities.
After service, the Post-9/11 GI Bill provides up to 36 months of benefits for education and training opportunities outside the Space Force, which may be used for undergraduate and graduate degree programs, vocational and technical training, tutorial assistance, books, supplies and monthly housing.
Skills and Training
Other training opportunities and benefits include:
Air Force Institute of Technology (AFIT): Lets Space Force officers pursue graduate studies as a full-time, active-duty assignment. Its Graduate School of Engineering and Management is among the nation's top engineering schools.
Air Force Institute of Technology Center for Cyberspace Research (CCR): Trains future Guardians for cyber careers.
Full-time paid internships -- with hands-on training and available tuition assistance -- for civilian college students and recent college graduates, with possible full-time Space Force jobs upon successful completion.
Health Care
Guardians receive full health, dental and vision care, as well as paid time off for illness. Family members may receive medical care at military or civilian facilities through various options for little or no cost.
Active-duty service members and their dependents are eligible for coverage under the Tricare health insurance program. There are several Tricare programs to choose from, depending on your status and location.
Other Benefits
Most Space Force bases offer a variety of services as well as social and recreational activities, like golf courses, tennis courts, swimming pools, gyms and arts-and-crafts facilities, either for free or at discounted rates.
All military Guardians get 30 days of paid vacation a year and can travel on Air Force aircraft to almost any U.S. state and many international destinations. They also qualify for low-price hotels near military facilities.
Military family members can take advantage of recreation programs and child care and even benefit from payments in the event that their service member dies.
Read More: Learn About Space Force Benefits
Information from SpaceForce.com and other info previously published on Military.com was used in compiling this report.
Interested in Joining the Military?
We can put you in touch with recruiters from the different military branches. Learn about the benefits of serving your country, paying for school, military career paths, and more: Sign up now and hear from a recruiter near you.