Joining the U.S. Marine Corps means becoming part of an elite fighting force with a unique mission, focused on rapid response and first-on-the-scene deployments. About 180,000 active-duty men and women serve in the Marines.
Part of the Department of the Navy, the Marines operate in close cooperation with U.S. naval forces at sea. The small, nimble Marines operate all over the globe and frequently take on risky missions. They serve on U.S. Navy ships, protect naval bases, guard U.S. embassies and are a major deterrent to aggression around the world.
Related: Contact a Recruiter
Opportunities for specialized roles include infantry, intelligence, logistics, field artillery and more.
Requirements to Join the Marines
Enlisted Marine Requirements
Enlisted Marines are the backbone of the branch, making up about 88% of the service. They fly planes and helicopters; operate radar equipment; drive armored vehicles; gather intelligence; survey and map territory; maintain and repair radios, computers, jeeps, trucks, tanks and aircraft; and perform hundreds of other challenging jobs.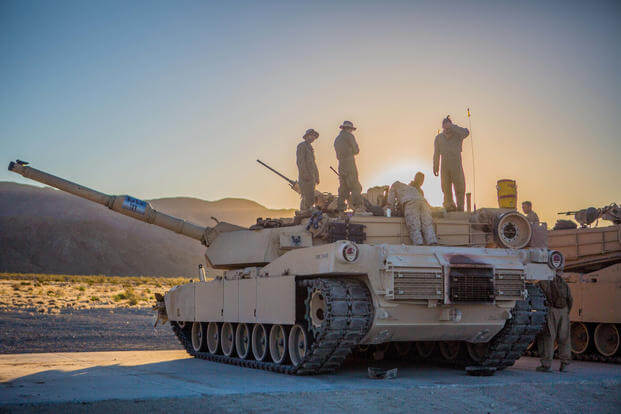 Wondering how to join the Marines? Marine enlistment includes several requirements. You must:
Be at least 17 years old. The age limit for Marines is 28 for enlisted service members, unless a waiver is obtained.
Have a high school diploma
Be a U.S. citizen or legal resident
Pass a criminal background check and have no felony convictions
Pass the Initial Strength Test (IST) to demonstrate physical fitness
Earn a minimum score on the Armed Services Vocational Aptitude Battery (ASVAB) test
Pass the Military Entrance Processing Station (MEPS) medical exam
Read More: Joining the Marines: Overview
Marine Officer Requirements
Officers, who make up about 12% of the Marines, are the branch's leaders. Commissioned officers are college graduates who serve in a variety of roles, from manpower and intelligence to infantry and reconnaissance.
To commission as a Marine Corps officer, you must:
Be a U.S. citizen
Be at least 18 at the time of application, and no older than 28 in most cases
Have a high school diploma and have a bachelor's degree or be working toward one
Meet the branch's moral standards
Pass the Physical Fitness Test (PFT)
Have demonstrated potential for leadership
Earn a minimum required score on one of the following aptitude tests: SAT, ACT or ASVAB
Wondering how to become a Marine Corps officer? There are several paths, including:
Officer Candidates School (OCS): The most common route. Located at the historic Marine Corps Base Quantico in Virginia, the school educates and trains officer candidates in the knowledge and skills necessary for commissioning. Additionally, the Officer Candidate Course (OCC) is a commissioning program targeted to college seniors and graduates, who attend a training course after graduation.
Platoon Leaders Class (PLC): For full-time students at any accredited college or university, to allow them pursue a commission without interrupting academic careers. All training sessions take place at Quantico.
ROTC: The Navy ROTC Marine Corps option allows students to enroll in elective leadership and military courses at colleges and universities. At graduation, NROTC cadets are commissioned as second lieutenants. Read more details here.
U.S. Naval Academy: Students must receive a nomination from a member of Congress to be admitted. On top of military training, the school offers 22 majors. Graduates from the academy receive their commission as second lieutenants in the Marines.
Read More: How to Become a Marine Corps Officer
How to Join the Marine Corps
Contact a Marine Recruiter
The best source for learning about Marine Corps requirements is to work with a Marine recruiter. Recruiters know the ins and outs of the service and can help you navigate the process and make important decisions along the way.
There is no obligation when working with a recruiter. They will help you decide whether the Marine Corps is right for you, and will help shed light on which job opportunities within the service might be of interest if you sign up.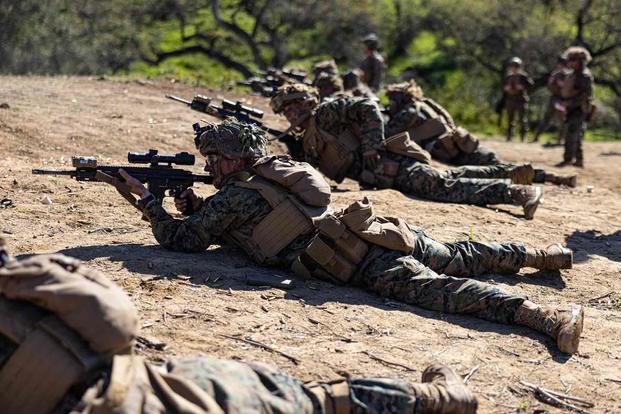 Take the ASVAB
The Armed Services Vocational Aptitude Battery (ASVAB) is an aptitude test that helps Marines narrow down which field of work is best suited for them. It is designed to evaluate skills in several areas, including math, science, language and technical knowledge such as electronics, automotive and mechanical abilities.
The maximum ASVAB score is 99. For enlistment into the Marines, you must get a minimum ASVAB score of 31 if you have a high school diploma. Those with nontraditional degrees or a GED diploma must score at least a 50.
Pass Your Physical Exam
Once an applicant has taken the ASVAB and passed with a qualifying score, the recruiting process moves on to Marine physical requirements, starting with a medical exam at the Military Entrance Processing Station (MEPS).
The basic physical examination includes alcohol and drug testing; a urine check for indicators of glucose, protein, pregnancy and other health indicators; an HIV test; a vision test, including color perception; an ear exam and hearing test; blood pressure and pulse rate; an orthopedic and neurological demonstration and exam; plus an overall exam of the main body systems and organs.
Additionally, to even begin recruit training, aspiring Marines must pass the Initial Strength Test (IST), which consists of three events: pull-ups or push-ups, a 1.5-mile run and a 40-second plank.
Marine Corps Boot Camp
The purpose of basic training, also known as boot camp, is to help recruits develop the physical and tactical skills needed to become a Marine. It's often considered to be the toughest of all the services' basic training programs.
This entry-level training lasts 13 weeks and includes processing and administration as well as tactical training, operational skills and physical activities.
There are two Marine Corps Recruit Depot locations for boot camp, depending on where in the country you live: San Diego or Parris Island in South Carolina.
Boot camp is followed by three weeks of either the School of Infantry or Marine Combat Training.
Read More: Marine Corps Boot Camp Timeline at a Glance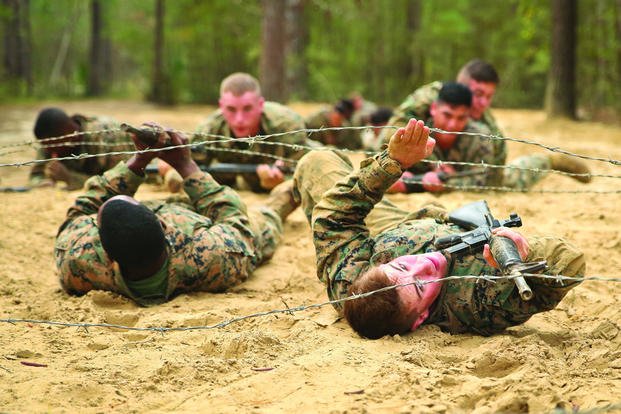 Taking the Physical Fitness Test (PFT)
The service considers physical fitness indispensable and inherent to the Marine Corps way of life. You must pass the Marine PFT -- the Physical Fitness Test -- to graduate from recruit training. You must also complete the combat fitness test (CFT).
The Marine fitness test is challenging. The PFT, which tests stamina and physical conditioning, includes three parts: pull-ups or push-ups, a timed plank and a three-mile timed run. (As of 2023, the plank is mandatory, and the crunch is no longer authorized.)
Taking the Combat Fitness Test (CFT)
The CFT, which measures functional fitness, simulates battle demands in full combat utility uniforms. It consists of three events: movement to contact (an 880-yard sprint), ammunition lift (lift a 30-pound ammunition can) and maneuver under fire (a 300-yard course with several battle-related challenges, including crawls, ammunition resupply, grenade throwing, agility running, and the dragging and carrying of another Marine).
Marine Corps Fitness Standards for the PFT
For the Marine Corps PFT, recruits can choose either pull-ups or push-ups for the upper-body muscular endurance portion. Scoring depends on age and gender; details can be found here.
For the plank portion of the PFT, the time required for the maximum score is 3 minutes, 45 seconds. The time required for the minimum score is 1:10. The plank times and scores are gender neutral and the same for all ages.
Finally, for the three-mile run, males must complete it in 28 minutes or less. Females must complete the run in 31 minutes or less.
Read More: Marine Corps Physical Fitness Standards
Choose Your Marine Corps Job (MOS)
Although the Marine Corps says that "every Marine is a rifleman," infantry units comprise no more than 15% of the service's total force. You will be able to work in one of 35 career fields that offer more than 300 jobs.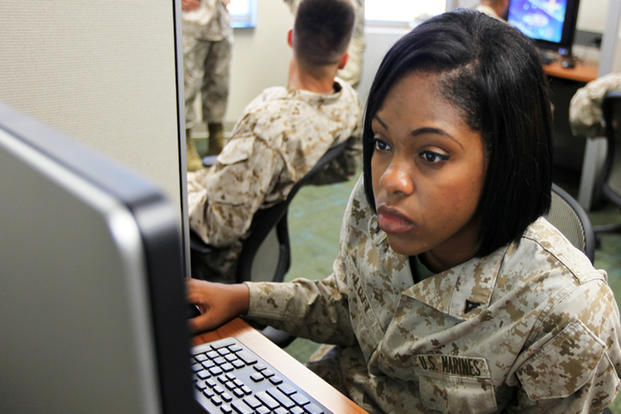 Based on your qualifications, you can choose your Military Occupational Specialty (MOS) field. Some specialty fields available include:
Aircraft defense
Aircraft maintenance
Armor
Broadcasting
Combat engineer
Communications
Computer operator/technician
Electronics
Intelligence
Supply
Read More: ASVAB Scores and Marines Jobs
Take the Oath of Enlistment
Enlisting in the Marines also includes taking the Oath of Enlistment, which is a pledge to defend the Constitution throughout your military career. If you are entering as an officer, you'll instead take the officer's oath.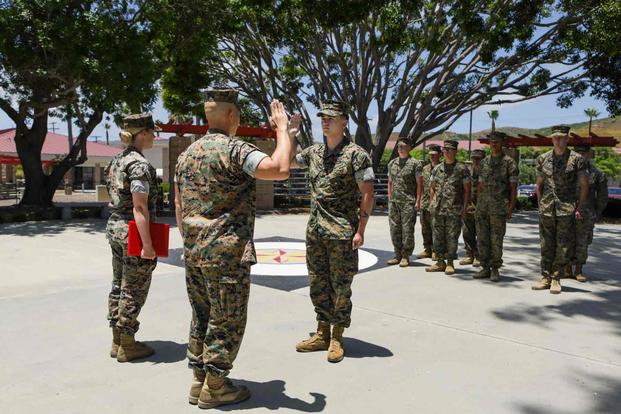 Benefits of Joining the Marine Corps
Joining the Marines comes with a variety of benefits.
Money and Pay
When you join the Marines, you are paid twice a month based on your pay grade and service requirements. Your paycheck grows as you gain more experience and rise up the ranks; you are promoted based on job knowledge, performance and other factors.
The service also offers a variety of allowances that increase your total compensation. These include free or reduced-cost health care, food, housing, education and more.
Bonuses
Recruits can earn a variety of bonuses for enlisting in certain jobs. Some of the latest incentives include a $3,000 bonus for supply, accounting and legal roles; $5,000 for information and communications technology or cyber and crypto operations; $8,000 for electronics maintenance; and several more.
Education
Many Marines start obtaining college credits immediately, even while in basic training.
While on active duty, you may continue your education and may be helped in defraying the cost of college-accredited courses.
Up to 100% of your education expenses can be covered through federal government programs, including tuition assistance, the Montgomery GI Bill for college education or vocational training, and the Marine Corps College Fund.
Details of some of the educational benefits available include:
Tuition Assistance: Covers up to $225 per college credit and/or $4500 per year while on active duty.
Advanced Degree Program (ADP): For college graduates, partial funding for those pursuing a master's degree.
Defense Activity for Non-Traditional Education Support (DANTES): Programs to work toward a college degree through correspondence courses.
Post-9/11 GI Bill: Provides education benefits for those who have served on active duty or in the Selected Reserve for 90 or more days after Sept. 10, 2001. Offers 100% tuition assistance after 36 months of active duty, plus assistance for tuition, fees, books and supplies.
Montgomery GI Bill: Provides tax-free assistance toward a college degree, available after 24 months of active duty.
Special Education Program: Provides selected Marine officers with the opportunity to receive, as full-time students, advanced training that may lead to a postgraduate degree in certain fields, including engineering, communications, computers and management.
Staff Noncommissioned Officer Degree Completion Program (SNCODCP): Offers enlisted Marines with a minimum rank of staff sergeant the opportunity to complete their degree by attending an accredited four-year college full time, while still on active duty.
Skills and Training
You choose your career path based on your aptitude, physical abilities, security clearance and personal interests.
For those assigned to a Marine Corps infantry job, training begins with a 51-day course upon return from graduation leave. After graduation from the School of Infantry, they will proceed to their first permanent duty assignment.
Marines who are not assigned to infantry jobs also attend the Marine Corps School of Infantry for 22 days, where they learn basic battle skills. Upon graduation, they proceed to their normal Marine Corps job training. After job training, these Marines proceed to their first permanent duty assignment.
Health Care
Every Marine and his or her immediate family will receive a number of health benefits, including free comprehensive medical insurance and competitively priced dental insurance.
Other Benefits
You also may receive additional tax-free money for the Basic Allowance for Housing (BAH) if government housing is not available; the Basic Allowance for Subsistence (BAS) if government food facilities are not available in the area you are stationed; and a uniform allowance (for enlisted personnel only) to help maintain your uniform.
Travel benefits include 2.5 days of paid vacation per month for a total of 30 days each year, up to 60 days.
There are exchange and commissary privileges, moving allowances, temporary lodging expenses, travel, survivor benefits, Veterans Affairs home loans and more.
Read More: Learn About Marine Corps Benefits
Content previously published on Military.com and content from Marines.com were used in compiling this report.
Interested in Joining the Military?
We can put you in touch with recruiters from the different military branches. Learn about the benefits of serving your country, paying for school, military career paths, and more: sign up now and hear from a recruiter near you.