Images of Afghans clinging to the landing gear of an American cargo plane rocked the world as the Taliban closed in on Kabul and two decades of fighting in Afghanistan ended for U.S. troops.
The desperate effort to get those who had helped American forces out of the country continues, with veterans pressuring Congress to help carry on the evacuation and to provide legal protections and added funding to help those who made it out and have been living in the U.S. under the threat of deportation.
But for many of those seeking U.S. help, the question of aid is largely tied to documentation. Can they prove they worked with U.S. forces? Do they have letters from commanders?
Read Next: Army Pulls Recruiting Ads After Jonathan Majors' Arrest
The U.S. presence in Afghanistan wasn't orderly, leaving many without the bureaucratic stamp of approval they'd need to get help.
"The guys who did the most in the beginning and did the most work toward the vision of a viable Afghanistan were never brought into the system," said Justin Sapp, who was the first U.S. Special Forces soldier behind Taliban lines in 2001.
Sapp is one of the founders of Badger Six, a group that financially supports roughly 30 families who are in hiding throughout Central Asia, utilizing the Hawala network and Western Union to send funds while the families await the U.S. visa process.
"The 23-year-old Afghan commando has all of the badges and credentials under the new system, but the older guys don't have that," he said. "If it hadn't been for us [Badger Six] and the CIA, those guys would be out of luck."
In total, more than 1.3 million Afghans have fled to neighboring countries, with only a little over 6,000 returning to Afghanistan in 2022. That means many of those who helped U.S. forces, fearing the retaliation they would face if they stayed behind from Taliban forces that had delivered death threats for years, are scattered in pockets of refugees in a handful of countries.
Refugee groups have been trying to aid those who have fled, with Badger Six turning to direct cash payments to try to help Afghans who may have slipped through the U.S. evacuation process.
Sapp says that the group has a vigorous vetting process, which helps keep the number of families it supports small. All applications are reviewed, in part, by the former personal doctor to Northern Alliance Gen. Abdul Rashid Dostum, who Sapp says uses his personal network to verify claims.
Getting aid into Afghanistan for those who haven't made it out is fraught, though desperately needed. The disastrous 2021 American withdrawal from Afghanistan has been followed by a catastrophic humanitarian crisis, as an economy largely reliant on foreign aid deals saw assistance slashed. By 2022, 9 out of 10 families could not afford enough food, with Afghans fleeing by the thousands.
Aid is still flowing to Afghanistan, albeit at a much diminished scale. The United States has contributed more than $1.1 billion since 2021, making it the largest donor to Afghanistan.
Much of the aid money has reportedly been withheld from those in need and repurposed by the Taliban to solidify the group's claim to power.
In its 2022 Humanitarian Response Plan, the United Nations said that Afghanistan needed $4.4 billion to help an estimated 22 million residents -- roughly 55% of the country's population. In 2023, that request rose to $4.6 billion to aid 28 million people, the single-largest country appeal ever, according to a recent U.N. Security Council briefing by Roza Otunbayeva.
Afghanistan has long been reliant on outside aid, with ostensibly its entire economy contributed by donors as recently as 2009. By 2020, that reliance had waned slightly, down to 43% of gross domestic product, but the Taliban takeover has put that critical pipeline in jeopardy.
"The Taliban's draconian edicts have alienated the biggest donors, leading to widespread fears that 2023 donations will be cut back," said Graeme Smith, senior consultant for the International Crisis Group. " In the context of what the U.N. calls the biggest humanitarian disaster in the world, those cutbacks could be deadly."
Badger Six recently held an event where former Director of the Central Intelligence Agency George Tenet was the keynote speaker. When asked what the responsibility of the U.S. is to Afghan refugees, Tenet responded, "I think we owe them the belief of hope. What the Afghans did for us was to help us ensure that it [another terrorist attack] didn't happen here for 21 years. There's a reason we didn't get hit again."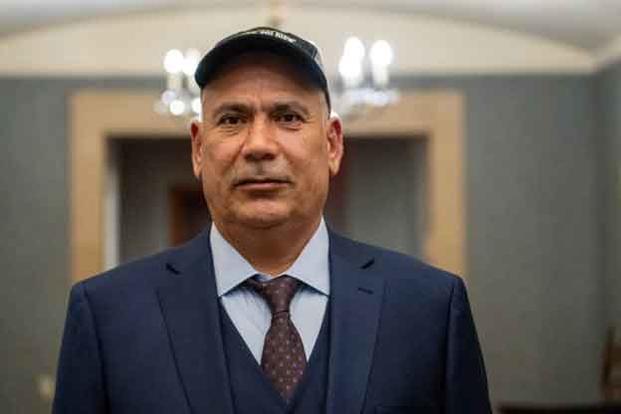 Also in attendance at the event was Gen. Faqir Jawzjani, former commissioner of Afghan National Police in Jawzjan Province, Afghanistan. Jawzjani played a key role in the initial U.S. military efforts in Taliban-controlled Afghanistan.
Jawzjani fled Afghanistan in 2021 with the help of Badger Six, and now lives in New Jersey.
"We lost our hope when we saw Americans leaving and Taliban taking control of Afghanistan," he said.
Things changed with the opportunities afforded him from the aid he's received.
"Suddenly, the hand of friends came to me to help me. The start of a new life for me started on that date. I felt like I was born from my mother again."Related: A Year Later, Afghan Refugees Remain in Legal Limbo as Vets Continue Evacuating Allies Left Behind