Read the original article on Business Insider.
The U.S. military is considering giving Ukraine a massive amount of weaponry seized by Western forces in a recent string of raids at sea, according to a new report.  
U.S. and partner forces have regularly intercepted small boats attempting to illegally smuggle guns, ammunition, and explosives from Iran to Yemen. Over 5,000 guns, 1.6 million rounds of ammunition, and more than 20 anti-tank guided missiles have been seized in four raids alone over the last few months, U.S. Central Command has said.
This haul — along with thousands of proximity fuses that are used to detonate explosives — may eventually be sent to Ukraine to help the country fight Russian forces, The Wall Street Journal reported on Tuesday, citing U.S. and European officials. The U.S. military began to actually consider this scenario in late 2022, the report said.  
Neither the Pentagon nor CENTCOM immediately responded to Insider's requests for comment on the possible transfer. 
Middle East and Iran experts previously told Insider that these raids — which target boats sailing along routes historically used to traffic weapons from Iran to Houthi rebels — are a coordinated effort to apply pressure on Iran and curb its regional influence. 
The Iran-backed Houthis have been fighting a brutal civil war against Yemen's internationally recognized government, which is supported by a Saudi-led coalition. Experts have described the conflict as a proxy war between regional foes Iran and Saudi Arabia, and the United Nations has an arms embargo on weapons going to the Houthis.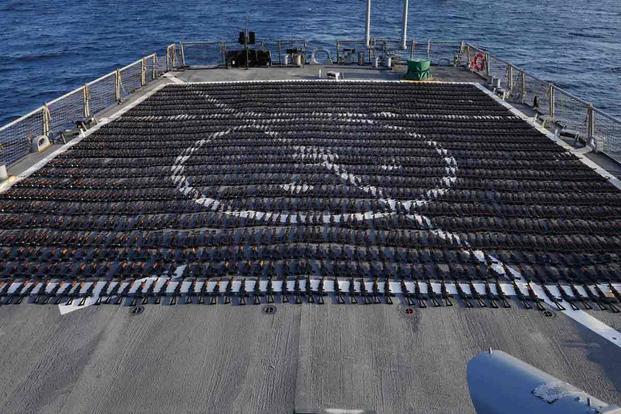 If the U.S. military does send these seized weapons to Ukraine, it would not be the first time weapons from Iran have made their way to the eastern European country. Tehran has outfitted Russia with explosive suicide drones, which Moscow then uses to target Ukraine's civil infrastructure and energy grid — wreaking havoc and causing destruction in cities far from the war's front lines. 
Cooperation between Russia and Iran has not stopped at the shipment of drones, either. Russian officials have traveled to Iran to learn how to use the deadly drones, while Iranian military personnel visited the occupied Crimean peninsula to help Russian forces operate the systems. The two countries have even moved forward on plans to build a drone factory in Russia to increase production.  
Meanwhile, a top UK envoy said in December that Russia was looking to secure a massive amount of ballistic missiles from Iran and was willing to offer the country "unprecedented" military support in return.
But despite these increasing ties between Russia and Iran — both of which are regarded as pariah states by Western countries — the former still engages in some contradictory behavior. Russia doesn't want Iran to have too much influence in Syria, so it allows Israel to conduct operations targeting Iranian proxy groups it perceives to be a threat.  
Considerations on whether or not to send the intercepted weapons to Ukraine comes shortly before the one-year-anniversary of Russia's full-scale invasion of Ukraine in late-February 2022. Since then, NATO members and partner countries have sent billions of dollars in security assistance — including small arms and ammunition — to Kyiv. 
Military aid has ramped up in recent weeks ahead of an anticipated Russian offensive, which may actually already be underway, as Western countries have moved to send heavy armor and other advanced weaponry to Kyiv.