Charles Coolidge, one of the nation's most storied World War II veterans and a Medal of Honor recipient, has died at the age of 99.
Coolidge passed away Tuesday at Memorial Hospital in Chattanooga, Tennessee, while surrounded by his family, the Charles H. Coolidge National Medal of Honor Heritage Center announced.
"Tennessee has lost a beloved son and one of its bravest men," Coolidge's grandson Brad wrote in the obituary posted by the center, also located in Chattanooga.
Read Next: Alwyn Cashe's Medal of Honor Package Is Headed to the White House, Family Says
Before his death, Coolidge was the oldest living Medal of Honor recipient. There is now only one other living recipient who was recognized for actions during World War II, Iwo Jima veteran Marine Cpl. Hershel "Woody" Williams. According to the National World War II Museum's website, there were 473 Medal of Honor recipients from that war.
Coolidge, who was born in 1921 in Signal Mountain, Tennessee, served with the Army's 36th Infantry Division in North Africa, Italy, France and Germany as a technical sergeant during WWII. He received the Bronze Star and Silver Star in 1944 and the Medal of Honor the following year; in 2006, he was awarded France's highest honor, the Legion of Honor.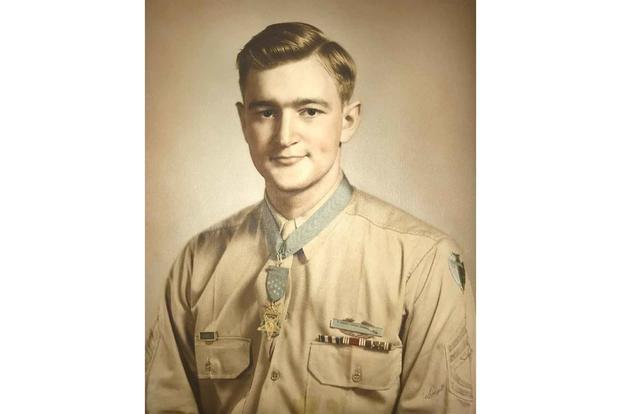 He joined the Army in June 1942, trained in Georgia, Alabama and North Carolina, and then deployed to the European front in spring 1943.
Coolidge was part of the first American division to invade Europe during the war. He took part in the ill-fated attempt to cross the Rapido River, and the fierce Battle of Monte Cassino in early 1944, as the Allies sought to take Rome from the Axis powers.
That May, he landed at Anzio along with the rest of the 36th and helped open the gates of Rome for the 5th Army, earning the Silver Star. His division was then pulled out of Italy. In August, they redeployed to southern France and began marching toward the Siegfried Line, a notorious German defensive line riddled with thousands of bunkers and pillboxes.
In October 1944, Coolidge stepped up and took the lead during a fierce, four-day forest battle near the French village of Belmont-sur-Battant, for which he was later presented the Medal of Honor.
The fighting erupted on Oct. 24, as Coolidge led a section of heavy machine guns, supported by a platoon from Company K. His force was ordered to support the 3rd Battalion's action and cover its right flank, according to the citation for his award.
Coolidge and a sergeant from the company moved forward in the woods to reconnoiter positions to coordinate machine gun fires, when they ran into a large force of enemy infantry -- perhaps as much as an entire company, the citation states.
Vastly outnumbered and outgunned, Coolidge thought quickly -- and boldly. He tried to bluff the Germans with a show of confidence and called on them to surrender.
His audacious gambit didn't hold, though; the Germans opened fire. Coolidge returned fire with his carbine and wounded two of them.
With no officer present, Coolidge assumed command of the force, and they fought back. Many of those troops in the force were fresh replacements and were under fire for the first time. But Coolidge -- unfazed by the close-range enemy fire erupting around him -- rallied his jittery men, walking along the position, calming and encouraging them and directing their fire until that attack was repulsed.
The Germans hadn't given up, however. Later that day, through Oct. 26, they launched one attack after another on the group's position. All were foiled under Coolidge's leadership.
But on Oct. 27, the Germans began their most determined attack yet on the Americans' position, sending infantry supported by two tanks. The area was swept by small-arms, machine gun and tank fire.
Once again, Coolidge took the lead. According to his citation, he armed himself with a bazooka and advanced to within 25 yards of the tanks. But his plan of attack hit a major snag: The bazooka failed.
Coolidge threw the busted bazooka aside and improvised. He grabbed as many hand grenades as he could carry and crawled forward, hurling grenade after grenade and inflicting heavy casualties on the advancing German infantry.
But Coolidge's men could hold out against the superior, tank-supported German force for only so long. When it became clear the Germans would overrun their position, the citation states that Coolidge -- "displaying great coolness and courage" -- organized his men into an orderly withdrawal. He was the last to leave the position.
"As a result of TSgt Coolidge's heroic and superior leadership, the mission of his combat group was accomplished throughout four days of continuous fighting against numerically superior enemy troops in rain and cold and amid dense woods," his award citation reads.
After the war, Coolidge returned to Tennessee, got married and started a family. One of his three sons is retired Air Force Lt. Gen. Charles Coolidge Jr., who flew in Vietnam and served as vice commander of Air Force Materiel Command before his 2004 retirement.
Coolidge is also survived by multiple grandchildren and great-grandchildren.
He briefly worked for the Veterans Administration after the war, according to his obituary. But he soon returned to his family's business, Chattanooga Printing & Engraving, where he had also worked as a bookbinder before the war. He retired from the business, which his father Walter Coolidge founded in 1910, at the age of 95.
Coolidge was honored multiple times in his final years. The Medal of Honor Heritage Center in downtown Chattanooga was named for him, as was a highway and a park. In 2013, he was one of 12 Medal of Honor recipients to be featured on the cover of the U.S. Postal Service's Medal of Honor stamp sheet. And last month, he was named the winner of the 2021 George Marshall Award by the State Funeral for World War II Veterans organization, in recognition of his service to the country.
His funeral will be held April 16 at First Presbyterian Church of Chattanooga, with burial following at the National Cemetery of Chattanooga.
-- Stephen Losey can be reached at stephen.losey@military.com. Follow him on Twitter @StephenLosey.