A British military working dog who risked his life in Afghanistan to protect his unit -- and subsequently was helped by a team of U.S. Army veterinarians and Air Force surgeons -- has been awarded the "animal equivalent of the Victoria Cross" for his actions in combat.
Kuno, a four-year-old Belgian malinois, was assigned to a unit of the United Kingdom's Special Boat Service in Afghanistan in 2019 when the group was tasked with a night raid on a suspected al-Qaida compound.
Read Next: Climate Change, Terrorism Top List of Challenges Facing US Military
After their helicopter landed, Kuno and his handler exited and raced toward nearby buildings, immediately attracting machine-gun fire. The handler released Kuno to take down the gunner. The pup then proceeded to use his well-trained nose to locate a variety of hidden weapons and explosives within the area.
But as Kuno and the handler moved toward the doorway of another building, the team was targeted by grenades and additional machine-gun fire. They became pinned down by an enemy combatant wearing night vision goggles, unable to move without risking casualties.
To break the stalemate, Kuno's handler ordered the dog to attack the insurgent, who opened fire at the rushing, 67-pound dog. Despite suffering bullet wounds to both hind legs, Kuno, "barely breaking stride ... launched himself at the insurgent, biting his arm and wrestling him to the ground," according to a release from the People's Dispensary for Sick Animals, a veterinary charity based in London.
Wounded, Kuno stayed on top of the insurgent, ensuring that he was incapable of harming others.
Kuno's actions "altered the course of the battle," according to the release.
"The assault force swiftly entered the courtyard, neutralised the insurgent and cleared the remainder of the building," it stated.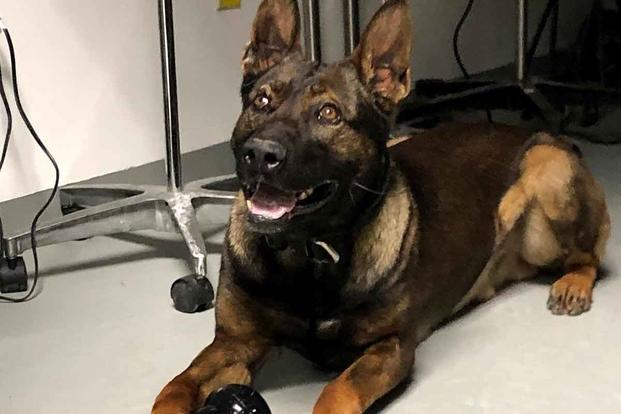 Few in the unit realized at the time that Kuno had suffered life-threatening injuries. A bullet that passed through his right thigh narrowly missed his femoral artery; another had torn through his left paw. Kuno's handler and other team members fought to keep him alive as they transported him to the rear, where he was met by a cadre from the U.S. Army Reserve's 149th Veterinary Detachment.
From there, clinic officer-in-charge Maj. Jake Lowry and detachment sergeant Sgt. First Class Ricardo Ramirez took over.
"The first thing we had to do was stabilize him and make sure he didn't go into shock. We needed to make sure he was getting enough pain medication," explained Army Reserve Lt. Col. Leah Smith, the unit's commander.
A few days later, working with U.S. Air Force orthopedic surgeons, the team cleaned out his wounds and removed his paw, which, according to Smith, was hanging on by a piece of skin.
"The term amputation actually means cutting through bone, but the bone in this case was already shredded," Smith said. "It was a joint operation and a great advantage to have orthopedics specialists there."
Kuno remained with the Americans for seven days before he was flown back to the U.K. According to his veterinary attendants on the aircraft, the dog's temperature began rising while in transit, so the decision was made to blast the air conditioning.
"It meant all of the soldiers" catching a ride home "had to have a chilly ride home, but there were absolutely no complaints," said Cpl, Leah Walters with the Royal Army Veterinary Corps.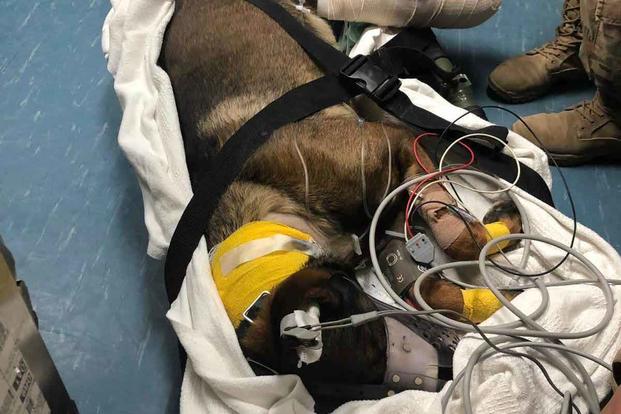 In recovery, Kuno was fitted with a prosthetic to replace his paw, as well as a brace for his other leg -- a support Smith said likely helps balance him.
For his fearlessness, loyalty and heroic actions, Kuno was awarded the PDSA Dickin Medal on Nov. 24 -- an award created during World War II to honor the work of animals serving or associated with any branch of the U.K. armed forces.
"Kuno is a true hero," PDSA Director General Jan McLoughlin said. "His actions that day undoubtedly changed the course of a vital mission, saving multiple lives in the process. And despite serious, life-changing injuries, he performed his duty without faltering."
Kuno is the 72nd recipient of the medal and the 19th since the award was revived in 2000. Past recipients include a total of 35 dogs, 32 messenger pigeons, four horses and one cat.
Other award recipients include a pigeon named G.I. Joe that flew 20 miles in 20 minutes and is credited with saving over 100 lives for the message it carried; a pointer named Judy that kept morale high in a Japanese prisoner-of-war camp during World War II; and two Labrador retrievers, Salty and Roselle, who led their blind owners down more than 70 flights of stairs in the World Trade Center on Sept. 11, 2001.
The last recipient before Kuno was Kuga, also a Belgian malinois, who served with the Australian Special Operations Task Group in Afghanistan. Kuga was shot five times while attacking an armed insurgent in 2011; he died from his wounds less than a year later.
The day Kuno received his award during a virtual ceremony, Smith said the honor was a testament to those who train military working dogs, handle them and care for them.
"It's heartening to see how many groups came together for him, an international coalition as well as an interservice team came together. Every single one of the services -- the Army, Air Force and Navy -- had a piece of his care," Smith said.
Smith, who in her civilian career recruits veterinarians and places them in practices, said cases like Kuno's are what keeps veterinarians practicing.
"He is an amazing dog. I don't think I have ever seen a military working dog that is as driven in a long time," Smith said. "Even when he was sedated, his personality came through."
-- Patricia Kime can be reached at Patricia.Kime@Monster.com. Follow her on Twitter @patriciakime.
Related: US Military Working Dogs Should be American-Born, Senator Says