OFF THE COAST OF NORFOLK, Virginia -- Just weeks before the carrier Gerald R. Ford got underway for a post-delivery test and trial period in early November, a "small number" aboard tested positive for COVID-19 and were pulled off the ship to quarantine.
On Tuesday, while Military.com was aboard the carrier, officials said they wouldn't answer questions about how many sailors had tested positive to date. But though ship operations proceeded at their usual pace, evidence of the pandemic's impact was everywhere.
Sailors, who had been underway for about 10 days by then, sported slightly shaggy haircuts, evidence of the barbershops onboard being "secured," or closed. Rows of treadmills and stationary bicycles above a hangar bay stood idle; gyms were also secured. While the ship's galleys still served up four meals a day, mess decks were empty. Sailors were under instructions to collect their meals and take them back to their offices or shops, where they could eat with the smaller "bubble" of teammates with whom they spent more of their time.
Read Next: USS Wahoo Is Back: New Nuclear Subs Named for Storied WWII Boats
In nearly every corridor were posted signs reminding sailors to wash their hands regularly, wear face masks religiously and stay six feet -- or one fathom -- apart.
With nearly 3,000 sailors aboard, the carrier could be an ideal location for a superspreader event. And that's not just guesswork: More than 1,200 sailors contracted COVID-19 aboard the carrier Theodore Roosevelt this summer in an episode that rocked the Navy; one of those sailors died.
But with more knowledge of how the virus spreads and appropriate prevention, some members of Ford's crew said the risks seem manageable.
"Sometimes, it can seem like it's a bit of a giant ship," Air Traffic Controller 1st Class Scott Torres, 31, of Phoenix, Arizona, told Military.com. "But your heat map, I guess you could say, that you use on the ship is kind of small. You know, you go to chow. Go to work, go to your berthing ... for the most part, this giant ship can get small for you."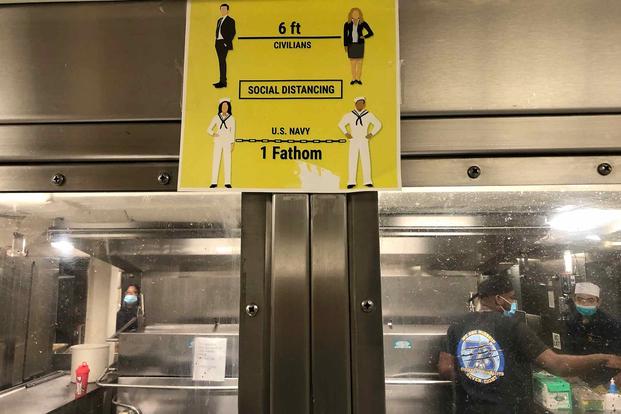 Those other off-hours destinations, like group spaces where sailors could watch movies or play games together, are no longer part of the heat map. And physical training activities are limited to a short window each morning where crew members can run and work out on the ship's flight deck, and in the open air.
In addition, Torres said, cleaning of work and berthing spaces now consumes hours of every day. At a minimum, every space gets cleaned three times daily, with "bleaching stations" available at any time for a touch-up.
Petty Officer 1st Class Francesca Foxx, 33, of Suffolk, Virginia, said she most misses the recreation opportunities and creature comforts now deemed to pose too much of a virus risk.
"The most challenging part is we normally have a lot of amenities that are available to us, but with COVID-19, we do have to shut them down," she said. "But we make it work."
The Ford's commanding officer, Capt. J.J. Cummings, a gregarious and plainspoken former corpsman from Sharon, Massachusetts, said it bothered him not to be able to get to know his sailors during trips through the mess deck at mealtimes.
"That's the lifeline of the ship, right there," he said. "So it's been very challenging, and it's counter to our culture. We're obviously a connected group, by the way we live. And it's been rough, but we have to do it, because you've got to stay on mission."
Cummings said his time with Ford during the pandemic had made up the hardest 10 months of his career, with concern about disease mitigation and prevention all-consuming.
"It's like you become a COVID officer ... I'll wake up in the middle of the night thinking about, 'Let's try this,'" he said.
His greatest operational worry is that multiple critical watchstanders might contract the disease at once.
"If we lose three or four people, critical folks, we've got to get a replacement out here," Cummings said.
Meanwhile, he's taking aggressive and sometimes unconventional steps to keep up morale, aware that the already constricted realities of carrier life have become less bearable. He'll order the ship to pull close enough to shore that it can pick up cellphone signal, affording sailors the chance to call home or text friends.
He holds 5K races and Bingo nights weekly, and is already planning a ship Christmas party to make up for gatherings sailors probably won't be able to enjoy in town. On a recent underway, Cummings allowed sailors to participate in a lengthy swim call off the Bahamas, egging them on as they nerved up to jump 30 feet from the carrier into the water.
And he decided to take the risk of pulling the ship into Norfolk for Thanksgiving, allowing them to spend a holiday with some normalcy before continuing operations. He spoke with Military.com a day before the Navy announced that the region would be returning to Health Protection Condition Charlie, restricting military personnel from nonessential travel, dining out and large social gatherings.
"We could have stayed away. ... The right answer probably would have been to stay away for Thanksgiving," he said. " ... But that's absurd. No one could go on leave since March. No one's been home. So just go home; we'll deal with it when you get back. Be careful."
-- Hope Hodge Seck can be reached at hope.seck@military.com. Follow her on Twitter at @HopeSeck.
Related: As Supercarrier Ford Launches Largest-Ever Flight Ops, Leaders Try Out New Ways to Fight