U.S. Army modernization officials can do a better job of reducing risk and estimating costs in two efforts under the service's Next Generation Ground Combat Vehicle (NGCV) priority, according to a new Government Accountability Office report.
Nearly three years ago, the service launched an ambitious modernization effort designed to replace its major armored combat vehicles, helicopters, long-range fires and air defense capabilities, as well as update its tactical network and improve soldier lethality. The effort included standing up Army Future Command and relying on a flexible acquisition strategy that focuses on early rapid prototyping to speed up program completion.
In a report released Aug. 6 on the Army's NGCV effort, GAO investigators gave credit to the service for avoiding long acquisition efforts that have resulted in the failure of past modernization efforts, such as Future Combat Systems, that resulted in losses of more than $20 billion.
But the GAO said that the Army's Mobile Protected Firepower (MPF) effort and the Optionally Manned Fighting Vehicle (OMFV) program -- together estimated to cost more than $60 billion -- need more work.
Read Next: Esper Calls for Honesty from China as Tensions Heat Up
"The Army took some steps to reduce the risks of cost overruns and program delays," the GAO report states. "But for two of its efforts, the Army didn't fully consider all potential cost uncertainties. It also delayed key engineering reviews for these efforts, increasing the risk of vehicle design problems."
The Army had to restart its OMFV effort to replace the Cold War-era Bradley fighting vehicle after the service decided late last year to cancel the solicitation effort since it received only one valid bid from General Dynamics for the $45 billion program.
In December 2018, the Army advanced its plan to field a lightweight tank to arm infantry units with more firepower by awarding two defense firms with what's known as Middle Tier Acquisition contracts, worth up to $376 million each, to produce MPF prototypes.
Based on their initial acquisition plans, the total estimated life-cycle cost of MPF is approximately $16 billion and the cost of OMFV is approximately $46 billion, according to the GAO.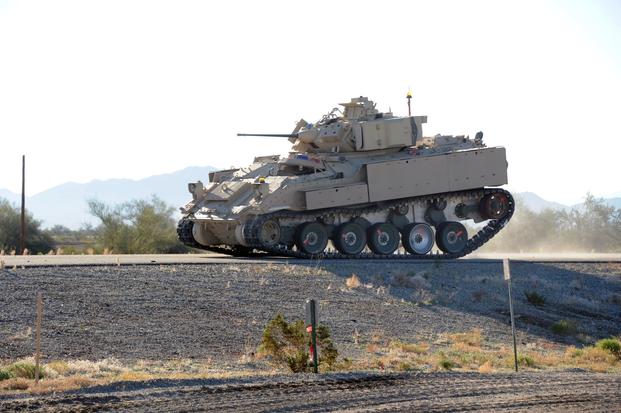 The Middle Tier approach may lead to rapid acquisitions, but the Army could do more to accurately estimate costs, according to the GAO report.
"The programs identified some risks in their cost estimates, but because each presented a single estimate of the total cost -- referred to as a point estimate -- these estimates do not fully reflect how uncertainty could affect costs," the report states. "Similarly, the programs took some steps to mitigate technical risk by limiting development to six years or less and incrementally introducing new technologies. ... However, by delaying key systems engineering reviews, the programs took some steps not consistent with leading practices, which could increase technical risk."
The Army's decision to cancel the OMFV solicitation "further illustrates the risks of beginning system development without conducting a systems engineering design review, but presents an opportunity to learn key lessons and apply them," the GAO report found.
The GAO recommended that the Army direct the OMFV and MPF programs to update their cost estimate to include analyses to support the development of a range of possible cost outcomes for decision-makers.
In a response to the GAO, signed by Lt. Gen. James Richardson, deputy commander of Army Futures Command, the Army said it is confident in both programs but agreed to "focus on uncertainty analysis when formulating cost ... to provide decision-makers with a range of possible cost outcomes" in support of all future program milestone decisions.
The GAO also recommended that the Army direct the OMFV program to inform requirements by conducting systems engineering reviews at key decision points as the program office finalizes its acquisition approach.
Army Project Manager Maneuver Combat Systems is doing system requirements reviews and a system functional review during the digital design phase of OMFV, Richardson's response states.
NGCV program officials will use these system engineering reviews -- along with soldier evaluations, test and evaluations of digital designs, and the working prototypes to refine the Army's final OMFV requirements, the response adds.
-- Matthew Cox can be reached at matthew.cox@military.com.
Related: The Army Is Once Again Starting Design for Future Optionally Manned Fighting Vehicle