LAS VEGAS -- It may be an AR market, but a South Carolina gunmaker just introduced another version of the classic Israeli Galil rifle at SHOT Show 2020.
American Tactical Inc. showed off its new Galil short-barreled rifle (SBR) -- officially called the Galeo -- at range day, a year after unveiling the full-size variant of this short-lived, iconic Israeli battle rifle.
"We manufacture the receiver in house in Summerville, South Carolina; we source the barrel domestically and source the magazine domestically. Everything else is Israeli-made," Nick Contestabile, of American Tactical Inc., told Military.com.
"It's an exciting member of our catalog because it's not a very common firearm, even in our industry."
Related: SHOT Show 2020 Coverage
The Israeli Galil was the battle rifle of the Israeli Defense Force from the mid-1970s to the early 1990s. Its rugged design is based on the AK-47 and the Valmet RK 62.
It doesn't have rails for mounting optics or lights. There is no adjustable cheek rest or other aftermarket accessories for it. But there is a certain mystique to the robust features of this 5.56mm semi-automatic rifle.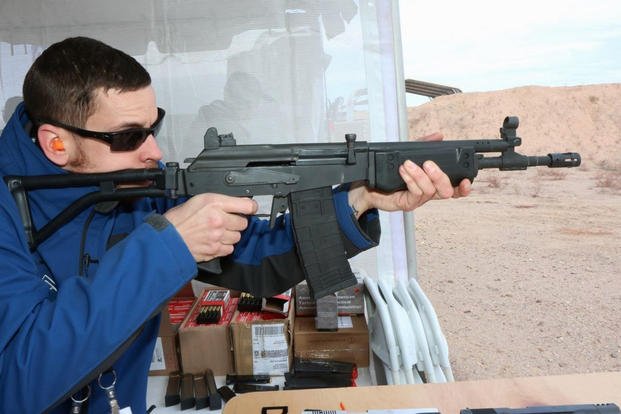 "We have very high demand for these firearms. ... The backorders are pretty heavy," Contestabile said. "We can make our ARs a lot faster than we can make this. A lot of tender, loving care goes into these, so it takes a while to make them."
The SBR version has a 13-inch barrel and features the iconic, folding metal stock and charging handle that's bent upward at a 90-degree angle to make it easier to charge the weapon with the non-firing hand.
"It's very similar to an AK-47 in a lot of its features -- the magazine, the safety mechanism, all of that," Contestabile said.
The American Tactical Galeo SBR is available with wood or polymer forends and retails for about $1,330.
-- Matthew Cox can be reached at matthew.cox@military.com.
Read More: Sig Sauer's New X5 Legion Pistol Is Designed for Lightest Possible Recoil