CHARLESTOWN, Massachusetts -- Joshua Maloney didn't really understand the patterns of thinking that made him enter destructive cycles of confusion, stress and rage -- until he heard other veterans in his cohort describe their own, similar thought patterns. That made it easier to spot the flaws.
"I hear other people say things that I'm thinking," said the soft-spoken 30-year-old. "And when they say that stuff, I can challenge it for some reason [even though] a lot of times I'm thinking the same way."
A former Army tanker who deployed to Mosul, Iraq in 2009, Maloney graduated last year from the intensive clinical program for post-traumatic stress offered by Home Base, a collaboration between Mass General Hospital and the Red Sox Foundation.
The waterfront facility, in the shadow of the legendary historic warship USS Constitution, is plush, tasteful and state-of-the-art. But it's just the backdrop for the grueling work of change that happens here.
Home Base is one of just four locations around the country offering the intensive clinical program, funded and coordinated by Wounded Warrior Project, which crams a year or more of therapy -- 50 hours -- into just two raw, exhausting weeks, spent with a squad-style cohort of about a dozen other veterans. And the data shows that it really works.
"As they build out this team over the first couple of days, they realized their success is interdependent on each other. They might want to quit, but they don't want to let their friends down," said retired Army Brig. Gen. Jack Hammond, executive director of Home Base. "They'll quit on themselves, but they don't want to quit on their comrades. ... They create a tribe. We're all kind of pack animals, and we do better with others than we do on our own."
'They Stay to Help Each Other'
At Home Base, the facilities are more evocative of a spa than a hospital clinic or psych ward. Veterans sweat through tailored workouts in a sleek custom-designed gym outfitted with low-impact treadmills and disability-accessible machines. Walk around the sun-dappled space, through halls hung with autographed Red Sox and Patriots sports memorabilia, and you might find program participants working on an art project connected to their military service or making a gourmet meal in an open-plan kitchen.
The effect of spending time in the space, said Hammond, should be like "sitting on somebody's porch out on Nantucket."
The core of the program offered to veterans at Home Base free of charge, with lodging and transportation included, is prolonged exposure, a therapy that has existed for decades and focuses on detailed conversations that get to the source of traumatic memories. It also emphasizes "in vivo" experience, in which patients spend time in environments that trigger their stress. For many vets, the busy Boston streets outside the serenity of Home Base fit that bill.
"These are things that were vital to your survival at one point," Ann Stewart, director of social work for the program, said of reflexes like hypervigilance and aversion to crowded places. "And they might not be serving you so well now."
Like Maloney, many participants must confront their flawed assumptions about the way their world operates.
"[Their military] chain of command tells them like, hey, if everyone does your job, right, we'll come home safe," said Edward Wright, co-director of the intensive clinical program. "And I say, I mean, yeah, makes sense … But you know, if you're in the mindset that, you know, do your job and then everyone will be okay, and then you're thinking, 'Oh, no, what did we do wrong?' You kind of set yourself up for thinking we have control over this."
The members get to know each other deeply and participate in one another's healing. And they may play a role in the program's 92% graduation rate -- well above the 30-50% completion rate for conventional therapy, Home Base staff said. Even though participants are often pushed to the point of quitting, they'll work through the pain and discomfort rather than give up on their teammates, staff say.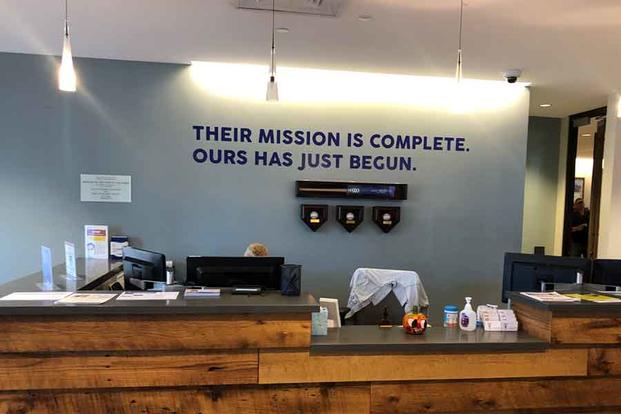 "They stay to help each other," said Dr. Thomas Spencer, chief medical director. " ... We can all see something in each other that we can't see in ourselves."
They graduate together in an emotional ceremony, and stay connected via a specially created closed Facebook group as they return to jobs, responsibilities and the pace of everyday life.
Multiple care providers noted the veterans assume the others in their cohort were specially selected based on compatibility; they're often shocked to learn the groups are assembled completely randomly and amazed at how close they become to the other members.
'You're Doing Worse'
Home Base's intensive clinical program does not purport to offer a miracle cure. After Maloney graduated the program last fall, his girlfriend confronted him: "You're doing worse."
Maloney felt deconstructed -- no longer "fast" and able to compress his trauma and anxiety in order to focus on the present. For the former Barnstable, Massachusetts, police officer who had become a de facto liaison for other veterans in his community seeking help and support, it was unnerving. But it was a starting point.
He'd first come across Home Base when looking for resources for veterans close to his Cape Cod community. At the time, Maloney seemed to have it together, but he was self-medicating hard, with beer consumption that topped out at 18 drinks a day. When he finally did go in search of help, he wasn't satisfied with what he found. It was during a meeting with a Department of Veterans Affairs doctor that he acknowledged he was an alcoholic; providers during a subsequent stint at a psych ward during his journey to sobriety helped diagnose his post-traumatic stress, which he says is linked closely to suicides of people close to him both in the Army and at the police department.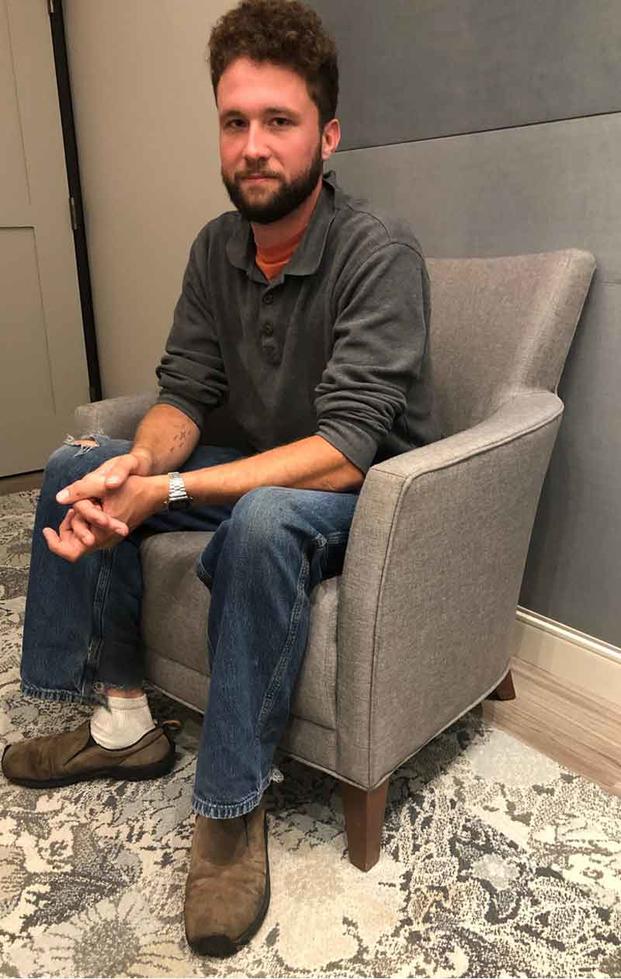 But after PTSD clinics, vocational rehab and more, he still felt isolated and disjointed. So he found his way back to Home Base and quickly got linked up with a new cohort and a two-week class, where his fellow participants began to help him understand himself more clearly.
Since Maloney's point of deconstruction at the end of the Home Base program, he has participated in Project Odyssey, a rehabilitative outdoor retreat not unlike Outward Bound, and embraced a new hobby: birdwatching.
"It's easy to be mindful of birds, because they do a lot of cool things. They're always there," he said. "Some of them are a--holes, which is a huge metaphor for life."
The Warrior Care Network
Home Base has been serving veterans in Boston for a decade. But it wasn't until Wounded Warrior Project donated $65 million to the organization -- the second-largest donation in the history of Mass General -- that it was able to build out its well-appointed space in Charlestown and offer the two-week intensive clinical program for post-traumatic stress. For WWP, it's part of an initiative that encompasses four of the most prestigious medical centers in the country. It's also funding similar programs at Emory Healthcare in Atlanta; Rush University Medical Center in Chicago; and UCLA Medical Center in Los Angeles.
Emory and Home Base emphasize prolonged exposure therapy, while Rush and UCLA focus on cognitive processing therapy, giving veterans tools to understand the points at which they are "stuck" on a destructive assumption or thought pattern. The four centers form WWP's Warrior Care Network, first created at the structural level in 2015. Each of the centers built on an existing veteran support program
"We wanted to see where would we be the most impactful, and so that's why our largest investment is in the mental and brain health space, because there's a lot of folks doing a lot of physical health and wellness and employment," said Michael Richardson, vice president of independent services and mental health at WWP. "But there's not a lot of folks doing the holistic approach to mental and brain health."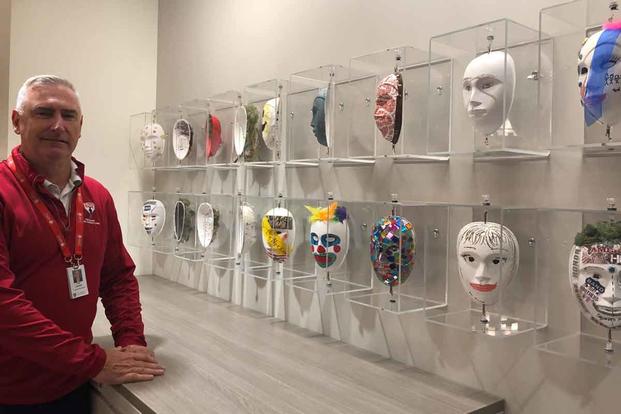 WWP invested $100 million to launch the effort and recently committed another $160 million to sustain it over the next five years. In exchange, the centers must collaborate with each other, adhere to a governance structure set by WWP, and agree to share all data regarding treatment outcomes.
Hammond, Home Base's executive director, said the WWP investment helped the organization ramp up from treating 800 patients a year to nearly 5,000 in all programs, including 700 last year in the intensive clinical program alone, and helped them build a much larger space, thoughtfully designed -- from the white noise dials in counseling rooms that ensure confidences are kept private, to foam-rubber barbell plates in the gym that don't disrupt therapy sessions when they're slammed to the floor.
A Boston native who first found Home Base when he sought "a tune-up" following his final deployment in 2012, Hammond marvels at how effective the two-week intensive clinical program has been so far.
"We've had Medal of Honor recipients, Navy SEALs, Green Berets, Delta Force [members] that were circling the drain, by their own admission," he said. "And they're now thriving."
'Emptying My Backpack'
It's not just young and recently separated veterans who find their way to the two-week program. One graduate of a class in September retired from the Navy in 2000 and celebrated his 60th birthday while at Home Base.
As he'd faced retirement from a demanding civilian job in the same community, he said he had begun to acknowledge his own symptoms of traumatic brain injury and post-traumatic stress, and his fears of leaving the world he'd known for most of his life. A seizure at the end of last year drove home the need for help.
While in the intensive clinical program, he said he was better able to envision his future in retirement and work on strengthening emotional bonds with his family.
"After two weeks of emptying my backpack, all my pent-up emotions, frustrations, my personal frustrations with myself ... foundationally, I've got some tools in my tool bag, and I got a lot of work ahead," said the retired sailor, who asked that his name not be published for professional reasons.
Some of the work was mechanical; he noted that his memory had deteriorated rapidly due to TBI, and he benefited from exercises to help with remembering names, among other things. Some of it got much deeper.
"When I came here, I was convinced that I had no emotions whatsoever," he said. "And then after I was talking through some stuff, I realized that, you know, we all have emotions, but I suppressed it and I was afraid of my emotions, my feelings."
The retired sailor, who is from Syracuse, New York, said he plans to continue counseling and treatment closer to his home. He's unpacked about half of his emotional backpack so far, he said. All the participants in the program choose a hobby to embrace, something that brings their stress levels close to zero. And he said he's chosen his.
"I'm trying to learn how to sleep," he said. "That's my hobby -- take a nap."
Two Weeks to One
It seems counterintuitive that a program that packs 50 hours of therapy -- plus homework -- into a tight two-week program could possibly be as effective as a longer, conventional program. But research from the broader psychological community confirms that it is. And the military, on a limited scale, has conducted its own successful studies.
Wright said he'd been part of the first study of prolonged exposure therapy with service members while working at Fort Hood, Texas, as a civilian.
"We found no difference between the once-a-week treatment versus the everyday treatment," he said.
Data collected since 2015 for the Warrior Care Network shows an average decrease in PTSD symptoms by 20 points, from severe to moderate, according to data provided by Wounded Warrior Project. The data also shows modest average increases in resiliency and significant decreases in depression symptoms, from moderately severe to moderate.
The average wounded warrior receives more than 72 clinical hours of care in the intensive clinical program, and 95% of veterans say they'd refer another vet to the Warrior Care Network. Providers said they'd seen a series of SEALs come through the program recently because of word-of-mouth recommendations.
For many veterans, a program like this might be the only chance to spend time in intensive therapy; it's easier to leave a full-time job for a two-week vacation than it is to put life on hold to check into a longer program.
For that reason, Hammond said, Home Base plans to test out an even further compressed program focused on stress, anxiety and depression that will make treatment more accessible to those who can't leave home for a full two weeks.
At Rush, Richardson said, providers are also testing out a one-week intensive program for veterans.
"It won't have all the bells and whistles, all the complementary and alternative therapies that are in there," he said. "But can we get folks at a certain level of improvement ... [and] not everybody can take two or three weeks. And so we're testing that as well."
Richardson said the program continues to look for other ways to improve, particularly in treating the complex combination of post-traumatic stress and TBI that manifests in many veterans.
"Ralph Waldo Emerson said something along the line of, where we're going, there's no trail," he said. "But we're leaving a path."
-- Hope Hodge Seck can be reached at hope.seck@military.com. Follow her on Twitter at @HopeSeck.