A team led by Textron Systems today publicly unveiled a new 10-ton, unmanned battle wagon that it plans to enter into the Army's Robotic Combat Vehicle effort.
Textron, its subsidiaries Howe and Howe Technologies and FLiR Systems Inc., will display the Ripsaw M5 unmanned tracked vehicle on the exhibit floor of the 2019 Association of the United States Army's annual meeting in Washington, D.C.
As part of the Army's modernization effort, the service plans to develop and field light, medium and heavy versions of a Robotic Combat Vehicle, giving commanders the option of sending unmanned vehicles into combat against enemy forces.
Howe and Howe started developing the Ripsaw platform shortly after the attacks of 9/11, but the M5 version is far from being the "status quo," Geoff Howe, senior vice president of the firm, told defense reporters recently.
"Every bit of energy that we put into systems has to be innovative and has to be in the future it has to show progress, and in that, help protect the American warfighter," he said. "In 2006, we were at the D.C. auto show with one of our first Ripsaws, and we bounce forward 13 years later and we have we think one of the best vehicles out there."
One of the advantages Ripsaw will brings to the robotic combat vehicle effort is that its "DNA sits right smack dab in the center of the two requirements" for the light and medium RCV, Mike Howe, senior vice president of Howe and Howe.
Related: Army M1 Tanks Are Getting the Ability to Locate and Destroy Enemy Missiles
"It's very easy engineering-wise to move the Ripsaw into the heavier scale and completely fulfill the requirements for the medium and then downscale to the light," he said, calling Ripsaw the first truly scalable vehicle of its kind.
"Nobody has ever done that for the U.S. Army before, making it truly scalable, so you can say this mission set requirement is going to be we are going to need a payload of 6,000 pounds, it's going to need this suspension package, it's going to deliver this payload at this time. Or it's going to need a 1,000-pound [remote weapons station] system, it's going to use the same chassis, same suspension components with slight variations and you can scale it down."
The light version will have a slightly smaller chassis to so it can be slingload-carried from helicopters, but both versions use common components and common drive systems, Mike Howe said.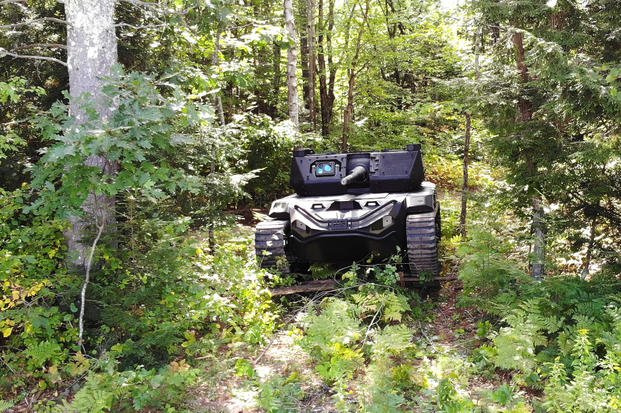 The M5 will also feature FliR sensors capable of providing long-range surveillance against enemy threats, said David Ray, president of FLIR Systems' Government and Defense business unit.
"We have built the solution that is ruggedized for wartime situations ... that gives the customer complete 360-degree coverage," Ray said.
The FLiR systems will also use artificial intelligence "to do things like object detection and really being able to recognize people from animals to bring a greater sense of understanding to the warfighter," Ray said.
The design also features a ramp on the front of the vehicle where a smaller, FLiR robot can come out and do smaller-scale reconnaissance, Mike Howe said.
"We know that marsupial-type robotics is going to be really important for this RCV," he said. "You are going to need to have smaller robots come out of this robot for [situational awareness] purposes."
Currently, the M5 is capable of performing lead-follow movement and moving offroad, relying on waypoint navigation.
"It will be a hybrid from a tele-operated [system], moving to autonomy as we grow with the Army's requirement," said Lisa Atherton, president and CEO of Textron Systems.
The Army has not released its request for prototypes for the RCV, but the Textron team is confident it's working prototype is ready to compete, Atherton said.
"Textron systems brings decades of armored vehicle experience," said Atherton, who added that the Textron has more than 15 programs of record and more that 1.5 million hours of unmanned systems and command and control operational experience.
"We have built a working prototype ... it's working, it's built and its moving."
-- Matthew Cox can be reached at matthew.cox@military.com.
Read More: 15 Years After Fallujah, Marines Fight to Save Their Comrades