Air Force Col. Nick Hague's first flight to space last October didn't go as planned. In fact, as he and Russian cosmonaut Alexey Ovchinin approached low-Earth orbit, it went completely awry. The rocket booster of the Soyuz MS-10 failed, forcing the pair to execute a dangerous "ballistic" reentry, descending 31 miles to the desert floor in their tiny emergency capsule.
Nearly 260 miles away at Baikonur Cosmodrome, Kazakhstan, Nick Hague's wife, Air Force Col. Catie Hague, had just watched her husband blast to space and waited an agonizing 45 minutes with the couple's two sons, then ages 8 and 11, before learning he was OK.
It's those moments -- the very public broadcasts of launch, landing and spacewalks, when astronauts are at their most vulnerable -- that set space deployments apart from Earthly assignments, even combat deployments, according to Catie Hague and Stacey Morgan, whose husband, Army Col. Drew Morgan, traveled to the International Space Station on July 20. He joined Nick Hague and Ovchinin, who finally made it there March 14, and three other astronauts and cosmonauts.
Related content:
"You're there with your children, watching it play out in real time. That was like the longest 45 minutes of their entire lives," Catie said. "And then we turned around and I'm asking these kids to watch it again five months later."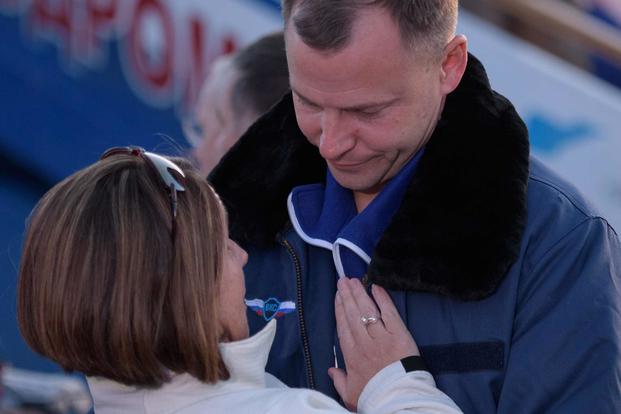 "You have [your children], friends, extended family with you, and you are trying to manage your own emotions," Stacey said. "It's like a wedding, a very emotional wedding, where, in our case, the groom has been strapped to the top of a rocket and is about to get shot into space. It's not for the faint of heart."
Still Military Spouses
In some ways, preparing a family and sustaining them through a deployment to space is similar to any other military separation, the two said. But in many other ways, it's different, a high-stakes game in a public arena for military spouses who are used to their anonymity and relying on the support of other military spouses and close friends.
Catie and Stacey say their lives as astronaut wives, which include public appearances, interviews and intense moments of acute stress, are a unique extension of their service as military spouses.
"A lot of people assume that we're not military anymore. But we consider ourselves military families who are assigned to NASA. Just like the military lifestyle, the astronaut lifestyle is hard on the family," Catie said.
"What an amazing thing that we get to experience," Stacey said, "like the fact that [our husbands] are looking down at Earth from a perspective less than 550 people on the planet have ever experienced. What is that?"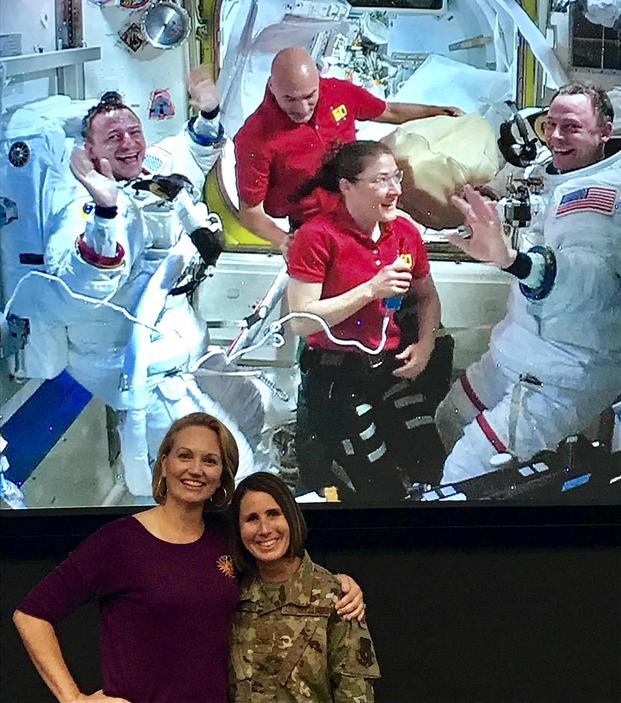 Catie and Nick Hague met in 1996 when they were both cadets at the U.S. Air Force Academy and were married four years later. Likewise, Stacey and Drew Morgan met at the U.S. Military Academy and married in 2000.
Both women knew they had chosen driven, Type A personalities. Nick went on to earn a master's degree in aeronautical and astronautical engineering from the Massachusetts Institute of Technology, served as a test pilot and has been assigned to the U.S. Senate. Drew, a member of the West Point parachute team, attended the Uniformed Services University of the Health Sciences and became a battalion surgeon for 1st Battalion, 3rd Special Forces Group (Airborne), serving on flight, combat dive and airborne status.
But both also had their own lives. While their husbands rose through the ranks, Catie pursued her career as an Air Force public affairs officer, juggling life as a mom and wife, while Stacey fully embraced her role as chief executive officer of a military household, bearing and raising four children and working in a variety of volunteer positions.
Deployment Experience
As with any military family, they have said their goodbyes more times than they want to think about. Nick deployed to Iraq in 2004; Drew deployed to Iraq once, Afghanistan twice and several countries in Africa twice. Catie also has experienced the range of emotions of a combat deployment, having left her husband and a one-year-old at home when she was assigned to Iraq for a year.
"It was -- it was rough. So, that was probably the hardest deployment," Catie said in an interview with NASA's "Houston, We Have a Podcast."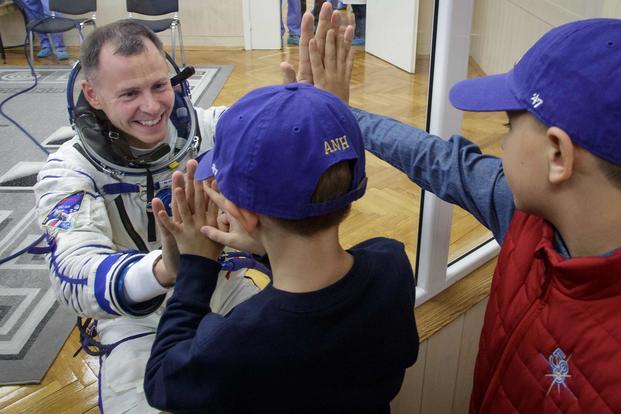 They now know that the stress of those deployments prepared them well for the future -- the nerve-wracking process of astronaut selection, the elation of being chosen, the realization of a permanent duty station in Houston, the wait for a flight assignment, and the reality of a pending deployment to space.
"When you get to Houston, it's a lot like being in garrison. I mean, you have resources available to you, but you are living your everyday life. ... Everything changes the day you get flight-assigned. The family support system quickly shifts gears," Stacey said.
From then on, it's very similar to preparing for a deployment, they said. As with pre-deployment prep, quality time with the departing family member is limited, because he or she is working and training nearly around the clock.
Fortunately, they said, unit support also ramps up, with NASA ensuring that family members have the resources and support they need for a long separation.
"Stress goes up, demands go up, travel goes way up. It ratchets up again and again," Stacey said.
Helping the Kids Cope
There's a lot of pressure to make sure the family is ready for a long-haul deployment, both women said. Not only are they managing their own emotions, they have the additional duties of supporting their offspring through the turmoil and ensuring that communications are maintained between the absent parent and the children for the duration of the mission.
Here's where their military deployment experience helps tremendously -- those tricks learned along the way that keep kids engaged, grounded and connected when a parent is away.
There's the countdown candy jar Catie keeps with double the number of pieces in it until Nick's expected homecoming in October. Each child gets a piece a day and can watch the supply dwindle as Dad's reentry draws near. (Military families know to put a few extra pieces in the jar in case of unexpected delays. "Those extras are for me!" Catie quipped.)
There's the Millennium Falcon Lego set Nick got for the boys before he left. They opened the first bag of parts when he reached orbit and have been methodically opening bags of the 7,500-piece set each week, giving them something to show their father and talk about when they video-chat with him each week. The boys are saving the final piece for Nick to add when he gets home.
Stacey says that a month into the mission, her family is still learning. She found in the first rounds of video chats that each person needs their own time to talk to Drew.
"The first week, we figured out that video chats with everyone on the couch was an epic fail. They sit there and are like, 'He's pushing me!' And we can't fit everyone into the picture. So I've now split that time among the five of us," she said.
Then there are all those consequences of separation that military families can relate to -- the missed anniversaries and birthdays, graduations, first baby steps, the loss of a baby tooth, a first date.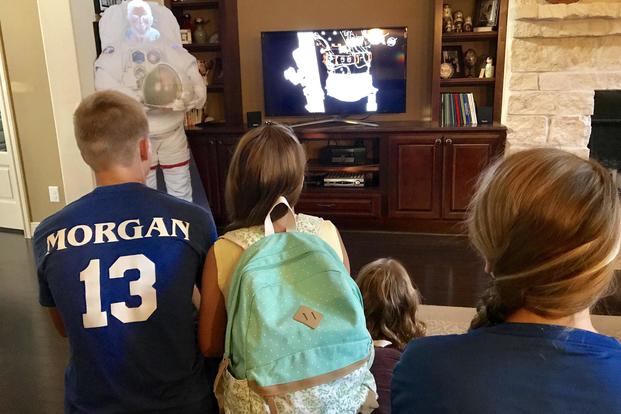 They also are learning that the differences between a space deployment and other Earthly assignments can be mind-boggling, including the chance of spotting your loved one's ship as it zooms around the planet 16 times a day, the opportunity to watch them at work on the NASA channel, the sheer terror of the launch and landing, and the daily anxiety.
Movies such as "Gravity," "Apollo 13" and "The Martian" are not watched in a household with an astronaut in space.
"It's a constant underlying, nerve-racking experience the whole time. Just like the military spouse feels every time they're deployed, you don't really know if something's going to happen. You just kind of live in vigilance the whole time," Catie said.
"If something happens, we just can't hop on a plane and be at the hospital in Germany," Stacey said.
Dealing with the Reality
While Catie and Stacey were speaking with Military.com, their husbands were in the middle of a 6-hour, 32-minute spacewalk, installing an adapter to the outside of the ISS to serve as a second docking port for space ships built by Boeing and SpaceX.
Stacey described the chaos of the morning as surreal.
"I think people imagine that the families and spouses are sitting together sequestered watching these things. The reality is that, when they went out the hatch this morning, we had it on television, but I'm like yelling at the kids to hurry up and get their lunch boxes and shoes on so we can get the bus, but 'Quick, sit down and see if we can catch your dad!' It's a weird lifestyle."
Surprisingly, astronauts get per diem, but they don't receive hazardous-duty pay.
"They get flight pay and per diem, but think about it -- everything is paid for. It's not like they are going out to a restaurant or the grocery store. There's no need for extra pay," Stacey said.
Nick is expected home in October and Drew in April. The schedules aren't set in concrete: NASA astronaut Christina Koch, who launched to the ISS in March with Hague and Ovchinin, found out in April that she would be staying for nearly a year.
Koch will set a record for the longest space flight by a woman, an expected 328 days, second only to Capt. Scott Kelly's NASA record of 340 days.
Stacey and Catie both say their families and the mission keep them focused. Throughout their discussion, they spoke frequently about manned space exploration, a return to the moon, the mission to Mars and the importance of preparing for long-duration space flights needed to reach other planets.
"For NASA, this is a relatively new thing, this long-duration space flight mindset. ... The long separation is grueling. It involves sacrifice physically, mentally and emotionally. But we believe in the mission ... and fully support it," Stacey said.
"As NASA moves forward and prepares to go back to the moon and eventually on to Mars, those long-duration missions are going to get longer and longer. ... We're testing it from a family standpoint, sharing not only with NASA and the team but also across the spouse network. Hopefully, we'll help. ... It is definitely an exciting time for space," Catie said.
-- Patricia Kime can be reached at Patricia.Kime@Military.com. Follow her on Twitter at @patriciakime.