The U.S. Army will soon have a new top enlisted man, known by his peers as a stickler for standards and a seasoned combat leader who will make sure soldiers are ready for the next war.
In mid-August, Sgt. Maj. Michael Grinston, the current command sergeant major for Army Forces Command, will take over as the new sergeant major of the Army. He will replace Sergeant Major of the Army Daniel Dailey, who has held the position since January 2015.
As a career artilleryman, Grinston brings with him more than three decades of experience spanning the 1991 Gulf War, peacekeeping operations in Kosovo and combat deployments to Iraq and Afghanistan.
He is known for being a strict enforcer of Army standards, ranging from uniform rules to tactical skills, according to fellow Army command sergeants major.
Related content:
"He wants it done right," First U.S. Army Command Sgt. Maj. Todd Sims told Military.com. "He's a stickler for the standards to make sure we are training correctly to prepare our soldiers for war."
Retired Sergeant Major of the Army Kenneth Preston agreed that Grinston has a passion for standards but said that it is a trait that all good sergeants major embrace.
"I like to think that all of us, when you get to that level, you understand the thread between standards and discipline in a unit," Preston, now vice president for Noncommissioned Officer & Soldier Programs at the Association of the United States Army, told Military.com.
This dedication to discipline served Grinston well when he was a first sergeant leading soldiers of the 1st Infantry Division's 1st Battalion, 7th Field Artillery Regiment, through the dangerous streets of Bayji, Iraq in 2004.
On April 9, 2004, an enemy ambush killed two of his staff sergeants instantly and wounded three other soldiers, one of whom who would die later. Under heavy enemy fire, Grinston set off a smoke grenade to signal the rest of his platoon forward and then ordered suppressive fire on the enemy position so casualties could be evacuated, according to a June 14, 2005, Stars and Stripes story.
Later that day, Grinston would organize a larger force for a counterattack that resulted in a six-hour gunfight. The Stripes story describes how he exposed himself to enemy fire numerous times during the fierce fight.
Grinston's heroism that day earned him one of the two Bronze Stars with valor devices he was awarded during that deployment.
"It's huge credibility ... it really says a lot about his character," Preston said. "The experience of having ... what it takes to prepare a unit to deploy, to go into combat operations and, of course, what it takes to recover a unit coming back. I think that is extremely valuable, a sergeant major of the Army going into that position."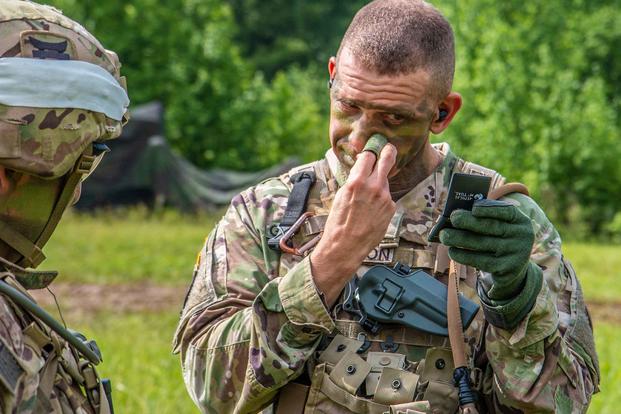 Sims said he has gotten to know Grinston from crossing paths with him during his 30-year Army career. He remembers Grinston as being one of the top noncommissioned officers in units like the 1st Infantry Division.
He related an anecdote about how Grinston, the I Corps command sergeant major at the time, reached out when Sims was picked to be command sergeant major for the 101st Airborne Division in July 2016.
"When I got selected for the 101st, he actually called me, and he mentored me," Sims said, recalling that it was unusual, since the 101st falls under XVIII Airborne Corps.
"He was the only corps sergeant major, besides my own, that called me and talked to me about being a division sergeant major. ... He said, 'This is what I did. ... Maybe if you look at leader development this way ... look at getting after problems in the barracks or training cycle or how can the division sergeant major have an impact in making those things better.'"
Retired Sgt. Maj. Richard Young first met Grinston when he became the 1st Infantry Division command sergeant major about six years ago.
After retiring from a 31-year career in the Army in 2001, Young and his wife Betsy made a habit of sponsoring senior enlisted leaders who came to Fort Riley, Kansas.
Before long, the two artillerymen became friends and remain so to this day.
"He leads from the front," Young said of Grinston, whom he calls "Tony."
"To me, the key to leadership is you care about the soldiers you lead. You are not worried about your next promotion. You are worried about your soldiers and their families and their quality of life," he said. "And if you do all [those] things, everything else will fall into place. And that was Tony; he cared about the soldiers that he led at every level."
Soldiers will be able to expect fairness from Grinston as the new SMA, Young said.
"You can't have two sets of standards, one for the soldiers you like and one for the soldiers you are frustrated with," Young said. "He will tell the soldiers, as he visits different units, 'This is the way it is.' He will deal from the side of right."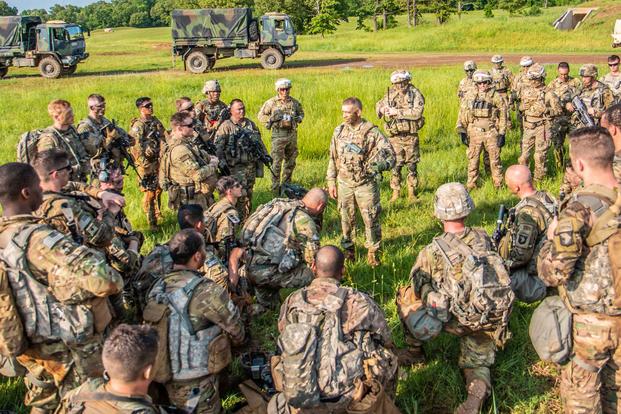 Sims also described Grinston as a warrior.
"What's great about Sergeant Major Grinston is he can do the same thing soldiers can do," he said. "He's physically fit. He's tactically sound, and he's mentally stable. ... He can get down to the level of a soldier talk at the solder level, then five minutes later he can be talking to Congress ... or his counterpart, the chief of staff of our Army."
Preston said he never served with Grinston but got to know him when he rose to more senior-level jobs, such as his current role as the CSM for FORSCOM.
"I knew all the senior sergeants major out there that interviewed and competed for the [SMA] position, and I would say that Grinston is the right choice coming in," Preston said, describing how Grinston's current job has given him experience dealing with soldiers in the active-duty, National Guard and Reserve components.
"When you go into that position up there as sergeant major of the Army, it's really about representing all of the Army. ... You represent all soldiers across all three components of the Army," he said. "He has walked the ground with soldiers from the Army National Guard down on the border. He has walked the ground with soldiers in the Army Reserve as part of civil affairs teams in Africa or Europe. And of course, he has been out there with all the regular Army units that are deploying all over the world."
To Preston, one of the biggest challenges Grinston will face as SMA will be staying connected with soldiers and understanding how the continued demand for soldiers and units to regularly deploy affects them.
"The demand for land forces is going to continue to be there, and I think it is going to continue to grow," Preston said.
Grinston will have to "get out there and travel to understand the missions on the ground and the impact that those missions are having on the units that are deploying and doing the job," he added.
As SMA, Grinston will have to make sure he knows how the decisions being made in the Pentagon on training and equipping forces affect soldiers at the unit level, Preston said.
"He is really the eyes and ears for the chief of staff and the secretary of the Army," he explained. "It's important for him to be their eyes so they can see and understand the impact of those decisions out there in the field."
-- Matthew Cox can be reached at matthew.cox@military.com