U.S. Army Reserve Sgt. Tracy McKithern loves dogs. She loves her dog, she loves other peoples' dogs, she loves dogs she sees in memes and on TV shows . . . you get the picture. When she found a dirty little white stray sniffing around the camp she was stationed at during a one-year deployment in Iraq only one thing was going to happen.
"I fell in love with her immediately."
McKithern, a combat photographer from Tampa, Florida with the 982nd Combat Camera Co. (Airborne), was stationed at the Kurdistan Training Coordination Center (KTCC), a multinational military organization responsible for the training of Peshmerga and Northern Iraq Security in and around Erbil, from April 2017 – January 2018. The little dog and her mom had been wandering around the base for weeks, McKithern found out. Stray dogs are common in Iraq, and the culture is not kind to them. Erby and her mom were kicked and hit with rocks daily, and starving. Her brother and sister had disappeared before McKithern arrived.
Despite her rough experiences with humans to that point, Erby ran right up to McKithern the first time she held out her hand to the shaky little pup covered in scratches and dirt.
"She loved everyone," said McKithern. "She is the sweetest little soul. She came up to me immediately, probably hungry, but gentle. I think she was looking for love more than anything else."
McKithern, together with soldiers from the Italian and German armies her unit was partnered with, took to caring for the little dog. They named her Erby Kasima, after nearby Erbil, the largest city in northern Iraq, and "Kasima" being the Arabic name for "beauty and elegance."
The coalition soldiers would go on convoys into the surrounding countryside to train Iraqi army units six days a week, with McKithern documenting the missions. Every time they returned to the base, Erby was waiting.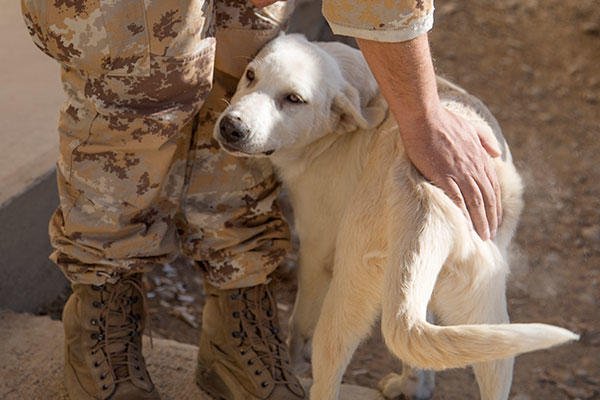 "She ran up to our convoy every day," McKithern recalled. "She was so tiny she would fall and trip all over herself to get to us."
It didn't take long for Erby and her mom to realize that, not only were they safe around McKithern and her Italian and German friends, but these humans would feed them too. As the weeks went by, their wounds began to heal and they started putting on healthy weight.
Eventually, the growing pup took to sleeping on the step outside McKithern's quarters.
As the end of her deployment approached, she started to wonder how she could ever leave Erby behind when she went back to the states and lamented about it on her Facebook page.
"One night I posted a pic of us on Facebook, with a caption that read something like 'I wish I could take her home,'" McKithern said. "I went to sleep, woke up and my friends and family had posted links to various rescue groups. I reached out to one of them, the non-profit Puppy Rescue Mission, and they responded immediately. We sent them $1,000 and they set up a crowd fund to get the rest. We needed an additional $3,500."
The immediate outpouring of generosity was astounding, said McKithern.
"We raised the rest of the money very quickly, and most of it was from complete strangers!"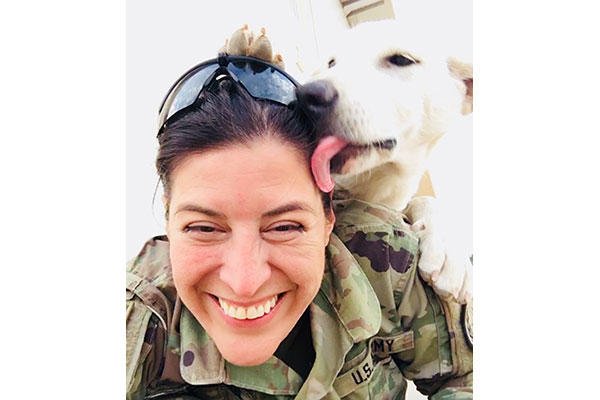 McKithern had many preparations to make before she left Iraq so Erby could eventually follow her. Vaccinations, documentation, travel arrangements – all had to be done somehow, in a war zone, while she was still fulfilling her duties as a Soldier. It seemed like an overwhelming task in an already overwhelming situation. Even though she now had the funding, McKithern began to lose hope that she'd have the time and energy to pull this off.
That's when the brotherhood of the Coalition stepped in to help. Several Kurdish and German officers McKithern had befriended on missions stepped in and offered to tie up anything she couldn't get done and get Erby onto the plane. With their help, everything got squared away. McKithern returned home, and Erby was set to follow her several weeks later.
McKithern had only been home in Florida for about a month when, in a cruel twist of timing, she received orders for a 67-day mission to Fort McCoy, Wisconsin, leaving March 11, the very same day Erby was scheduled to arrive at JFK Airport.
"I couldn't believe it!" said McKithern. "But I'm a Soldier first, and my commander received an email looking for volunteers. The need at Fort McCoy was desperate at the time. It is a gunnery exercise, which was an opportunity to expand my skills and knowledge as a soldier. It killed me that it was going to keep me away from Erby for another two months, but it's an important mission. It will all be worth it in the end."
McKithern's husband, Sgt. Wes McKithern (also a combat cameraman for the 982nd), met Erby at the airport and drove her home to Tampa, where she has been assimilating into an American life of luxury and waiting patiently to be reunited with her rescuer.
In a few short weeks, McKithern will fly home from Fort McCoy to be with her sweet Erby at last. It will be the end of a 16-month journey that's taken her across the world to find a little dog in a war zone and - with the help of generous strangers, a nonprofit dog rescue, and soldiers from three different armies - bring her all the way back to become part of a family.
"I can't believe it," says McKithern. "It feels like a miracle is happening."