The Navy-Marine Corps Relief Society received its largest-ever donation in May.
The gift didn't come from a wealthy benefactor or from the proceeds of the previous year's Army-Navy Game. It was bequeathed by a former Navy nurse -- and it was the largest in the charity's 115-year history.
Retired Cmdr. Helen Maznio never married and had no children. She considered the Navy and Marine Corps to be her family.
Maznio grew up in Chicago, born to poor but hardworking Polish immigrants in 1927. In her family, even the children had to contribute to the household finances. By the time she was in high school, she was already working in a factory.
Making Dixie Cups didn't suit her, however, so she decided to use her wages to go to nursing school. Her sister, Sophia, did the same. As soon as they graduated, they joined the U.S. Navy as nurses and became commissioned officers in 1954.
Nursing took Maznio to South Korea and Vietnam during her 24 years in the Navy; she retired in 1978. Her last duty station before retiring was Naval Medical Center San Diego, usually referred to as Balboa Hospital.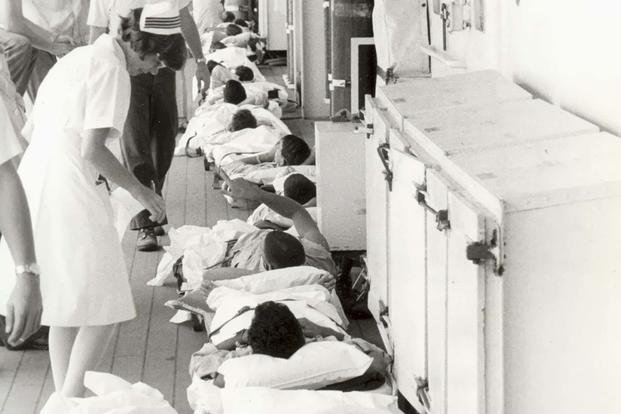 It was during the last few years of her Navy career that she met Donna Clark. The two were neighbors for more than four decades, long after Maznio left the service.
"She was a role model to me," Clark said. "She was smart and very much a strong woman, and always with a pleasant smile for everyone."
The frugal mindset that saw Maznio wash her one outfit every night after nursing school never left her. Clark knew the retired nurse was thrifty, but she had no idea about the considerable assets Maznio had acquired during her life.
"She knew all nurses had to have a watch with a second hand," Clark said. "She bought herself a watch and kept it her entire life. Helen was very frugal. She only bought what she needed."
Maznio had no one to look after her. When she began to have health problems, Clark helped her when she fell, visiting her regularly. When Maznio became too frail to live alone, Clark helped get her into assisted living and took over the elderly woman's personal affairs.
"When I started going through her stuff, I asked who her attorney was and who her accountant was, but she didn't have an attorney or an accountant or a will," Clark told the Navy-Marine Corps Relief Society. "She was 88 years old, and I told her we needed to get her things in order."
That was in 2015. In 2019, Clark took Maznio to a cardiology appointment that led to a trip to the ICU. Four days later, Maznio died in the hospital where she once worked, covered by a quilt bearing the Navy logo. It was a gift from the Navy-Marine Corps Relief Society.
But Maznio had a gift of her own for the charity.
Though she had heard Maznio say time and again that the Navy was her family, Clark said she never fully realized just how much the retired nurse loved the service.
It became apparent after Maznio died at Balboa Hospital. Clark had helped her longtime neighbor get her affairs in order, using the veterans resources afforded to Maznio by the hospital. Clark, just like the relief society, was stunned to learn Maznio had left the group $5 million in her will.
The Navy-Marine Corps Relief Society provides funds and educational assistance to those in the Navy and Marine Corps, their families and their survivors. It's an all-volunteer, nonprofit organization dedicated to helping military families using both financial and nonfinancial means.
Maznio's gift will allow the organization to do even more.
"Her life was very much about struggle," Clark said. "The Navy was her family, and she wanted to do something so sailors and Marines and their families would not have to struggle like she did."