Just before Army and Navy kickoff in their annual service academy clash of the football titans, hundreds of onlookers will gather to watch veteran entrepreneurs pitch their businesses as they look for the chance to win $50,000 in seed funding.
Veteran Shark Tank is ready to accept applications for its 8th annual competition, and the event is almost everything the name implies.
The veteran entrepreneurs who make it to the final round in Philadelphia every year don't get to pitch to the likes of Barbara Corcoran, Mark Cuban or Lori Greiner, but they won't have to give up a percentage of their revenues, either. Instead, the winner walks away with $50,000 from sponsors like Comcast NBCUniversal and JDog Brands -- both veteran-founded businesses.
The rules are simple. If the business isn't older than three years, the owner can submit an application, along with a video and a PowerPoint slideshow (you remember PowerPoint, right?) that covers six specific factors of the business. The top five businesses are selected for the final competition in Philadelphia where they'll present their pitches to the sharks in waiting.
Sharks for Veteran Shark Tank don't need to be billionaire investors, because they aren't giving their money. But that doesn't mean they aren't prestigious. Previous sharks have included NBA Hall of Famer and Naval Academy graduate David Robinson and the Food Network's Chef Robert Irvine (who began his cooking career in the United Kingdom's Royal Navy).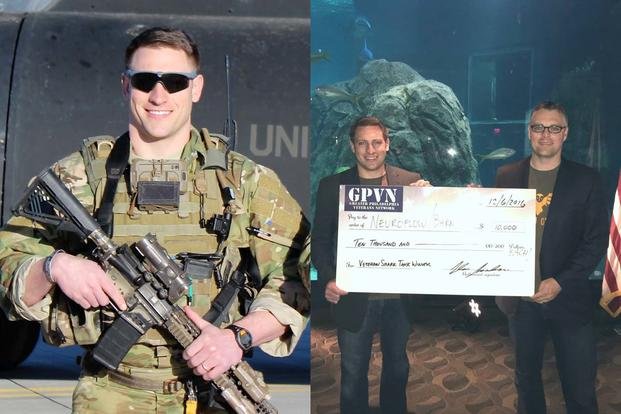 Veteran Shark Tank was founded in 2012 to help veteran business owners raise funds and awareness for their products or services. It was also created with the idea of forming an ongoing veteran business owners' support network.
In the face of the COVID-19 pandemic, the organizers say it's too important for a veteran-owned business to receive a much-deserved influx of cash.
"While many businesses are having to shut down or scale back, we're renewing our commitment to help Veterans get their businesses off the ground. We've hosted this program for seven years, and we're not going to let COVID-19 interfere with our plans," Alex Archawski, Navy veteran and founder of Veteran Shark Tank said in a statement.
Veteran Shark Tank is looking for the most compelling, most promising business plans, the statement reads. Previous winners include Houwser, a real estate brokerage firm that simplifies the home buying process, and POWTI, an automated traumatic injury detector.
The Veteran Shark Tank pitch competition in Philadelphia will be held on Dec. 7, 2020 with an appearance by NASCAR driver and Naval Academy graduate Jesse Iwuji.
Related: 5 Steps to Success from a Sailor Turned NASCAR Driver
Any veteran with a business plan is welcome and encouraged to apply. All applications, presentations and videos must be submitted by Oct. 20, 2020.
-- Blake Stilwell can be reached at blake.stilwell@military.com. He can also be found on Twitter @blakestilwell or on Facebook.
Want to Know More About Veteran Jobs?
Be sure to get the latest news about post-military careers as well as critical info about veteran jobs and all the benefits of service. Subscribe to Military.com and receive customized updates delivered straight to your inbox.