Chips and snacks are must-haves for a Super Bowl party, but if you really want to impress your guests or your hosts, you want to bring something they can sink their teeth into. Even if you're not a Chiefs fan, you have to admit: Kansas City meats are something to celebrate.
"My mom is from Wisconsin, so brats were a staple in our house growing up," KC Cattle Company founder Patrick Montgomery tells Military.com.
There's probably no better person to ask about making the perfect brat than a meat expert like him. Since Wisconsin is home to Sheboygan, the Brat Capital of the World, his mom probably knew a thing or two as well.
"In my world, you boil the brat in beer for 10-15 minutes before you throw it on a very hot grill to get a good crust," he says. "Internal temp should be no more than 160 degrees."
That's just how you make the average bratwurst. KC Cattle Company takes brats to another level with bacon cheeseburger brats and a "Red, White and Boom" brat stuffed with blueberries, mozzarella and red pepper flakes.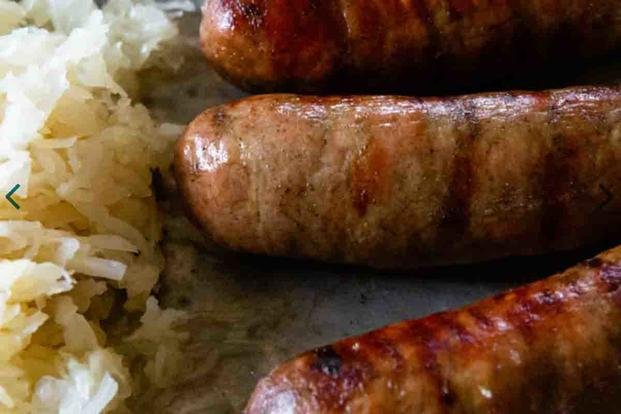 Whether you're a meat-smoking enthusiast, Wagyu beef lover or just want to have some of the best hot dogs, bratwurst or pulled meat sandwiches around, you might be surprised at what he's got in store. What's not a surprise is that Montgomery loves his work. Locals and restaurants in Kansas City love it, too.
"When I look at our original business plan, I have to laugh at how far we've come, but looking forward, we still have a long way to go," Montgomery says. "This market perpetually faces turmoil, and we have to figure out how to do things smarter and we strive to be the industry leader in Wagyu beef."
Montgomery founded KC Cattle Company in 2017. He was then a 27-year-old former Army Ranger who served two deployments to Afghanistan with the 1st Ranger Battalion, 75th Ranger Regiment. Joining the military was something he was set on doing since the 9/11 attacks.
"I joined the military because of September 11th," he says. "After watching the towers fall, I made a promise to myself that's what I would do when I was fighting age."
When he joined, he chose the Army and became a Ranger because his brother-in-law, Jeremy Katzenberger, was a Ranger.
"He was pretty convincing to follow that same route," says Montgomery.
Montgomery and Katzenberger talked a lot about starting a business after leaving the Army. Montgomery would serve for 4½ years, but Katzenberger would give the ultimate sacrifice. He was killed in action on June 14, 2011, during an operation in Afghanistan. Montgomery would accompany his brother-in-law back home to Missouri.
After his time in the military, Montgomery came home to Missouri, too. He studied animal science at the University of Missouri, came up with a business plan to start running his own farm, found a unique product to offer consumers and bought a piece of land outside Kansas City. KC Cattle Company was founded to honor the memory of Jeremy Katzenberger.
Wagyu beef refers to any cow bred in Japan -- the word "wagyu" literally translates to "Japanese cow." Wagyu meat has gained an appreciation in the U.S. and abroad in recent years because of its marbling, the unsaturated fat in the cow's muscle. This kind of marbling not only gives the beef a richer flavor, it makes the meat more tender when cooked and has less of an impact on cholesterol health.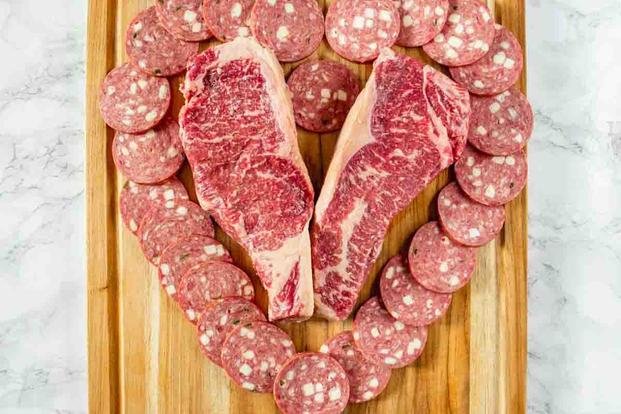 The cows on Montgomery's farm are raised in a stress-free environment. There are no whips, no prods. The all-veteran staff of KC Cattle Company use a "bucket method" to control the cows, in which the farmhands use a bucket of food to entice the cows. When the cattle see the bucket, they're happy to see the person holding it. No stress response means better meat. The knowledge, pride and effort the staff put into their work shows in the product.
"Beef was what I decided on because it was something I was passionate about," he says. "It's been healing for me and the other veterans we help."
KC Cattle Company ready to supply your Super Bowl party with chorizo, sausages and even Wagyu beef hot dogs. Its founder also has some words of wisdom for veterans looking to start their own businesses after serving.
"I remember hearing on a podcast that entrepreneurs kill themselves by trying to launch the 'perfect' product to the point where it is detrimental to getting started," Montgomery says. "I have found this to be true.
"No matter what you do, your first product is going to suck, compared to a future product five years down the road. The funny thing is, where the market tells you your product sucks might be completely different than what you thought, so get your product on the market fast and adapt quickly as you listen to your customers."
To see the company's full offerings, including meat bundles and pure Wagyu beef, check out KC Cattle Company online.
-- Blake Stilwell can be reached at blake.stilwell@military.com. He can also be found on Twitter @blakestilwell or on Facebook.
Want to Know More About Veteran Jobs?
Be sure to get the latest news about post-military careers as well as critical info about veteran jobs and all the benefits of service. Subscribe to Military.com and receive customized updates delivered straight to your inbox.