When Navy veteran Shane Christensen started Sh' That's Hot hot sauces, he was working on a bachelor's degree in business administration. School was, of course, a good teacher, but he needed a little extra direction. He was looking for another veteran business owner to talk to.
He'd done all the legwork to get the company up and running, was churning out the product and, with the help of his wife, keeping the company's books. But when he went in search of other vet-owned businesses, they saw him as competition, not a comrade.
"It really shocked me to find that some owners saw me as a threat," Christensen told Military.com. "But there were other companies that understood the big hot sauces like Tabasco and Texas Pete own 90% of the market, and us little guys need to work together to get a piece of that."
The first bottle of Sh' That's Hot hot sauce rolled out in 2017. Christensen, a former Navy logistics specialist and recruit division commander, had left the service the previous year. He was dissatisfied with his first post-military job at the Social Security Administration, so he left to be a stay-at-home dad with his new daughter, attend graduate school and -- eventually -- began to brew distinctive hot sauce flavors whenever he could.
His wife, Shelli, fully supported the move. Shelli and Shane are the "Sh" in Sh' That's Hot.
"Hot sauce has always been a passion," Christensen said. "I was doing all the work to create a fictitious company for school, and I looked at my wife and said, 'I've done all this research. Why don't we just launch a company?'"
A year later, they were in business. Now based in South Carolina, the sauces they create are made of ingredients sourced in the United States, and a portion of every sale goes toward Hope for the Warriors, a national veterans service organization that creates support programs for service members, veterans and military families.
Christensen says another key aspect to success is the uniqueness of the products offered. His favorite is a citrusy Habanero Hop Infusion. The company won a 2019 award with its sweet and spicy jalapeno matcha tea sauce called Mariachi Ninja. It offers a fresno pepper-based mild sauce for the less adventurous and a Carolina Reaper sauce for those who like extreme heat.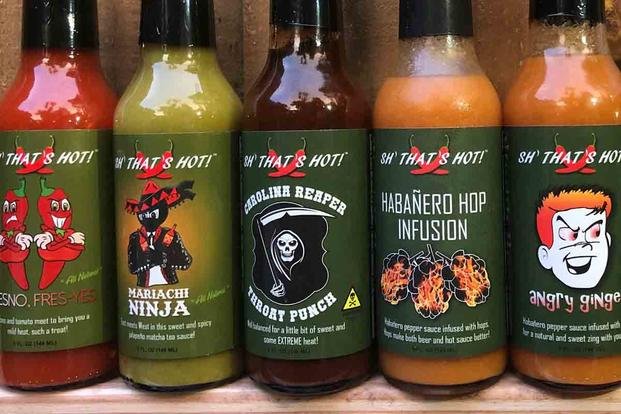 While some veteran business owners were hesitant to help get Sh' That's Hot off the ground, others were more than willing to help Christensen with advice, counsel and, eventually, business. Through some connections, he met venture capitalists and distributors who are all about helping others.
Christensen and Sh' That's Hot take every opportunity to pay that kind of cooperation forward by helping out other new veteran entrepreneurs. He says that kind of mentorship and teamwork can make all the difference.
"It's all about helping your brother out, whether it's sourcing, distribution or anything else," Christensen said. "Of course, you have to work hard, but if you get a reputation of being a good person, it's free marketing because people spread the word."
Like many businesses, Sh' That's Hot struggled during the pandemic, but Christensen's recipe of hustle, unique products and cooperation with others have made for a stunning recovery. Things are looking good, and Sh' That's Hot routinely features other specialty hot sauce brands on its social media pages.
"You have to think outside the box, be different and find mentors, just like in the military," he said.
To learn more about Sh' That's Hot, its products or its donations to Hope for the Warriors, visit the website.
-- Blake Stilwell can be reached at blake.stilwell@military.com. He can also be found on Twitter @blakestilwell or on Facebook.
Want to Know More About Veteran Jobs?
Be sure to get the latest news about post-military careers as well as critical info about veteran jobs and all the benefits of service. Subscribe to Military.com and receive customized updates delivered straight to your inbox.