Michelle Caraballo is an Army veteran with an MBA who ran a Chicago-area Walmart store after transitioning to the company and has been promoted to Director for Store Process in the Global Business Process, with an emphasis on Walmart's operations in China. We caught up with Michelle to ask her about her transition experiences, and provide some tips.
Tell us about yourself. What's your background?
I was born in Wurzburg, Germany to two Army officers and grew up in the Chicagoland area. After graduating high school, I attended the University of Wisconsin-Madison. I was a Coxswain on the Lightweight Women's Crew Team for the first two years before joining the Simultaneous Membership Program (SMP) with Army ROTC and the Wisconsin National Guard. After graduating in 2005 with a BA in Philosophy, I went onto Active Duty as an Ordnance officer. I was stationed with 4th Infantry Brigade Combat Team, 1st Infantry Division out of Fort Riley, KS where I served in various positions within 610th Brigade Support Battalion.
In February 2007, I was deployed to FOB Falcon, Baghdad Iraq where I served a 14-month tour as the Maintenance Control Officer, while attaining my MBA, before returning to the states and ETS-ing as a Captain in December of 2008.
Why did you decide to leave service?
I joined the Army in order to challenge my leadership abilities in the most extreme environment possible. I knew this would give me the experience I needed to succeed in corporate America. I decided to leave the Army because I felt I was ready for a different challenge in the civilian sector as well as maintain some stability in my life as far as deployments.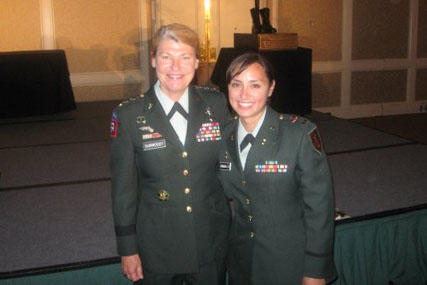 Michelle Caraballo with Army Gen. Ann Dunwoody.
How did you make the transition? Was it difficult?
Honestly, the transition at first was incredibly difficult for many reasons. I felt as if I was no longer part of something that was special to me for almost 6 years. I had formed strong relationships with my fellow Soldiers from the deployment as well as ROTC and other assignments. When I separated, I lost the sense of camaraderie with those relationships as well as the basic drill and ceremony of the military that gave me a sense of pride. Although I had purposely attained my MBA in order to understand corporate America upon my transition, the language of the civilian sector took some getting used to. I had to learn areas that previously I had never dealt with such as associate wages, benefits, and budgets. Additionally, the language or terms used were different than the military but I was able to compare to military terms in order to help the adjustment.
What resources did you use in your search?
I used four resources in order to prepare for my transition;
Orion International and Bradley-Morris. These are two military job placement services that specialize in aligning your service in the military with corporate America. They work with companies in order to highlight your strengths and how military can add value to a company.
On post transition office. This office can answer many questions and help with resume writing and interviewing techniques.
Internet. There are several internet sites that can be found on basic search engines to answer any questions that might arise.
VA Office. During and after my transition, the VA aided in various ways, from medical, to educational to housing.
What do I need to emphasize about my current service to those on the outside?
There are three things that I would make sure to emphasize:
Leadership. The military clearly strengthens and challenges your leadership ability to an extreme level. This is something that cannot be taught the same way in corporate America and it is a valuable asset to any organization.
Responsibility. Whether you are a transitioning officer or enlisted, the military gives a lot of responsibility that cannot be compared. I was a brand new 2LT at the age of 22 when I was given the responsibility for over 50 Soldiers and $5M worth of equipment.
Adaptability. If the military is known for one thing, it is an ever changing environment. It challenges the leadership to be flexible with changing demands and shifting priorities while ensuring that the mission gets completed.
If you had to tell someone one thing about transitioning, what would your advice be?
Do your homework! There are several resources -- whether on post at the transition office, the VA or online -- to help the process, whether you want to go back to school, are looking for a job etc. In several instances there may even be benefits you qualify for. Remember this process might be frustrating because of all the changes, but ask as many questions as possible and remember that it is normal to be nervous about the future.
Quick Facts — Walmart and the Veteran and Military Communities:
Walmart recently launched a new veteran-focused career site, www.walmartcareerswithamission.com, aimed at matching veteran and transitioning military's jobs skill with Walmart's career opportunities.
Walmart is a national sponsor of the U.S. Chamber of Commerce's "Hiring Our Heroes" career fairs. The Chamber is hosting more than 100 fairs for veterans and military families in cities across the United States.‪‪ For a full list of upcoming career fairs, please visit: www.uschamber.com/veterans.
On Veterans Day 2010, Walmart and the Walmart Foundation launched a five-year, $10 million commitment to organizations that serve the veteran and military communities, placing a special emphasis on supporting job readiness and training. In August 2011, during the annual meeting of the American Legion in Minneapolis, Minn., Walmart announced that they'd double their support from $10 million to $20 million through 2015.
Walmart's Military Family Promise guarantees a job at a nearby store or club for all military personnel, and military spouses, employed at Walmart and Sam's Club who move to a different part of the country because they or their spouse have been transferred by the United States military. The program also ensures associates called away to active military duty will be paid any difference in their salary if the associate is earning less money during their military assignment.