Joe Cardona isn't exactly a household name -- except perhaps to football fans living in New England.
Cardona plays for the legendary New England Patriots, who won Super Bowls in 2015, 2018 and 2019 with Cardona as their long snapper. From 2015 through 2019, Cardona never missed a game, playing 16 games a season for a total of 80.
After graduating from high school in El Cajon, California, Cardona entered the U.S. Naval Academy, where he was the long snapper for the Navy Midshipmen from 2011 to 2013. During that time, the Middies beat the Black Knights in every Army-Navy game.
The Patriots took notice of his talent at Navy and drafted Cardona in the fifth round (166th overall) of the 2015 National Football League draft.
Cardona was the first Naval Academy graduate to be drafted in the NFL since Bob Kuberski was taken by the Green Bay Packers in 1993. It was the highest a Navy football player had been drafted since Napoleon McCallum was drafted in the fourth round by the Los Angeles Raiders in 1986.
He's also the second graduate of Navy to win more than one Super Bowl, joining Roger Staubach of the Dallas Cowboys in an exclusive club.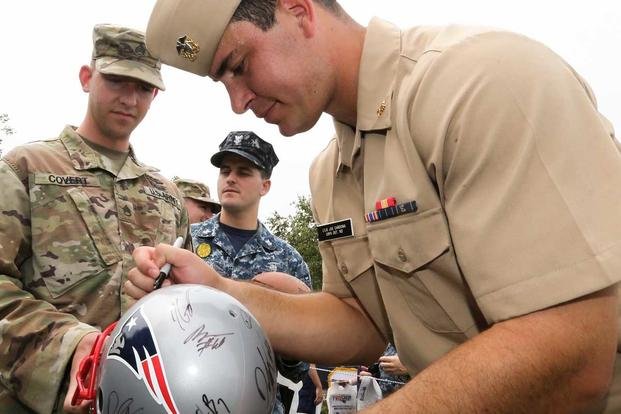 Although Cardona commanded a unique presence on the field, his Navy life was ever present. During a training camp practice on the anniversary of D-Day, June 6, 2019, Cardona was promoted to lieutenant in front of his teammates.
"It was an incredible honor to share that experience with my teammates because, really, I'm here with these guys every single day, working really hard," he later told Angelique Fiske, lifestyle editor for the Patriots. "They're seeing my growth and development as a person, as a player, but it's not often they get to see my growth and development as an officer."
Patriots coach Bill Belichick had kind words for Cardona, as well. "Congratulations to Lt. Joe Cardona on his promotion," he told the media after the ceremony. "Obviously, a day to remember our World War II veterans here on D-Day. It's the 75th anniversary; that's kind of a big one for us."
Belichick's father, Steve, a World War II veteran, coached football at the Naval Academy for more than 30 years.
Then-Patriots quarterback Tom Brady also had words of praise following the ceremony: "It's pretty emotional, you know? You see someone who takes the oath like that and raises his hand, and it's a big commitment Joe's made. I think Joe does it very proudly, and he does a great job educating a lot of us on what it means to him. I think we all appreciate that. So, we see the work that he does here for us, but also the work that he does for our country.
"I've talked to Joe a lot over the years about what his roles and responsibility are, and I think everyone's proud of his accomplishments," Brady added. "As proud as you are to win a Super Bowl ring, to advance in that part of his career is pretty amazing. So, to do both is really a great thing for him personally and nice to be able to celebrate and congratulate with him."
Cardona said during a 2019 interview with MassLive reporter Chris Mason that he believes he's thriving as an officer because of his growth as a Patriot.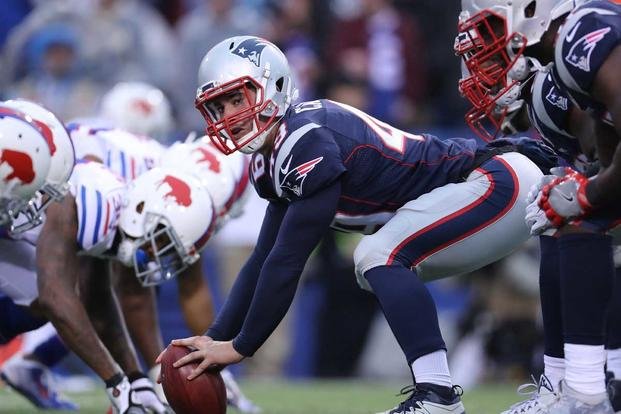 "I think the biggest value added to me has been being around such a high-performing organization on a day-to-day basis. The development I've had personally and professionally due to my time and experience here with the Patriots has made me a much better officer. A much better service member. And more prepared for what I have to do down the road."
In describing how football made him a better officer, he said, "This is just performance at the highest level. Everything we're doing is geared toward performing under pressure: the biggest moments and the biggest games. Really, sports as it was created was meant to train young men for combat."
Want to Learn More About Military Life?
Whether you're thinking of joining the military, looking for post-military careers or keeping up with military life and benefits, Military.com has you covered. Subscribe to Military.com to have military news, updates and resources delivered directly to your inbox.