It's probably no surprise that most of the cities where veterans are seeing the most success in their civilian careers versus non-veteran civilians are places where the military itself has a large established presence. 
Home cities of the Air Force Academy, Naval Station Norfolk and Joint Base San Antonio top the list of 10 places in America where veterans are finding the most success. LinkedIn's Economic Graph team compiled the data from veterans whose standard job titles were managerial or higher, as listed in their LinkedIn profiles.  
The list itself was compiled only from LinkedIn users' public profile data, using standardized job titles to determine where they were on the ladder. They were identified as veterans by listing military organizations and education as part of their history. The list also included only those who held at least a bachelor's degree.  
While military-connected companies might dominate job prospects of each metropolitan area, Linked data analysts note that local health-care facilities, school systems and retailers are likely to seek veterans to fill their ranks, too. 
The list below details the 10 metropolitan areas that have the highest density of college-educated veterans in leadership positions, compared with non-veteran civilians. The percentage to the right shows how much more likely veterans are to hold manager-level and higher positions.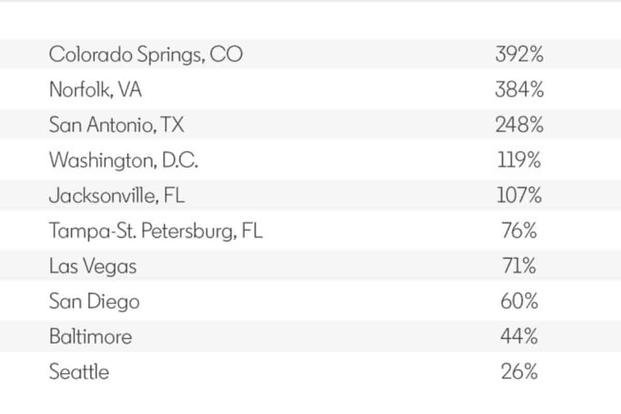 As noted, veterans are more than twice as likely to hold managerial positions or higher in the list's top five cities. All 10 are home to or are close to major military installations, but are also home to defense contractors, information technology companies, oil and gas production or distribution and other major industries. 
It's not just that these corporations may have military or governmental connections. The proximity of such industries, along with other important facilities like hospitals, schools and transportation hubs, is important because many military members receive technical training in these sectors. 
Since such a large military community lends itself to support transitioning veterans as a result, veterans tend to thrive in metropolitan areas that have large military populations. This list of metro areas with the largest share of veteran population matches some of the results of LinkedIn's aggregated measure of veteran success. 
LinkedIn's data find veterans showing the most success in the defense and aerospace industry, with the next biggest being information technology and consulting services. Yet even where the military has a smaller effect on the economy or veteran population density is lower, veterans still find success in other, non-military related sectors.
It's a  testament to the fact that companies really do want to hire veterans.
-- Blake Stilwell can be reached at blake.stilwell@military.com. He can also be found on Twitter @blakestilwell or on Facebook.
Want to Know More About Veteran Jobs?
Be sure to get the latest news about post-military careers as well as critical info about veteran jobs and all the benefits of service. Subscribe to Military.com and receive customized updates delivered straight to your inbox.