Carol Danvers (played by Brie Larson), otherwise known as Captain Marvel, is a badass Air Force pilot turned NASA intelligence officer who is accidentally exposed to an alien device that rewrites her DNA, like Kree warrior Captain Mar-Vell.
The accident gave Danvers superhuman strength, near invulnerability, the power of flight and more. These skills are impressive, but her soft skills are what set her apart as a stellar leader. Danvers truly redefines what it means to fight like a girl.
Veterans looking to level up their leadership skills can learn a lot from Danvers' grit and the real-life fighter pilot her character was based on.
Larson took a trip to Nellis Air Force Base, Nevada, to get inspiration for her character from Brig. Gen. Jeannie Leavitt, who is the 57th Wing commander, the first female fighter pilot and the inspiration for this new take on Captain Marvel. It's no coincidence that Leavitt flew an F-15C, just as Danvers does in the film.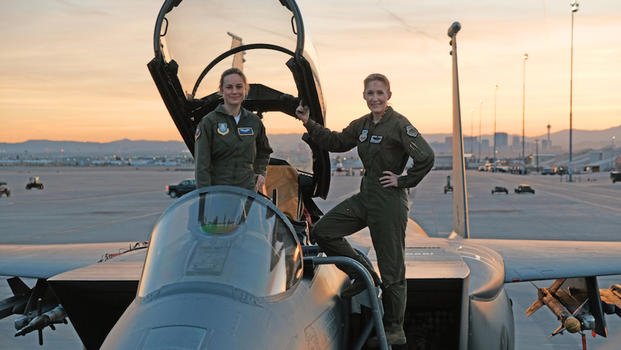 But what would a human/alien hybrid superhero do for a job in real life should she hang up her cape, so to speak, and retire to civilian life? Danvers would likely seek to continue her mission of serving the public good. But like any good strategist, first she would create a robust transition action plan and network with other retired superhero veterans.
While Captain Marvel and her cosmic powers are fiction, real-life military veterans are working hard to help other vets and exemplify Captain Marvel's trailblazing career of do-goodery.
Here are two stellar examples:
1. Army veteran Marjorie K. Eastman, award-winning author of "The Frontline Generation"
Marjorie K. Eastman first served as an enlisted soldier. Her work in an intelligence division earned her quick advancement in rank, culminating in a rare direct officer commission in the field while serving in Iraq.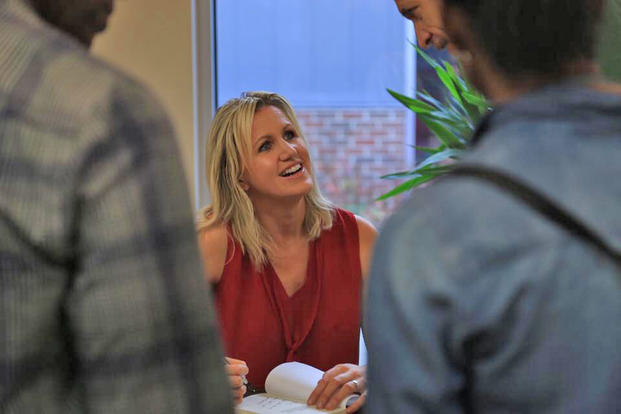 Her 10 years of post-9/11 military service included two combat deployments, one in support of Operation Iraqi Freedom, the other in support of Operation Enduring Freedom in Afghanistan.
She was ranked the No. 1 military intelligence company commander in eastern Afghanistan for the deployment cycle of 2009 to 2010, awarded the Bronze Star for meritorious service as a combat commander and received the Combat Action Badge.
Eastman is also the recipient of the 2017 National Independent Publisher Book Award (IPPY) for her book, "The Frontline Generation: How We Served Post 9/11." The book began as a personal memoir for her son and became the first to define post-9/11 service and leadership.
"You will be inspired to find your cape after reading this book, because you will realize, in her own words, 'People who serve, throughout every generation, capture the true potential for the best in our humanity.' And it is our humanity that can change the course of history here at home or in far-off lands like Afghanistan," said retired Air Force Lt. Gen. John A. Bradley, co-founder with his wife Jan of The Lamia Afghan Foundation.
Eastman continues to positively shape the narrative for veterans, women, the value of service and frontline leadership, pioneering new ground in the content industry with an independent, entrepreneurial spirit.
She is a sought-after keynote speaker, panelist and contributing writer. She has been recognized by the Nashville Business Journal with the 2015 Award for Veteran Leading in Business and has been described as a veteran thought leader in PBS' Veterans Coming Home initiative.
Eastman is involved with charities and boards that support girls, women and veterans. More recently, she has filled the role as president and chief operating officer of the YWCA Nashville & Middle Tennessee, a 120-year-old nonprofit that is on a mission to eliminate racism; empower women; and promote peace, justice, freedom and dignity for all.
2. Army veteran Karen Kraft, producer, director, writer and chair of Veterans in Media & Entertainment (VME)
Karen Kraft, a former first lieutenant and adjutant general in the Army Reserve, is an award-winning writer, director, producer and television executive and founder of the Hero Media Group, an entertainment company whose mission is to develop and produce stories about personal courage and sacrifice across all media platforms.
The late, great Stan Lee, a World War II veteran superhero, said Kraft was "one of the first girl fans of his work" and was her mentor and family friend from the time she was 8 years old.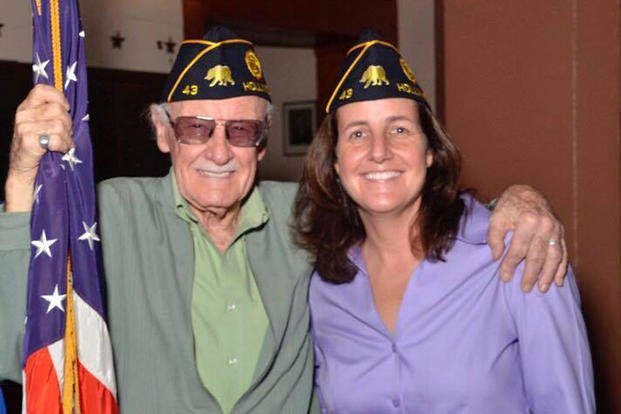 "Just like Captain Marvel, Kraft is a bold leader who cares about the people she helps," said Rebecca Murga, VME director of communications and an award-winning TV and film director. "Karen is guided by a strong sense of duty and honor, spending all of her free time helping military veterans to find jobs, internships and mentorships through VME."
Carol Danvers is known for bringing heroes together and ensuring they're prepared for the challenges ahead. Similarly, Kraft strives to bring vets together to help each other find fulfilling work in the entertainment industry.
Kraft served as creative executive for the Discovery International Production Group, a division of Discovery Communications Inc., and managed more than 50 producers, writers, field crews and editors. During her nearly 10 years there, Kraft's department won more than 100 industry awards, and she personally received over 30 for writing and producing. Her programs have aired on a dozen networks in more than 170 countries.
"Everyone wants to be the next big actor, director or writer," Kraft said in an interview with the Association of the United States Army. "But even for the most talented, it takes years to hone your craft."
She advises those seeking work in the entertainment industry to "read everything on the career you are pursuing. And remember, you are starting from the bottom in a new career so be polite, patient and persistent -- and ask a lot of questions."
She was the co-creator and executive producer/producer for many high-concept projects, including Travel Channel's "Marvel Superheroes' Guide to New York City" featuring comic legend Stan Lee and Animal Planet's first high-definition original "Wildfire Rescue," and served as executive producer for Discovery International's "Extreme Engineering."
Kraft is one of the founding members of VME, a grassroots movement and 501(c)3. It is a professional association of U.S. military veterans working in, or aspiring to work in, media and entertainment.
Keep Up with the Ins and Outs of Military Life
For the latest military news and tips on military family benefits and more, subscribe to Military.com and have the information you need delivered directly to your inbox.