It began as a personal memoir for my son. Then, there were too many nudges and signs (literally, a road sign in Alabama that read War on Terror Memorial Highway) that pushed me over. I knew I needed to publish my book, "The Frontline Generation: How We Served Post 9/11."
I secured a stellar literary agent and editor, and filled out the industry-standard book proposal, which included an endorsement by one of the greatest generals of our time. Then it was sent to those elusive "New York Publishing Houses." I waited.
The responses began to trickle in: "We really love this and ..." or, "This is powerful, but ..." My schooling on the publishing industry unfolded. I was told bluntly, "Not another war book" (whatever that means, because it is not). The feedback that stung the most was this: "People don't care about the war anymore, and if they do, they want to read about the special forces sniper guy or how you overcame being broken." To say I was furious at this last comment is an understatement.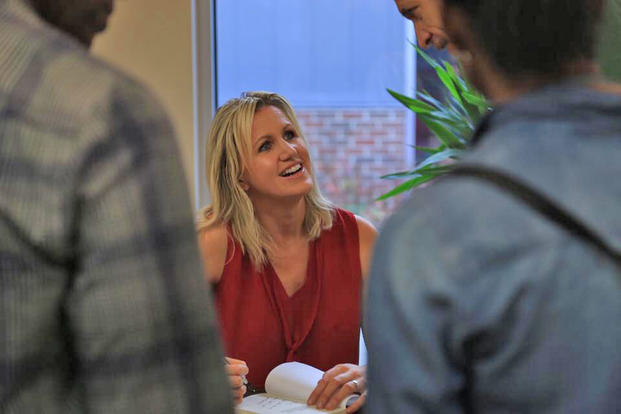 I decided to go indie. More and more successful authors (and artists) are sidestepping the ivory tower of publishing. The indie trend is outpacing traditional publishing. Steady streams of veterans have asked me, "How did you do it?"
Here are the lessons I've learned from my self-publishing endeavor:
1. Shape the Narrative.
Fortunately, we have thoughtful, genuine and exquisitely intelligent scholars who produce must-reads -- folks like John Keegan, Gayle Lemmon and Sebastian Junger. Yet I sense even they would say, "Write! Tell the story."
Be the author of your experience. Because you have the perspective as a warfighter that only a warfighter can offer. That matters. And the truth is, there are not-so-well-intentioned forces defining us; haven't we all heard the term "fake news" this year?
Finally, think about it this way. The Department of Veterans Affairs determined in 2014 that just more than 7% of living Americans have served in the military. Yet since 9/11, fewer than 1% have worn the uniform. Now compare that to a recent U.S. census that nearly 2% of Americans have a doctoral degree -- and that normally requires a published thesis on their area of study.
Veterans are a rare entity and have important insight that transcends not only historical data, but industry relevance.
2. You Are a Business, Man.
It's not often I get to quote Jay-Z (Shawn Carter), but this point is unmistakably brilliant. Veterans leave the military and start businesses -- as they should, since they've definitely acquired the attributes that lend themselves to this, which makes them the best entrepreneurs. (I'm sure you've heard of Nike, GoDaddy, FedEx; all were started by veterans.)
In fact, veterans are more likely to own a business than non-veterans. I refer to this as a force multiplier in our economy. A book can be the vehicle to boost that business platform.
In short, if you are selling something, you need a stage. That's what a book can do for your product or service, and you probably already have the copy and messaging. And by the way, a book proposal looks a lot like a business plan. So capitalize on this, if only for the reason that having a book adds a level of credibility that is exclusive.
3. Writing Heals.
I kept a journal for both of my deployments, recording the story of the day before I went to bed. This wasn't because I thought I needed to heal. I adopted this practice before the military, as needed, because I'm a high-energy, intense person, and this helped quiet my brain before I slept. Otherwise, I'd still be thinking about the assignment, the mission, the grocery list.
When I redeployed from my second tour, I remember sitting in a group therapy room with a therapist (a required part of the process of returning home) who encouraged us to write as a way to deal with whatever we'd just experienced. Of course, this was advised; writing is no stranger to therapy in helping manage stress or trauma.
This truth hit home when I was out of the military, and my 6-month-old baby was diagnosed with cancer. That hellish crucible was the catalyst in my putting together the stories that turned into my book, "The Frontline Generation."
The people, stories, and lessons were meant to help shape the man I hoped my son would become; I was convincing myself he would beat cancer and live to be a man. By the way, today my little boy is a cancer survivor and also has a book written for him by Mommy.
4. It's Not About You.
Yes, it's your story, but at the end of the day, it's for them. You know who I'm talking about. There is someone in your life who desperately wants to know what you've been through as a veteran. "The Warbird" is a book like I've never read that stakes this claim beautifully. Acclaimed author Tara Copp reconciles and intertwines her time as an embedded journalist with the incredible account of the warfighters next to her, and the astounding history of her grandfather's service in World War II.
Nonetheless, this interest (curiosity) is not solely reserved for the combat veteran; no matter when or how you served, your story is good enough. It absolutely matters. I'll never forget what one of my soldiers said to me when she received her copy of our book: "Ma'am, seeing these stories in a book makes it feel like what we did really mattered." Someone absolutely deserves your treasure chest of service.
5. You Are the Frontline.
Service helped make you a better leader, and people want to read about leadership. According to a Harvard Business Review article, the tenets to being a great leader are grounded in avid reading; the explosive growth of leadership books is recognizable (nearly four a day are hitting the shelves, according to some studies).
Veterans benefit from being part of an institution that has a longstanding reputation for developing leaders. Further, Americans have consistently held veterans in the highest regard. I don't know about you, but I want to read books by those I trust. Can we say, "Felt need"?
Another aspect to this point of being the frontline is that it is essentially a decision point; one must take action. Well, veterans are also known for getting things done. Think about this: Over the past year, after every book signing, panel, or speech, I've had someone come up to me and say, "I wanted to write," "I'm almost there," "I have an idea, but ...".
At the 2015 Book Expo America, the outrageous stat was revealed that 90% of Americans want to write a book. Obviously, nowhere near that number actually do. However, I'd put my money on a veteran to complete the mission.
Connect with the author on LinkedIn or Facebook to learn more about her book, the journey, and the authors and businesses she supports and recommends.
Marjorie K. Eastman, a 2017 National Independent Publisher Award-winning author of "The Frontline Generation: How We Served Post 9/11," served 10 years in the Army Reserve, including two combat deployments. She received a Bronze Star and Combat Action Badge. She has an MBA from Vanderbilt University.
Find the Right Veteran Job
Whether you want to polish your resume, find veteran job fairs in your area or connect with employers looking to hire veterans, Military.com can help. Subscribe to Military.com to have job postings, guides and advice, and more delivered directly to your inbox.