In a life that spanned nearly a century, Ernest Borgnine earned a place in Hollywood history as a consummate character actor -- and a place in U.S. naval history with honorable service during World War II.
Borgnine was born Ermes Effron Borgnino in January 1917 in Hamden, Connecticut, the son of Italian immigrants and the grandson of Count Paolo Boselli. after graduating high school in 1935, he was selling vegetables off the back of a truck when he saw a U.S. Navy recruiting poster, which led to enlistment. Borgnine credited the Navy with making a man out of him, and provided the background for his character in the famous TV show McHale's Navy.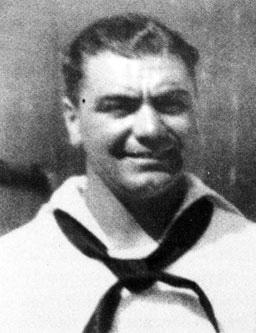 The apprentice seaman remained in the Navy for ten years (including one hiatus), from October 1935 to October 1941, and then from January 1942 to September 1945. His first tour was served on board the four-stacker USS Lamberton (DD-119). During the 1930s the Lamberton operated out of San Diego, towing targets for surface combatants, submarines, and aircraft, a role that was to serve her well during World War II. She also participated in experimental minesweeping exercises and was redesignated DMS-2 (minesweeper, destroyer) in November 1940.
In 1941 Borgnine left the Navy, only to reenlist after Pearl Harbor. From January 1942 until the end of the war he served in the USS Sylph (PY-12), a converted yacht devoted to antisubmarine-warfare activities throughout the war. Operating first out of Tompkinsville (New York) and then New London (Connecticut), the Sylph patrolled for German U-boats during 1942, a devastating year for American merchantmen off the East Coast. In the fall of 1943 she was assigned to Quonset Point, Rhode Island, and a year later to the naval base at Port Everglades, Florida, along with her unit, the surface division of the Atlantic Fleet's Antisubmarine Development Detachment. She was used mainly for training sonarmen and testing and researching new sound and antisubmarine equipment. The Sylph and her unit contributed greatly to the U.S. victory over Germany's "gray wolves."
During his naval service Borgnine rose in rank from seaman to gunner's mate first class. Upon his discharge in 1945, he was allowed to wear the American Campaign Medal, the Good Conduct Medal, the American Defense Service Medal with Fleet Clasp, and the World War II Victory Medal.
After the war Borgnine returned to New Haven, where the GI Bill gave him an opportunity to study for six months at the Randall School of Dramatic Art in Hartford, following up with a long climb into show business, as he spent the next four years at the Barber Theater in Abindgon, Virginia, doing odd jobs including driving, scenery-painting and various stagehand chores. Moving up to television work in New York City, Borgnine got his first movie role in China Corsair (1951), leading to a memorable appearance in From Here to Eternity (1953) before breaking through with an Oscar for best actor in Marty (1955).
During his long, productive career, Borgnine enjoyed success in television with McHale's Navy and later in Airwolf (1984-86) and even as a superhero in Spongebob Squarepants, while in movies he found a niche as a tough-as-nails supporting actor, appearing in classics such as The Dirty Dozen (1967), The Wild Bunch (1969), and The Poseidon Adventure (1973). He even found time to get in on the game-show craze as the first "center square" on The Hollywood Squares.
Known for his energetic, open personality, Borgnine maintained close ties with his navy buddies and was also an honorary flight leader of the Blue Angels, whom he often took to dinner when they flew into Naval Air Station Point Mugu, California. Borgnine died July 8, 2012 in Los Angeles, at the age of 95.
[Some content in this article from Naval History and Heritage Command.]