For veterans looking to get their foot in the door at a mega-tech company such as Google, there are a lot of hurdles to jump: education and certifications, then fighting upstream to get noticed, land an interview and, finally, navigate the interview itself.
In fact, Google's global staffing lead and senior recruiter, Lisa Stern Haynes, said in a CNBC interview that, out of millions of applications, Google hires only 0.2%.
But did you know tech companies are notorious for their challenging and tricky interviews? It's for good reason: These firms attract the best of the best and, some say, offer ample perks and compensation in return for your hard-earned talent.
So how can you prepare for the final test and land that dream job in tech?
Find the Right Veteran Job
Whether you want to polish your resume, find veteran job fairs in your area or connect with employers looking to hire veterans, Military.com can help. Sign up for a free Military.com membership to have job postings, guides and advice, and more delivered directly to your inbox.
Besides the normal interview questions, you might also expect a series of queries that fall into the category of "brainteaser." These questions are typically used to determine the way in which a prospective candidate can problem-solve or work through an unexpected question that perhaps has no right answer.
For example, if you were interviewing for an engineer position at Intuitive Surgical, you might be presented with a strange articulating piece of surgical steel and asked to define what the device is used for without any context other than the device itself.
"We're competing for the best employees," Peper Long, director of media relations for Intuitive Surgical, said. "When we interview, we ask questions that require the interviewee to demonstrate an ability to think through a problem, even if it's a question that seems unrelated to the job."
Remember, when confronted with strange or seemingly bizarre questions, try to follow these simple rules:
If possible and the interviewer allows, take notes and listen very carefully to the question being asked.
Don't freeze. Instead, take a moment to work through the problem logically.
Try to break down the question in logical segments.
Identify what is known and unknown.
Keep it simple. Don't try to overcomplicate your answer.
For instance, suppose an interviewer asks, "Which is the best movie of all time?" You might approach this question by defining what the term "best" means. Does "best" mean highest grossing? Then perhaps it's a Disney movie. Does "best" mean most awards won? Or the most critically praised?
By working through the question logically, the interviewer can see your critical-thinking skills in action.
Other questions could include:
What does all the ice in a hockey rink weigh?
How do they make M&Ms?
How many gas stations are there in the U.S.?
Explain how GPS works to someone who was in a coma for 80 years.
You have a three-gallon jug and five-gallon jug. How do you measure out exactly four gallons?
How can you tell whether the light inside your refrigerator is on or not? (a classic Schroedinger's Cat-type question)
Sometimes, the questions literally have no correct answer; for example, "If you had to get rid of one state, which one would it be?"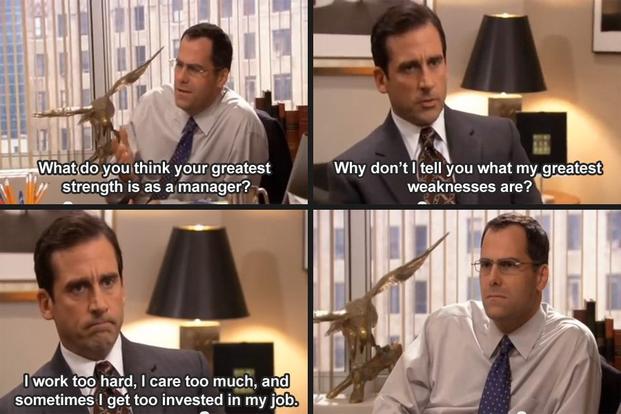 Remember, what's most important is not the answer but your thought processes and how you approach a problem to arrive at a solution while under pressure.
After all, seeing an employee demonstrate sharp critical-thinking skills is more valuable than any answer to the standard "what is one of your weaknesses?" question.
The Next Step: Get Veteran Jobs Tips
Looking for transition and veteran jobs tips? Military.com has you covered. Sign up for a free Military.com membership to have military news, updates and job resources delivered directly to your inbox.