As Logan Cushman lay in bed surfing Facebook on his day off, his house collapsed around him.
"It felt like a plane had crashed into the house, and I assume that's when the house fell off the foundation," he told Military.com on Tuesday.
Cushman, whose husband Sgt. Rick Walburn is a vocalist and pianist with the 9th Army Band on nearby Joint Base Elmendorf-Richardson, was one of thousands of Alaskans to be jolted at 8:29 a.m. Nov. 30 by the strongest earthquake in the Anchorage area's recent history.
And while there are many stories of damaged property out of the 7.0 magnitude quake and numerous following aftershocks, a photo of the couple's collapsed rental home in Eagle River is among those that have gone viral.
The home appears to have collapsed completely in on itself, almost breaking apart. And that's what Cushman experienced as he tried to escape, first through one door, then another, then another. He was able to throw one of their dogs out a crack in the door, and a neighbor helped him extract another. As he frantically attempted to retrieve their cat by climbing back into the house, his husband, who had just finished PT on base, pulled into the driveway. They eventually lured the cat out through a crack into the collapsed house.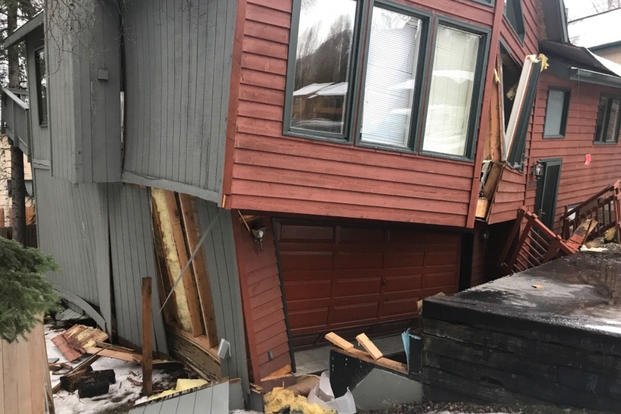 Although Cushman, his husband and animals are safe, he says they doubt they'll be able to get any of their belongings out of the home, which they've been told has been condemned. Even if they could retrieve anything, holes throughout the home paired with snow and rain since the earthquake likely mean most things are ruined, he said.
Insurance is also unlikely to cover most of the loss. That's because many policies exclude earthquake damage. Beyond a few thousand dollars in valuable personal property coverage, which will pay for some of Walburn's personal instruments that he uses in support of his job with the band, and insurance on their car, which was crushed by the house and fell through a hole into the ground during the collapse, they are facing a huge financial loss.
Now, Cushman, Walburn and the home's owners, who said on a fundraiser page that they are also a military family stationed out of state, are trying to figure out what to do next -- and they are hoping the community will help. Cushman and Walburn have started a fundraiser through Facebook.
"We feel terrible because they lost their home, their investment," Cushman said of the owners, who he does not know because they rented the home through a management company. "And we lost all of our things inside of there."
Cushman and Walburn are spending the week with family on an emergency trip home to South Carolina, in part to avoid the near constant aftershocks -- more than 2,000 in the few days since the quake -- and in part to be with family.
"We've both been doing much better since we landed in Columbia today," Cushman said Dec. 4. "After what happened with me, my mother has been losing her mind because she thought I died in the house."
As the photo and story of their home damage has spread throughout Alaska and into the lower 48 states, Cushman said he's been floored by way the community has helped them, even though they've lived there for only six months. Neighbors, local friends, co-workers at the Starbucks where he is a shift supervisor and even strangers have all stepped up to help.
"It's been overwhelming how much people have accepted us and are willing to help us," he said.
The homeowners did not respond to a Military.com request for comment.
-- Amy Bushatz can be reached at amy.bushatz@military.com.