Netflix delivers another theatrical-quality action movie with "The Old Guard," in which a young Marine is killed in action -- only to find herself risen from the dead. Something incomprehensible is going on, and she's off on what's going to be a centuries-long journey.
Nile Freeman (KiKi Layne) is our newly immortal Marine, and she's immediately recruited into an elite paramilitary unit by Andromache, aka Andy (Charlize Theron), a warrior who's been roaming the Earth for thousands of years seeking justice for the oppressed.
The crew is rounded out by Joe (Marwan Kenzari) and Nicky (Luca Marinelli), a devoted pair who met (and fell in love) as they repeatedly killed each other during the Crusades. The most recent recruit before Nile is Booker (Matthias Schoenarts), a veteran of the Napoleonic wars.
Theron's performance as Andy holds its own with her roles as Imperator Furiousa in "Mad Max: Fury Road," Cipher in "The Fate of the Furious" and Lorraine Broughton in "Atomic Blonde." Her fight scenes are as well-choreographed as her work in "Atomic Blonde," and she's put in the work to learn the operator skills she needs to sell these badass characters she's choosing to play.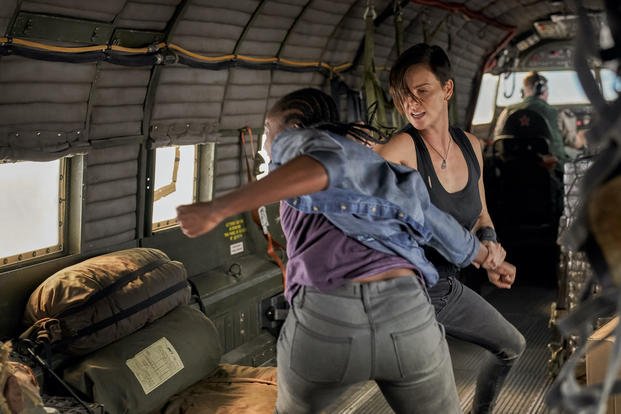 She also produced the movie and brought in a surprising choice for director. Gina Prince-Bythewood was previously best known for the music business romance "Beyond the Lights" and the drama "Love & Basketball." Both films displayed a real talent for using music to drive a story (something that carries over to "The Old Guard"), but there's been nothing to suggest that she had an action picture in her future.
We get to see the immortals battle their way through history in brief flashbacks and, in every era, they've adapted to use the most up-to-date weapons available. That means they're fully kitted-out operators in contemporary times and have their attack choreography fully locked.
This movie feels like the first in a series, and it's based on a successful graphic novel by Greg Rucka, who was given a chance to write the screenplay. Rucka also wrote the graphic novels that inspired the ABC detective series "Stumptown."
The plot here involves a pharmaceutical CEO who wants to extract the immortals' DNA and use them as guinea pigs for drug testing as he searches for a cure for aging. He's hired a crack crew of mercenaries to do his dirty work, and there's most definitely gunplay involved.
There are betrayals, broken promises and questions about just how immortal these immortal soldiers really are. Even though they take care of business in this movie, there are enough questions left hanging that you want to roll straight into the (as yet unmade or unannounced) sequel. There are more graphic novels in the series, so I guess you can pick those off if you can't wait to see what happens next.
Marvel and DC movies have become so weighed down by their own mythologies and universe building that it's almost a shock to see a superhero-style movie with an interesting backstory that doesn't interfere with plot and action.
"The Old Guard" might have been the best summer movie even if 2020 had come off as planned. As we stand now, it's an unexpected gift from Netflix.
Keep Up With the Best in Military Entertainment
Whether you're looking for news and entertainment, thinking of joining the military or keeping up with military life and benefits, Military.com has you covered. Subscribe to the Military.com newsletter to have military news, updates and resources delivered straight to your inbox.