The 2018 homebuying season has arrived. If you're thinking about buying a home, and possibly using your VA loan benefit, understanding these housing market trends may help you with your game plan.
Spring traditionally marks the start of the homebuying season. But don't venture out on the house hunting trail without a compass. Several key housing market trends may affect how you find – and bid on – your dream home.
Seller's Market Still Holding
A seller's market may sound like bad news for buyers. But if you understand what makes it a seller's market, then you can adjust your strategy. Simple supply and demand principles are the foundation of a seller's market. Other factors can come into play, but with an abundance of buyers and fewer homes for sale generally puts sellers in the driver's seat.
In this market, it's important for buyers to dodge any slip-ups that can cost them a house. The online real estate resource Trulia has blogged about common mistakes. Here are some mistakes to avoid:
Not making your best offer up front
Not working with an experienced agent
Not getting prequalified
Not being prepared for a bidding war
Not learning from past experiences
TAKEAWAY: Get prequalified and know your price range before you hit the house-hunting trail. To see if you prequalify for a VA loan, click here.
Median List Price Rising
Bargains may still exist, but they may be harder and harder to come by as home prices continue to rise. January 2018 data from the National Association of Realtors (NAR), put the nationwide median list price for a home at $270,000. That was up 8% from the same time the prior year. The snapshot below shows that, compared to January 2017, listings spent 7% fewer days on the market and there were 8% fewer homes listed.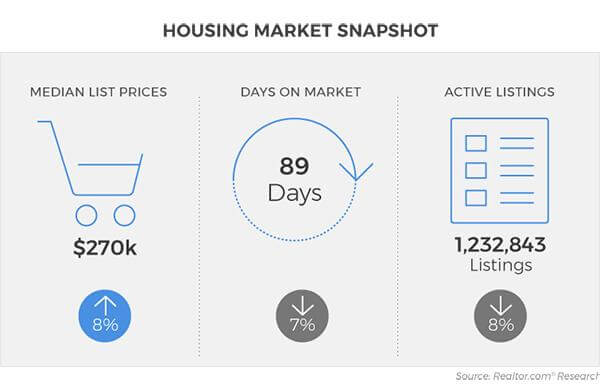 On the upside, homebuyers shopping in the top tier ($750,000+) may find an abundance of listings to choose from. A whopping 13% of listings were in this upper price range for January 2017, the highest ever for this month according to Realtor.com Economic Research.
TAKEAWAY: When you find the one, don't hesitate; use your VA home loan benefit to get low- or no-down-payment financing.
Home Price Appreciation Tapering
While January's numbers may not point to a curb on rising prices, the economic forecast from NAR indicates that home price appreciation may be slowing down. While the 2017 price growth rate finished at 5.8% for the year, NAR predicts 2018 will end with home prices up again, but at a slower growth rate of just 2.5%.
What's not expected to go up are prices on newly constructed homes. While finishing up 4.3% in 2017, NAR predicts that newly-constructed home prices will dip 1.0% for 2018.
Interest Rates Rising – Maybe
The same economic forecast from NAR shows mortgage interest rates rising. The average 30-year fixed rate for 2017 was 4.0%. NAR expects interest rates to rise to an average 4.4% for 2018 and 4.8% for 2019. If NAR's predictions are accurate, buyers who make a move while rates are lower will find themselves able to afford more home for their money.
TIP: VA loans are known for their competitive rates and often have lower rates on average than conventional loans.
Millennial Market Share Gaining
According to NAR stats, millennials (born 1981-1997) represented 40% of buyers in 2017. This is a significant population likely to be entering the homebuying market. By the end of 2018, NAR predicts millennials could make up 43% of the homebuying population.
But what kinds of homes are they buying? NAR says most are looking at entry-level homes, which is also the price range with the most limited inventory. So, prices in the entry-level range may continue going up due to demand.
These housing trends may have you adjusting your approach, especially if you might be getting orders to move in the next six months. As part of your strategy for buying a home in 2018, consider preparing to act fast, clarifying your goals and limits, and seeking help from experienced professionals.
For more information about buying a home with a VA loan in 2018, click here to get in touch with an experienced lender who specializes in serving Veterans.
Veterans First is a trade name of Wintrust Mortgage, a division of Barrington Bank & Trust Company, N.A., a Wintrust Community Bank. I NMLS# 449042 I Equal Housing Lender